Introduction to Starting A Photography Business
Chris Burkard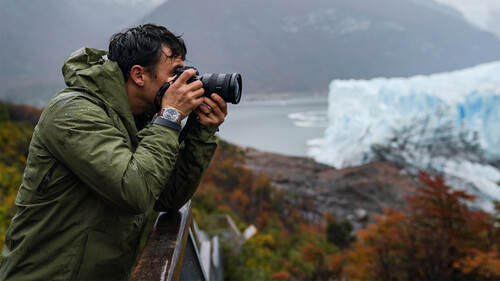 Introduction to Starting A Photography Business
Chris Burkard
Lesson Info
2. Introduction to Starting A Photography Business
Introduction to Starting a Photography Business Chris goes over the foundations of what it takes to start a photography business and what will be covered in this workshop.
Lesson Info
Introduction to Starting A Photography Business
So whether fledgling beginner, or advanced pro, this class the Business of Photography is really built to breathe life into your career path. My goal here is to be as transparent as humanly possible on the flaws, the triumphs, the hopes and the goals of what I've found to be a successful career path over the last decade. And what I really want to touch on, especially in this climate that we're in, is how to recession proof, pandemic proof, your business. Some of the topics that we're gonna be covering in this class, are going to be when to grow, right, when to expand your business, when to bring on more staff, more people, and how to do so. I want to analyze and dissect some of these topics as well. Looking at working with an agent, a rep, a producer what is their role? What are they gonna do for you? Right. And how are they going to create a safe barrier between you and the client? How are you going to find new work? And, in addition to that, what does it look like to create the perso...
nal project, and what is the benefit of doing so? I also want to touch slightly on the marketing of the modern day photographer, and what that looks like. What are some of the old methods we used to apply, versus what are some of the new methods. There are some certain nuances to some of these subjects that I'm not gonna dive deeply into. Why, because it's gonna be a lot better for you to have a focus class on that specific subject, like social media. We'll graze over the surface of some of these things, hopefully hitting the key topics. I also want to consider in this class, what does it mean to have a vision for your work? What does it mean to have a mission statement, and how are you gonna apply that across all the tentacles of your business? Right? That being said, maybe the most important thing you'll walk away with here, is how to diversify your revenue streams. And this is really where that safety component, that safe net comes into the business. We're gonna talk about active and passive revenue streams. We're gonna look at the types of revenue, the types of work, whether it be at commercial, or editorial, or image licensing that you need to be really active in pursuing, and pushing forward with, and the ones that you can be setting up so they can hopefully make you money down the road long term. Ultimately, my goal here, is to share the knowledge that I've learned from really taking the hard road to get here. I've been lucky enough, to expand, to grow over the years. And I've also had to shrink way, way down, losing valuable employees, because I simply didn't know what I was doing, and I simply didn't understand the climate of how this career path can ebb and flow. And if there's anything I hope to share with you, it's how to really work backwards, and have a vision for your work. If there's one critical piece of advice that I've found is as a business owner or a CEO, what have you, a creative, and a teacher, it's that I can only give directions, if somebody knows where their destination is. So the first step in this whole process is figuring out what is your destination? Where do you wanna end up? What is the vision for your work? For me, it was always about creating this space, right? This awesome location, where I could do community events, and have a team of people that I could work with. That being said, you can still do it in the garage of your home. You can still do it in that spare bedroom. You can still do it in that small remote office space. It's really a matter of what your vision is, and what you're trying to share with the world, because all of those things are gonna come back to benefit you long term.
Ratings and Reviews
An experience This was absolutely amazing. I have followed Chris for more than 10 years, he has been an inspiration to me in many ways; his way of seeing the world and the devotion behind his passion for storytelling has always called my eye. After watching and studying with this course I realized it all comes down to following whats true to you and doing it with all the love in the world. Thank you Chris for being an open book about your business and sharing with us all the stories in between, the anecdotes, the whys and the hows behind your experience as a photographer. This was an adventure for me and I am grateful for all that you shared. Now I am ready to take my business of photography to the next level.
Insightful and Motivating it was truly great to hear some real life experiences from someone you look up to. I feel like I have an understanding of the industry I previously thought I knew but now know was way off. if you are looking to take your photographic journey seriously this is a fantastic look into the world of the working, travelling, successful creative.
Always Gives *Almost* Enough Detail Although I'm a huge fan of Chris Burkard's work, I must say this workshop was unfortunately very disappointing - especially given the premium price that is charged. While each episode is quite long, it seems to fall into the trap of saying a lot while saying very little of substance. It's great to hear his story, but also feels as though the picture he offers is a very general "top-level view" through friendly conversation, as opposed to offering more concrete action steps by deflecting specific guidance with words like "you need to figure out what's right for you." I bought it because I don't even really have a good benchmark for "what's right for me." Unfortunately, whenever opportunities rise for Chris to offer a baseline for what we can start looking for, those moments fall through. This course absolutely does offer value - it's not a 1-star workshop by any means. However, if you're trying to decide where to invest $300, spend it on Finn Beales' Storytelling workshop, Alex's Adventure Photography Pro workshop, or Andrew Kearns' workshop on brands. There are MUCH better places to start or continue your investments though Wildist's courses.
Student Work