Hiring Your First Employee As A Photography Entrepreneur
Chris Burkard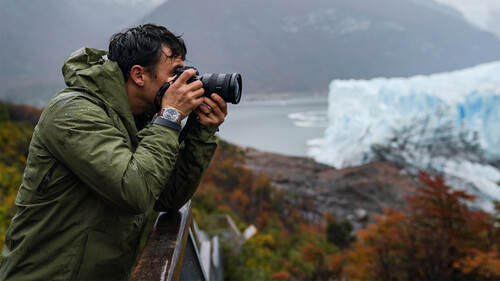 Hiring Your First Employee As A Photography Entrepreneur
Chris Burkard
Lesson Info
3. Hiring Your First Employee As A Photography Entrepreneur
Expanding and hiring a team can take your business to the next level. Chris goes over how he built his team, the first steps you can take, and when it might be the right time to expand.
Lesson Info
Hiring Your First Employee As A Photography Entrepreneur
So when do you expand? Like, when do you grow your business? When you go from being a single man, woman, person out there all by yourself to having a team, or even just having an employee, having an intern, what have you. For me this moment really came about because of a necessity. I was bursting at the seams with work that I couldn't handle. And one of the best ways to describe it is you have to evaluate what are your needs, right? What what are the things that you're hoping to be able to accomplish during the day? Because if there's one great piece of wisdom I can offer you right in the beginning, it's don't get good at things you don't want to do, right? You are hopefully the director, photographer, creative, what have you, right? Are you the bookkeeper? Are you the janitor? Are you the photo editor? Are you trying to wear so many hats that your creative vision is getting lost along the way? That's really the question you need to ask yourself. For me, I remember pretty vividly. I wa...
s working for Surfer Magazine on staff. I was traveling maybe six months out of the world, shooting editorial for magazines. And this was really the beginning of my career, maybe 10, 12 years ago. And I remember being on assignment somewhere out in the world and getting an email from a magazine. And they were like, Chris, we need your photo for the cover right now. We need you to send it right away. And I was like struggling. I had set up these sort of proxies where I could access my server remotely, but I'm in a remote part of the world where I had no Wi-Fi, barely any cell service and I'm freaking out. And I remember calling my wife at the time and I'm like, hey, can you log into my computer and try and send this photo? can you log into my computer and try and send this photo? And she's looking at me like I'm speaking a totally different language. And I realized in that moment that I had effectively shot myself editor's deadline and getting them a cover, editor's deadline and getting them a cover which at the moment would've been an awesome, awesome thing in my career. Would've made me money. It would've also allowed me to have the notoriety of having a cover of a magazine that I was so excited to have, but I missed that opportunity. And when I got home from that trip I realized that I needed to do something. I didn't know where to start. I didn't know where to look to. And I knew that this was probably the time that expanding my business in some way, made sense. Now, expanding your business can be something that you can look at in a lot of different ways. It's not a matter of hiring 20 employees right away. It's not a matter of even hiring two. It could be a matter of just teaching somebody your methods, so that when you're gone and so that when you have these needs, these desires for a little extra help, you have somebody to call on. And that's exactly what I did. There was a young kid in my town named Andy who had reached out to me for an internship. And at the time I was like, I don't even know what I have to offer. I'm just doing my best to keep afloat myself. And he reached out, he kind of wanted to learn about my process and about what I did. And so I remember calling him up and saying, hey, I'd love to teach you. I'd love to, I'd love to kind of share with you a bit of my knowledge, but in turn, what I would really love is for the ability for me to be able to kind of, hire you to help me out when I'm potentially gone and when there's things that need to be done. And that's exactly what we did. I spent the next couple months kind of letting him shadow me. And I realized that during these moments that I would leave on trips all of a sudden I had somebody who knew where my files were, who knew how to search for images on my computer who knew the process that I went through to organize and orchestrate everything so that it didn't feel like some high security system when somebody would go in there. But it was actually a system where somebody could go in easily access a photograph and send it off to a client. Now, that proved to be incredibly invaluable. In fact, it was probably one of the singular most greatest contributions to my success at that time as anything else, because I knew that if I wanted to get the upper hand on say a lot of other people doing what I was doing, which was shooting for Surf Magazines and shooting editorial, I needed to be able to fulfill the needs of these editors the needs of these magazines and the selections that they were requesting of me at any time. Didn't matter if I was gone, didn't matter if I was in the middle of nowhere, out in the wilds of the world, I could still fulfill their needs. And there's one thing I want you to comprehend it's that this person doesn't even need to be somebody who is trying to do what you do. It could just be a friend that you trust, but trust is a key component, especially with that first employee. You're gonna be sharing with somebody, really everything you know, you're opening your life to them. And what I would highly suggest is if you do have that first employee, you make sure that there is an agreement set up, paperwork and hopefully an NDA of some sort. So that the things that are shared within the office are not shared externally. You're doing that to protect not only yourself, but your clients, right? One of the biggest key factors here is that as I realized how hard it was for me to relinquish some control for my business, I realized that I was a bit of a control freak, because there was certain ways that I wanted to do things. And there's certain ways I wanted to get things done and having somebody else come in and really helped me let go, it did something really, really brilliant. It actually opened me up to a whole new way of thinking that all of a sudden I could focus on being more creative. All of a sudden there was this tension that I didn't know I had, that I could then release because I was able to focus on my job and what is my job? It's not to be a bookkeeper. It's not to be a janitor. It's not to be an agent. It's not to be all these things. It's to be a creative and it's to be a photographer. And the moment that you can get back to doing that you will know a freedom that some people have kind of lost over the years. And this is really where the critical component of when to expand comes into play. Now, my first employee was, again, just somebody that I had had trained that I knew within my community who had requested an internship, but after that person left and went on to do their own thing, I realized the value of that. And so what I did was I reached out to a couple personal friends and I said can I train you to understand how to access my work, how to build submissions, how to kind of, you know, be me when I'm not there, so that if I need something I can call upon you and you can work a couple hours here and there. And that's really what my first employee became. It was a part-time kind of partly trained person that would be able to come and just fulfill these super basic needs. This topic of when to expand, it really starts to bleed into one of my favorite topics is when to build a team and what team members really can support you. But before we dive into that it's important to address something else. When not to expand, right? And I think the key component there is if you're bringing somebody on, you're spending the time to train them and you're going through all the legalities of getting a correct agreement in place, getting a nondisclosure agreement in place, on top of whatever that work agreement is, understanding what to pay that person. These are all considerations that you have to take, if you are going to be hiring one or 20 employees. I wish I could tell you a perfect number of what it looks like to pay that person and what the agreement is. But ultimately you need to protect yourself. This depends on what kind of business you are and what I would suggest is first and foremost having an insurance policy of some sort so that if somebody who is there without you burns down the building that you are covered, okay? You are effectively putting your livelihood in somebody else's hands and you wanna make sure you're protected. So a good insurance policy would be, would be really crucial. I use an inland marine policy which is an all perils policy for all my equipment. I also have a few more insurance policies that allow me to be protected on shoots as well as allowing me to to protect my property and my business here. That might be a little more than you need at this moment 'cause remember, you're just probably bringing on that. Maybe it's even a family member. Maybe it's a close friend just to help you out, but to protect yourself in the beginning is crucial. That agreement that you put in place should be something where it clearly lays out what their responsibilities are and what your responsibilities are and what the realm of tasks you might ask them would be, right? It's not uncommon to have that be just something that's very, very blanket statement in the beginning. But as your business grows you're gonna want to have that more finely tuned. An NDA, as I've said multiple times, this is a non-disclosure agreement. So if you're talking about something kind of sensitive and critical between you and your employee or your friend or your family member, what have you, that that doesn't leave the office. So that that information, when it's sensitive to the client or it's sensitive to the job, doesn't go out into the world and come back to bite you, right? Those are all considerations. When not to bring on an employee. I think this consideration is something that we need to really, really break out the concept of how busy am I? Am I able to fulfill the needs of everything I do in my studio or in my business or whatnot. Am I really in need of bringing on somebody else? Because the time to train that person will be exorbitant, if you want them to do their job well, right? The time to set up your business correctly. Hopefully, if you're doing this and you're bringing somebody on you are and LLC, an S Corp, a C Corp, something that allows you to set your business up so that you are safe and you are protected, right? Now, there's also a lot of tax benefits to bringing on somebody else and paying that person as well. I don't think that you need to necessarily think of that first employee as somebody where you're gonna be paying them a 401k and life insurance and all these all these things, dental, but long term, if you plan to grow, which is what we're gonna talk about next, what are you doing to make that transition easier? Now, if all this sounds overwhelming, maybe it's not the right time. Maybe your significant other could be that person who could help you out. There's a lot of great, you know, partnership relationships that work incredible to help people out when they're on the road, right? Maybe consider if that's the route you want to go instead of bringing somebody on. And I think the biggest thing that I would just want to urge you is that everything comes in its due time. I missed out on a couple great opportunities before I even considered bringing on another employee. But at the moment that I realized that every single trip I was going on there was something that was missing. There was money being left on the table. When that money that's being left on the table, theoretically can offset the money that you are paying this employee, that's usually when you need to think about bringing somebody else on. That's really the key moment. So as I've said before, and you'll hear me say again and again, it's impossible to give so many directions that they don't know the destination and much like where your business is hoping to go or hoping to be in 10, 12 years. And trust me, I know how impossible that sounds, like what kind of building do you want to build for yourself? What kind of home do you want to build? Right now, you're laying the foundation and it can be hard to catch that vision when you're in year one, year two of your career. I didn't wanna be the person stuck behind the computer editing. I didn't want be the person trying to schedule calls. I didn't wanna be the person trying to learn how to use QuickBooks. These are all great skill sets that some, a better man or woman could probably handle, but I wasn't that person. And so it was important for me in that moment to take stock and take a step back and realize this person is really helping me to stay focused, stay creative. They were actually pushing me to be the best version of myself because all of a sudden I could put back on the photographer hat and only focus on shooting photographs, which is what I love. And it's why I picked up a camera in the first place. So when it came to building a proper team I wanted to think of all of these people as building blocks to lay the most solid foundation that I possibly could for an epic house. And that's really what I did. And this is why I want you to start considering what that first role is, that you might want to bring into your studio into your business and how they are going to support you ultimately. Does it mean that you need to bring in an assistant to just start gathering up an organizing images? Would the best person for you to bring in be a bookkeeper? So you don't have to deal with the invoices and reaching out to clients and trying to get paid. Would it be a manager of some sort? We're gonna touch on a lot of these different subjects in each of these roles in our next chapter here, but for now these are some things that I want you to consider.
Ratings and Reviews
An experience This was absolutely amazing. I have followed Chris for more than 10 years, he has been an inspiration to me in many ways; his way of seeing the world and the devotion behind his passion for storytelling has always called my eye. After watching and studying with this course I realized it all comes down to following whats true to you and doing it with all the love in the world. Thank you Chris for being an open book about your business and sharing with us all the stories in between, the anecdotes, the whys and the hows behind your experience as a photographer. This was an adventure for me and I am grateful for all that you shared. Now I am ready to take my business of photography to the next level.
Insightful and Motivating it was truly great to hear some real life experiences from someone you look up to. I feel like I have an understanding of the industry I previously thought I knew but now know was way off. if you are looking to take your photographic journey seriously this is a fantastic look into the world of the working, travelling, successful creative.
Always Gives *Almost* Enough Detail Although I'm a huge fan of Chris Burkard's work, I must say this workshop was unfortunately very disappointing - especially given the premium price that is charged. While each episode is quite long, it seems to fall into the trap of saying a lot while saying very little of substance. It's great to hear his story, but also feels as though the picture he offers is a very general "top-level view" through friendly conversation, as opposed to offering more concrete action steps by deflecting specific guidance with words like "you need to figure out what's right for you." I bought it because I don't even really have a good benchmark for "what's right for me." Unfortunately, whenever opportunities rise for Chris to offer a baseline for what we can start looking for, those moments fall through. This course absolutely does offer value - it's not a 1-star workshop by any means. However, if you're trying to decide where to invest $300, spend it on Finn Beales' Storytelling workshop, Alex's Adventure Photography Pro workshop, or Andrew Kearns' workshop on brands. There are MUCH better places to start or continue your investments though Wildist's courses.
Student Work