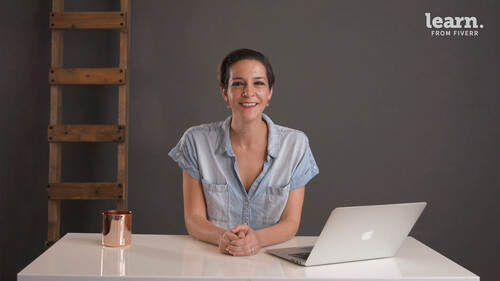 Lesson Info
8. Survey Monkey
Lesson Info
Survey Monkey
Surveymonkey is another free tool you can use to conduct customer research. Let's take a look. Surveymonkey is a free online survey tool. You can access it on surveymonkey dot com. Once you get to this page, which is kind of like your homepage to create a survey. All you need to do is click on this button right here, create survey. Pretty self explanatory. So my favorite thing about this tool is that if you're not a researcher and you're not very familiar with how to create an effective survey, surveymonkey provides a bunch of different questions and templates that you can use to create a really great survey that will yield you really good results. So you can decide here to either start from scratch. You can copy an existing survey or you can look at a survey template. So let's just look at all the templates that Surveymonkey has. So let's say in this particular case we are a small company or you are a freelancer supporting a small company. You know something about your customer becaus...
e you've been around for some time and you interact with your customer once in a while, but you don't really know a ton about them and you want to build a customer persona. So you're going to deploy a survey to your list of current customers as a way to understand them a little bit better. So I would say that kind of survey would fall into the market research bucket. So survey monkey has a bunch of different market research surveys that you can just take and run. So anything from brand personality template to consumer behavior survey template. Uh, if you create a free account, you're free to explore all of these and see if any of the any of them actually fit what you're looking for and what your goals are. Or you can choose to start from scratch. So in this case I'm going to start from scratch. So I'm going to click here and I'm gonna call this survey carla, the college students, I'm going to say that it falls within the market research category. So we're going to create this survey. So now you're starting from zero, right? And maybe some of you have experience writing surveys, maybe some of you don't. Um, but regardless there's just a bunch of questions. Probably an infinite number of questions that you can ask your customers to understand them and to better build a persona that said as we discussed earlier. Um as even though personas can contain very different types of information depending on the industry and the company, there are three really key things that most personas contain. So that's demographics. That's goals and challenges. So my suggestion as you build your first survey, if it is your first survey, is that you really really try to focus particularly on those three. So if you are going to build demographic questions, you can decide to type them up yourself or you can you can access an entire question bank that surveymonkey has at your disposal. So right here on the left, you can take a look at demographics and you can see all the different questions that you can ask. Your current, your current customers that will shed light on their demographic information. So I'm just going to select a couple here. So you can take a look at what they look like when they populate in your survey. So the coolest thing about this is that of course there's people who are experts in surveys who created these questions. And so you if you use these, you're guaranteed to make sure that the answers will get you the results that you need. So um that's for demographics. So in order to understand goals and understand also sort of frustrations or challenges, you can take a look at all these different categories and see if you find something that is specific to what you're looking for or you can choose to create your own question. So in this particular case I'm just going to create my own question. So for the first one I'm going to say what's the biggest challenge you're currently facing in your role. So what's Oh sorry. And this survey monkey is smart enough to know that this is a comment box. So you can click save for something like Like goals for example, you can ask something like what are your 3-6 month goals in your current role. So I'm just gonna add any question and type that in and that's going to be a comment box as well. So once you're done typing up all your questions, you can click on next and it'll show you a preview. So I will definitely recommend that you spend a lot of time previewing your survey, send it to yourself via email, you can invite other people to comment, just make sure that it works properly and that the questions make sense for the type of information that you're looking to gather. And then finally, when you click on this, when you go to the collect responses um phase of this survey creation, you can see that you can collect responses in a variety of different ways. So you can send this survey by email, you can get a web link, you can also share on message or post on social media. So you can really try to go out there and collect responses from a variety of different audiences. So I would take some time to think about what audiences you're trying to collect information from uh and then share the survey in the in the right channels to make make sure that you're reaching the right people, if you need more ideas for survey questions, I put together a great cheat sheet for you, check it out in the download section. Both of the tools we just covered can really help shed light on the demographics of your customers, but how about their thoughts and feelings. This next framework will help us dig deep into those.
Class Materials
Social Content Calendar Template.xlsx
Competitive Research Template.xlsx
Social Media Content Strategy One Sheet.pdf
Ratings and Reviews
Es una excelente clase, muy didáctica interesante y amena.
Student Work