Marketing Personas
Rita Cidre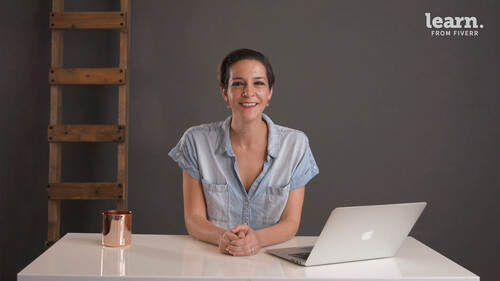 Marketing Personas
Rita Cidre
Lesson Info
5. Marketing Personas
Lesson Info
Marketing Personas
think of some of the brands you follow on social, Why do you follow them? You probably like what they post? Maybe they make you laugh or simply they just post stuff that you can relate to. Ultimately brands with a strong social media content strategy. Don't feel like brands, they feel like people. The truth about social media is that people follow people. So it makes sense that in order to have a solid content strategy for social, you need to start with people first. That means starting with your customer. If you're a freelancer, some of your clients might have a strong sense of who their customer is and others might not. Let's imagine we signed on Starbucks as a new client. They hired us because they want us to increase sales of coffee drinks to college students by launching a new facebook and instagram channel called at Starbucks College. You're thrilled about this opportunity to create a new conscious strategy for a brand new social channel. Hey, I'm pretty thrilled about it too. It...
's awesome. And college students are a great group to target, but then you start thinking about it and you realize, wait a minute, do Starbucks want to target this college student Or these guys or how about this 1? You probably get the gist here, understanding your target customer deeply is the first step in developing great content for instagram and facebook and one of the best ways that you can do this is by developing customer personas, bio personas are fictional, generalized representations of your ideal customers. They help you understand your customers and prospective customers better and make it easier for you to tailor content to their specific needs, behaviors and concerns. Marketing personas are useful in a lot of ways to help align teams in an organization. They allow you to personalize marketing efforts for different segments of your audience and finally, they help keep customers at the center of decision making. They look something like this. In this example, Jill Anderson is a customer persona representing a busy executive who travels a lot for work. The different sections in this visual help you get to know Jill a little bit better. You'll notice that she is much more of an introvert analytical type. She prefers to use her mobile phone over any other channel and she's just endlessly frustrated by how much time she spends booking flights. If you were a marketer at a company like conquer or one of the ones listed here, like kayak or Expedia knowing these details about Jill would be super helpful. You could for example, ensure that you emphasize convenience over loyalty points or miles in your marketing messaging or you could ensure to take a mobile first approach to your marketing. Let's take a look at another example. This time of Tommy the technologist. I'm sure you already noticed that this one looks a little bit different from Jill Anderson, It has a section for common objections. Super useful stuff for any marketer and another one for biggest fears. We didn't see either of these sections in the Jill Anderson persona, and that's because there's no set rule to what kind of information a customer persona must include. But even though they may vary widely from company to company, there are some details that almost every persona contain. Number one Demographic information, number two goals. Number three frustrations. The process of creating a customer persona is typically long and expensive, as it requires a significant amount of research. But today I'll show you some easy and cost effective ways to develop a great customer persona for your business or client.
Class Materials
Social Content Calendar Template.xlsx
Competitive Research Template.xlsx
Social Media Content Strategy One Sheet.pdf
Ratings and Reviews
Es una excelente clase, muy didáctica interesante y amena.
Student Work