Marketing Funnel
Rita Cidre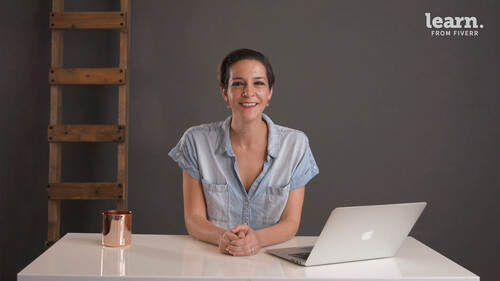 Marketing Funnel
Rita Cidre
Lesson Info
2. Marketing Funnel
Lesson Info
Marketing Funnel
the first step towards success in any digital marketing endeavor is always the same setting objectives and KPI or key performance indicators because if you don't know where you're going, how will you know when you got there right, let's take a look at how you can set objectives for your brand or if you're a freelancer for a client's brand by starting with my favorite framework of all time, the marketing funnel, the marketing funnel is a consumer focused model that illustrates the theoretical customer journey towards the purchase of a product or service. At the very top of the funnel, we have awareness, in other words, how many people are aware of your brand or product, how many know that you exist, awareness is always the first step in any journey towards someone purchasing your product, which is why it's at the top. The next step in someone's journey towards becoming a customer is interest then conversion or the actual purchase of your product or service and then finally at the very b...
ottom of the funnel retention and finally referral. These last two steps have to do with customer loyalty to your brand. How many people stick around to buy from you or how many love you so much that they tell their friends about your product or service companies like general electric, leverage social media to drive awareness and affinity to their brand, not to drive sales, this is typical of B two B or enterprise companies or CPG brands where most sales happen in brick and mortar, retail locations. After all, it's unlikely someone will purchase a wind turbine on instagram or a box of Oreos on facebook. Conversely, e commerce brands more and more are leveraging social media to drive middle funnel activity. In other words to directly impact sales, Herschel is a great example of this. Look at this and other e commerce accounts and you'll notice that these brands are selling their products actively on social, while still providing an on brand experience, deciding what part of the marketing funnel you want to impact whether it's awareness, interest conversions or loyalty is a critical first step in the process of defining your content strategy. Let's imagine, we just signed Starbucks as a client, they hired us because they want us to launch a new digital marketing channel called at Starbucks College and they want us to come up with content for it. But before we do anything we should ask what part of the funnel are they looking to impact. It's unlikely Starbucks will sell actual coffee through instagram and facebook. So we rule out conversion. Starbucks has really high brand awareness. A lot of people know about them, so that's not something they're looking to tackle. So we settle on interest. The next question we'll ask is how will we measure success and this is where KPI S come in
Class Materials
Social Content Calendar Template.xlsx
Competitive Research Template.xlsx
Social Media Content Strategy One Sheet.pdf
Ratings and Reviews
Es una excelente clase, muy didáctica interesante y amena.
Student Work