Wrap Up & Next Steps
Peter Voogd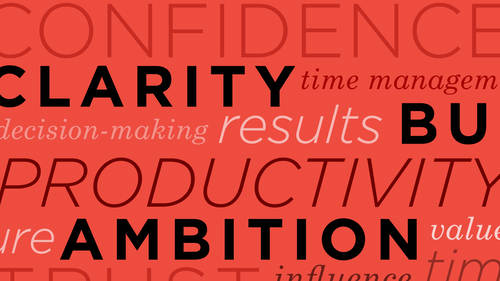 Wrap Up & Next Steps
Peter Voogd
Lesson Info
19. Wrap Up & Next Steps
Lesson Info
Wrap Up & Next Steps
the final steps. As I know, I want to bring everything together. And the rookie mistake years. People try and do too much. They overwhelm themselves and they slip back into old habits. I've been the a lot of seminars. Very few of them simplify toe one or two things at the end. Very few. And a lot of them not not, I don't know personally, but I'm guessing somewhere like, well, they already are here on whatever. I actually genuinely want you guys to crush it these next. You guys really like the prodigies from the class? You guys want to crush it the next six months. So complexity is the enemy of execution. So if there's all these complex things, you have 100 action steps. There goes the execution. Usually when I'm overwhelmed, I don't really execute. I just do nothing. I'm a human being. So I realized that execution comes from simplicity, right? To keep it simple. So we're gonna take some time right now. I want you guys clean sheet of paper, clean sheet of paper. Okay. Literally clean. I...
want you to pick. We're gonna go through. You're gonna go through your all your notes. I want you to pick your three most important actions from each segment. Morning, the 2nd 1 So 90 minute segments, your top three actions from the first segment Top three actions from the second segment. Top the reactions from the last productivity segment and top the reactions from this segment. I want you to write those 12 actions down on your page. You guys at home to write down. If you haven't watched it all, I challenge you as long as you've been watching it right down your top 10 action steps that you're gonna take from what you've gained thus far. And if they have any questions because we could take one, and if not, it's fine. I know some people are like, focused and ready to roll. Yeah, I mean, people are really focused. Nothing on what we've just been talking about. Um, here's one that's kind of come up throughout the day and a couple of people voted on it, and you've touched on a little bit. But while we're doing this, it's originally posted by Smurfy in the chat room. Who says during the day when you get smurfy Murphy Good name. Yeah, but this kind of gets in years. We're talking about stress relief, but smurfy says during the day when you get negative talk going on your head, how do you shut that down? Is that similar to relieving stress? Your Yeah. So that's almost why you should create a ritual. So same thing with with if you're stressed or have no momento where you're frustrated. So figure out what he can replace the saying of negative talk with with positive trigger words. But to figure out have him well, I'm talking to him. Smurfy Murphy Could be. Could be a male or female. Not sure that's really your name. That's kind of cool. Figure out how to get out of the out of your rut or out of the negative talk by something that creates positive vibes with you, or create something exciting with you, whether changing your focus. So what we just talked about is relevant to this. So you probably ask this beforehand, but just figure out two or three things that inspire you that challenge you that gets you excited toe a right. When you have that negative self talk, you do these things and get out of it, and sometimes it's just looking at your strongest reasons. Sometimes it's discipline, but you have to figure out what those are and then makes you execute on your rituals when you have that negative self talk. And really, that's it. And a lot of questions to Chris, like the negative self talk that will lessen as they do these things as they take action as they elevate their circle of influence as they become more productive. The self talk lowers, which is pretty cool. So once you start getting the results, guys, you're gonna feel your peace of mind, your results, your productivity rise based on actually doing these things that we're talking about and having the discipline to be at home to watch. This is amazing. I'm proud of you guys. There's a 1,000,000 things you could be doing, but you're investing in yourself and you're betting on you, and there's nothing more important to bet on them yourself. So I appreciate you guys while we're doing this. This one comes from Theresa, and she just wants to say this part of your class has been absolute gold, really enjoying it. The question is, do you have an effective response or a suggestion that I can use to deflect some discouragement that comes with not feeling supported by my life partner with some of these things that were putting it. And I know it's hard and every situation is different. But, yeah, I think there are some people out there who may be feel like they don't always have the support of their friends or family when they're trying to do some of these things. Yeah, the biggest biggest thing I could say is sharing the vision and getting them to think longer term of why they're doing what they're doing. So here's the thing. They just don't want to see you struggle. So a lot of people like when kids get in the sales or door to door direct sales. A lot of parents don't do that because they don't want to see their kids struggle with. That's actually the best thing for their kids. To A lot of parents were like, You shouldn't you should get a normal job because that's all they know. So a lot of people come out of caring and love. They're like, I don't know if you should do this because I don't want to hurt, But if you can share the vision of why you're doing what you're doing and you can paint the picture, this is why I want to do this. And it's almost like you have to have standards because you're gonna get what you tolerate. So if you just let him know I'm doing this, this is what I want to do. I need your support. It means a lot. There's no one else on Earth that I care as much about support from than you. So can you just give me blank and then give yourself a time frame? A. That will challenge you to take more action to prove that you actually are serious about entrepreneurship for success. And it shows him that you're serious enough. Teoh, go back to how he wants you. If you don't get results so it challenges you, I would give a date. But the best thing you can do to someone doesn't believe in you is get results and live your best life. Then they can't do anything else but actually support you because you're getting results. So I would just paint the picture, share the vision and make sure that you're giving yourself some time and say Give me blank but share the importance of their support. And if it continues to happen, I don't get that. You know what to do. Because if it continues to happen, really, it's gonna be worse 10 years from now. So that might not be the answer you want, but that's just the facts. But I think nine out of 10 times when you share the vision and you don't get emotional about it or take it personal. But you say, Hey, I respect your opinion. I know you don't want to see me hurt, but to be honest, I'm doing this no matter what, because I have such a conviction and what I do and what I want. And I want this for us. But I need your support because that means more than anything and they're like, Oh, makes sense. Give me six months, Give me six weeks, give me one week. That's hard to do in a week. But tell him to let me prove it to you. And if you prove it and they still are bad, what to do? Good question. Really. I'm sure other people have that same question. All right, You guys have your 12. And here's where you gonna do. The 80 20 rule is always in effect at all times. 80%. Your activities produce the results. Okay, 20% activities produce 80% of results. Sorry. 20% year on the happiness. I mean, it's all the same. 80% of your unhappiness comes from 20% of the people. 80% of your complaints and business come from 20% of the customers. So for this, we're gonna simplify. And I want you to look at those 12 okay? And pick your top to that. You need to go all in on right after this class and your I'm telling you right now, you're gonna forget the other 10. Right now, you're gonna forget 90% of what we talked about today, and I want you to forget it. You're gonna not worry about it. Don't even think about it. Picked two things on that 12. Picked the two things that will make the biggest dent and the biggest splash or wave in your business and life. Two, not three. Not eight to for you guys that are used to information overload. This is gonna be hard for you because you're like, I want to pick nine, right? Can pick nine. It's only two until you get results until their master, Then you're gonna go back and finish the rest. So now when you have those two below that, I want you to pick a date in the next 30 days. And I want you to put 60 minutes in your schedule. Literally block 60 minutes off in 30 days. Actually live to 14. That's even better. 14 blocks, 60 minutes off in 14 days to go back and check a couple things. One. Did you master these 1st 2? Did you execute on these for the last 14 days to have you seen results three. What you gonna master next? This is so crucial. So in 14 days, I usually 30 so you could do 14 and 30. But you're going to go back in 14 days ago. You know what these are the two actions of Did I master and focus on these? If you didn't ignore that 60 minutes and keep doing that. If you did say Okay, I master these. I've seen results. What is the next action. I mean, take from this list. Got it. And then once you go there, what do you suppose you're gonna put your schedule again in 30 days? 60 minutes. Did I master this one? Have I seen Riel? Results have increased my income in my freedom. And what? I'm making a master next. You might not get to some of those for, like, six months, but it doesn't matter because you're focused on Master. You're focused on mastering your craft, not overloading yourself. Okay, so we're gonna do a 14 day mo mentum challenge. Why? 14 days? Because six months, eight years? It's too much. I want to focus on what you can do to build massive momentum because momentum's gonna take over habits. Takeover. And this one doesn't even mean much once you have the right habits. You don't need this plan. This one really is just remembering what you want. But have it's defined. You write habits, trump inspiration seven days a week, because inspirations very short term. And it doesn't really last past the activity producing it so you could be inspired right now, but it's not gonna last after the activity, unless you actually institute rituals and habits into your schedule. Okay, so 14 day moment of challenge underneath your to action steps. And underneath the 60 minutes for the next 14 days, I want you to write this 14 day note. Uh, this is the challenge. No negativity. You cannot speak unless it improves the silence and you're not. You're not judging anybody you're appreciating. People don't allow toxic people in your life or people that are negative or people that have problems for every solution you have people that play victim. Life is too short. Number two for 14 days, 14 days only. Get addicted to results, not information. Get addicted to results the next two weeks, not information results. Is your best friend because results really is the name of the game. Five days a week. I want you to listen to something, whether it is this course and audio. Um, the motivational mixtape. If you haven't had that ambition, this priceless mixtape, it's on ITunes. Something that sparks your mind five days a week. And make sure what you're listening to is relevant to your one page productivity plan. Like if you're focussed on getting better at sales, don't listen to something on leadership unless that's really relevant. If you got the marketing down and you're focused on this, don't focus on marketing. If you only want marketing folks on marketing, not sales, right, don't focus on something that's not relevant to your six month vision. Next five day, I'm challenging everyone in because I don't care if it's a five minute workout. Five days of sparking your body. If you haven't worked out in five years in 10 years, in one year in 10 days, I challenge five days, so 10 days to this is each week spark your body. Once you do it a couple days, it's addicting. It will keep happening six days a week. Prizefighter routine. What's that mean? Your morning routine? This is not gonna be easy. It's going to test your capacity. But if you really focus on all the reasons you won't believe the momentum you build four days of the 60 and then analyse why you feel how you feel analyzed why you are where you are versus getting emotional verse intake versus taking things personal. Analyze versus getting emotional. Use intelligence more than emotion. Okay, so you're gonna focus on creating consistent daily habits and moving forward. You have to make sure you're 100% committed to yourself into your goals, and starting to mash to yourself in betting on yourself is the biggest key. So we've talked about this focusing on the end results and making sure everything you're doing is based on what you want based on your values and your strengths, your mapping everything out. And here's what I want you to do. Find an accountability partner as well that will hold you to high standards. Okay, When you find an accountability partner, you want to make sure they obviously challenge you. They're not gonna let you off the hook, right, because they either lets you off the hook or hold you accountable, find someone that really holds you accountable. And then what I want you to do after these 14 days, guys, write this down, created a reward for yourself something that you've wanted for a little bit. Create a reward that you're proud of and inspired by something that will empower you. How are you going to treat yourself for stepping up and being leading the majority versus being a majority leading the 5% okay, And it doesn't come without hustle and grind. You gotta admit what you're willing to give up to go up, right? The number one thing that holds most people back on this earth Based on years of research number one thing you hold most go back is most people never tell themselves now matters ever there always living on. Someday I'll someday I'll be successful. Someday. I'll take action not right now, but someday. And there, on this island with a bunch of other people that are on Sunday Island, you gotta vote yourself off, get off the island and tell yourself now matters. Most people guys spend the first half of their life saying they're too young. And the second half saying what? And to old, that's most people. I challenge you not to be like most people from this moment forward, Okay? Because right now matters guys. Not tomorrow like this. Second matter. So when you leave, remind yourself now matters more than ever because that's all you have. Success is gonna happen anyways. Time's gonna go by. You might as well build your dreams and maximize it as well. So on the bottom of that sheet of paper right down right now for end your first and last name. Write down your first and last name and my challenge to you is asking yourself, What do you want your name to mean? If you start really hustling for your last name, not your first. That's the most inspiring thing for you. Think about what you want your name that you when someone hears your name, what do they think about is it can grew in tow. What actually they think about Is that what you wanted to be? I challenge you from this moment forward guys, when you leave this class, work for your legacy, not just for that day, not just for your business work for your kids, your kids, kids be the type of person that's working for the long term game because if you can really focus on what you want and then focus on what you're willing to give up to get what you want, that's when you're going to gain everything. You're gonna be the most fulfilled
Ratings and Reviews
Amazing amazing amazing! This course is for anyone and everyone who is looking to jump start not only their career, but their life. Extremely actionable steps throughout the entire course that are great for people who are just starting out or already have a successful business that they want to take to the next level. Many of the courses that I have taken over the years, I find myself just trying to quickly get through them to check it off the box. This course on the other hand, I rewound, shared, paused, thought about and then re-watched. I would have paid $1,000+ for this info. Please don't think twice about buying this course. Amazing job Peter! Highly recommended!!
I don't know Peter Voogd. I bought this class anyway because Six Months to Six Figures is a very good eye catching phrase. But when I started to see each module of this class everything Peter taught gave me a new perspective of what an entrepreneur should do in order to be really successful. Peter shared his teachings not only from his own personal experience but most of all from his heart. Peter you turned this dude into one of your disciple. I will highly recommend to every entrepreneur this class. It's only inspiring but practical and honestly true in every aspect of what Peter teaches. I wish I bought this class earlier and had known Peter Voogd when I started my business. But you know what? It is never too late to do things right! Peter stay healthy the world needs a good teacher and coach like you. Thank you and God bless you brother!
This was my first class at CreativeLive, and I loved it! This course doesn't only tell you how to increase your income, but it also elaborates on how to be a first-class person in EVERY area of your life. It helps you identify your strengths and top core values so that you can use them to achieve your goals. If you are an entrepreneur and wish to improve your business, this course is a MUST. Even if you don't have a clear business idea yet, Peter Voogd will help you organize your ideas and execute them like a CEO. Peter is by far one of the best motivational speakers I have ever heard. I will definitely come back to this course to make sure I am applying everything I learned in his videos.
Student Work