The 1 Page Productivity Plan
Peter Voogd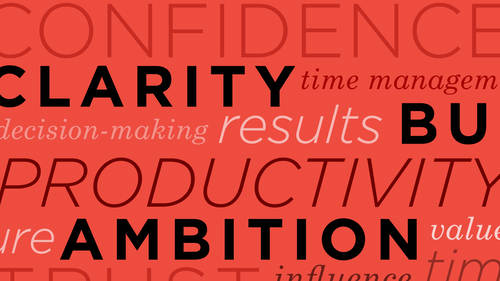 The 1 Page Productivity Plan
Peter Voogd
Lesson Info
5. The 1 Page Productivity Plan
Lesson Info
The 1 Page Productivity Plan
So we're gonna finish up guys, just with the one page plan that I know you guys know. But this is something If I had to pick one thing one or two things that have made the biggest impact on my clarity and my bottom line results, this is probably it. A lot of people work without a proven system or they have so much in their head. They have so much on their minds, have so much to do with their business. That's a business plan is like 30 pages and overwhelmed. I want to teach you how to simplify everything. Toe one page. You guys have this in your in the amazing productivity notebook. So the first thing you want on their guys is what's your ideal outcome? So if I was sitting down with you, Frank in, like, six months and I was like, Hey, what would have had to happen for you to be fully satisfied and excited about your results in six months? Nine out of 10 people are clueless like I don't just want more money. They're not specific. So you have to figure out what's your ideal outcome in six...
months. Like what is your ideal business. How many clients do you want? How involved are you in the business? How much money are you making, right? Were you working from who you're working with? So obviously not doing this now, But you have to chip away at all the noise out there and simplify to what's most important. So the first thing on this page is your one page, like your one paragraph vision statement. And it's not It's not a vision statement. It's more like an ideal outcome. Okay, for everybody doesn't matter what you're doing. This is crucial tohave. Okay, then. This is key. And you can do this at the break. You could do this on your own time, but this is something that you wanna have done and looking at by, like, tonight or tomorrow morning. So your top three core values it's funny. I've created this. And years ago I looked at mine. This morning. It still gets me fired up. Right? So you're three core values. What are your core values? We're gonna dive into core values. Next. There's a lot of exciting things about how to really figure out your genius and your strengths. Next stay tuned. But what are the values that drive you? Maybe it's family. Maybe it's legacy. Maybe it's creativity, adventure, impact income. I don't know what it is, but whatever values you're most excited about, write those down top three values. Then we're gonna break it down. The action, your big five for the next six months. So what are the five goals that you'd be excited about hitting the next six months and then your key behavior and habits. Now, you won't figure these out fully until I teach you to reach out to people playing the game at a higher level that already have what you want. They will give you this answer, okay. And then you're most compelling reasons, which you already have. So we're going to skip this because you already have your reasons. But here's the key. You want to simplify your reasons to your top five most powerful ones because 10 or 15 of those reasons if you write down 20 or 30 are just garbage. Not they're not. That don't mean much, but they're not waking up at 45 or 6 a.m. Fired up their externals like a new car. Yeah, I get that. But you want reasons that spark your emotions that drive you. If you're not waking up early, fired up to get up in the morning. Your reasons aren't strong enough. You need to reevaluate some things. So then, at the bottom, you write down your five biggest reasons. Now, what happens when you have this one page plan where you have your values, your ideal outcome, your behavior and skills you need to learn and your reasons what happens when you look at this? You let your vision guide you, not your current circumstances. That's what you want. Okay? You want your vision to guide you, not the circumstances. So once you have this one page, here's the homework. Print out three copies, get them laminated, and then look at them daily. That's the action item. Look at them. They look at him in the morning, put one in your car. One in your planner and one on your desk. So now you're letting the vision guide you? Not all these circumstances. Okay?
Ratings and Reviews
Amazing amazing amazing! This course is for anyone and everyone who is looking to jump start not only their career, but their life. Extremely actionable steps throughout the entire course that are great for people who are just starting out or already have a successful business that they want to take to the next level. Many of the courses that I have taken over the years, I find myself just trying to quickly get through them to check it off the box. This course on the other hand, I rewound, shared, paused, thought about and then re-watched. I would have paid $1,000+ for this info. Please don't think twice about buying this course. Amazing job Peter! Highly recommended!!
I don't know Peter Voogd. I bought this class anyway because Six Months to Six Figures is a very good eye catching phrase. But when I started to see each module of this class everything Peter taught gave me a new perspective of what an entrepreneur should do in order to be really successful. Peter shared his teachings not only from his own personal experience but most of all from his heart. Peter you turned this dude into one of your disciple. I will highly recommend to every entrepreneur this class. It's only inspiring but practical and honestly true in every aspect of what Peter teaches. I wish I bought this class earlier and had known Peter Voogd when I started my business. But you know what? It is never too late to do things right! Peter stay healthy the world needs a good teacher and coach like you. Thank you and God bless you brother!
This was my first class at CreativeLive, and I loved it! This course doesn't only tell you how to increase your income, but it also elaborates on how to be a first-class person in EVERY area of your life. It helps you identify your strengths and top core values so that you can use them to achieve your goals. If you are an entrepreneur and wish to improve your business, this course is a MUST. Even if you don't have a clear business idea yet, Peter Voogd will help you organize your ideas and execute them like a CEO. Peter is by far one of the best motivational speakers I have ever heard. I will definitely come back to this course to make sure I am applying everything I learned in his videos.
Student Work