Lack of Time Myth - Busted
Peter Voogd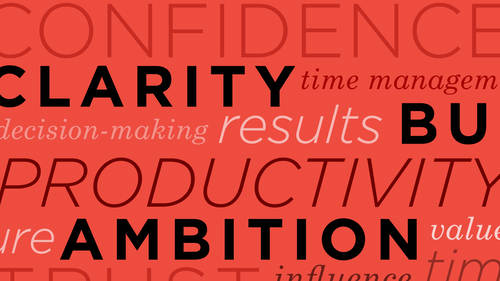 Lack of Time Myth - Busted
Peter Voogd
Lesson Info
12. Lack of Time Myth - Busted
Lesson Info
Lack of Time Myth - Busted
So here's a I'm gonna I'm gonna bust the time it for you. The it's the common excuse of the 21st century is the common excuse of everybody. Now, I don't have enough time. Not knowing what your time is worth is a huge productivity killer. All right. And if you don't know what your time is worth, you start saying yes to everything. Then you're overwhelmed. Okay? So if you don't respect your time from this moment forward, nobody else will. There's a lot of people that don't respect their time, but they get now when someone else doesn't respect their time. Wait, why would I'm confused? Why would I respect your time? If you don't even respect your time? You can't expect that. That's why you have to protect your time at the highest level right now. So, like I said, you can always make more money, but you can't create more time. So times all that matters. All right, So I was talking to Eric Thomas motivational speaker years ago, and he was putting out events and he was created some books and ...
he was going through his ah doctor program, I believe, is doing a lot of stuff and he was with his family. And I'm like, How are you making all this work like, How are you doing all this at once? Any of peace of mind? And I was thinking he was going to give me some complex answer like Sit down. I got all these steps for you and it's like three words sees each day. I'm like, Not what I'm expecting this good advance and good answer, he goes. I just make sure it maximize each day. A strategic is possible. I don't worry about the week. I maximize the day I'm like, That's a good point, so I'll break that down even further time is the great great equalizer. Everyone has the same 24 hours. Everyone. Whether you're Bill Gates, Richard Branson, Oprah, Tony Robbins, Michael Jordan, Kanye West, Taylor Swift, you have the same amount of time, and I always laugh at Ah, lot of people that aren't at the high levels. They they're like laughing at successful people like they don't have the same 24 hours they would be able to do all this stuff. I can't. I have kids, so they same 24 hours So it's how you use it that determines everything. And I can usually look at someone's schedule and I can look at how they spend their hours and predict where they're gonna be in the next couple months based on their schedule. Okay, that's why this is so important. And once again, guys, mindset comes first. Results come second. So 95% of our society right now doesn't plan their weeks. They just let things happen. And the 5% who do plan their weeks make more than the 95% combined because they're dis strategic, not more talented, just strategic. There will always be 168 hours in a week. No more, no less always. Okay, so it's not the hours you work. It's what you put in the hours. Remember what I said at the beginning when I was working 60 hours a week getting no results? Society says work more hours. That's the answer for most work more. I work 70. No results work, more work. I would have worked 100 20 hours if I was listening to society. I should have had the advice do the opposite right work more strategically. But eventually I figured out how to leverage my time, and I was ableto work 2030 hours to get the same results when I was working a lot. So how time is managed separates the wealthy from the struggling. Here's what I want you to understand before I dive into the context. There are people busier than you right now, with Mawr responsibility getting more done period in the world. There's people that are way busier than you getting way more done and the more responsibility. So from now on, you've got to treat your calendar, your schedule as a reflection of who you are and your integrity. All right, so hourly breakdown. This is this is mind boggling. And I've done this many times, and it's something that really shook me up a little bit cause I loved I love the excuse when I was younger, I don't have enough time. It's like my favorite thing now. It was causing me toe lose respect and not get results. But it felt good. Some of the things that feel good to say our validations, but deep down, they're not helping you at all right? So 52 hours a week sleeping. I'm just gonna give you a break down. There's 24 hours a day, no more, no less. 1 68 a week. So 52 hours a week sleeping 50 hours a week of school working, including commute. So you work from home. You don't have the commute, but let's say you have 50 hours of school work hours a week, eating 24 hour. This is 24 hours doing nothing, relaxing like watching TV games, hiking movies, family, whatever and then four more hours. On top of the 24 hours of relaxing, you can go to church. You're watching sports or go to your kids basketball game. How many hours is that? How many hours in a week You could watch five more hours of TV and you would still have 18 hours unaccounted for. Still, where in the world does the excuse? I don't have enough time. Time come from. It's an alibi for mediocrity, for people. People don't realize how valuable time is. They think it just comes and goes. It does. But it's quicker than you think. So that's why I want you guys to understand the importance of maximizing every second of the day. I don't mean having every single thing plan works. Like at 806 I'm gonna eat a carrot. No. Okay. At 8 19 I'm gonna eat sushi. That doesn't work that way. Right? But I'm saying know what drives your results? Have some time for free time, but have your creative time Have your execution time. Have the training, the team time, and we'll talk about that.
Ratings and Reviews
Amazing amazing amazing! This course is for anyone and everyone who is looking to jump start not only their career, but their life. Extremely actionable steps throughout the entire course that are great for people who are just starting out or already have a successful business that they want to take to the next level. Many of the courses that I have taken over the years, I find myself just trying to quickly get through them to check it off the box. This course on the other hand, I rewound, shared, paused, thought about and then re-watched. I would have paid $1,000+ for this info. Please don't think twice about buying this course. Amazing job Peter! Highly recommended!!
I don't know Peter Voogd. I bought this class anyway because Six Months to Six Figures is a very good eye catching phrase. But when I started to see each module of this class everything Peter taught gave me a new perspective of what an entrepreneur should do in order to be really successful. Peter shared his teachings not only from his own personal experience but most of all from his heart. Peter you turned this dude into one of your disciple. I will highly recommend to every entrepreneur this class. It's only inspiring but practical and honestly true in every aspect of what Peter teaches. I wish I bought this class earlier and had known Peter Voogd when I started my business. But you know what? It is never too late to do things right! Peter stay healthy the world needs a good teacher and coach like you. Thank you and God bless you brother!
This was my first class at CreativeLive, and I loved it! This course doesn't only tell you how to increase your income, but it also elaborates on how to be a first-class person in EVERY area of your life. It helps you identify your strengths and top core values so that you can use them to achieve your goals. If you are an entrepreneur and wish to improve your business, this course is a MUST. Even if you don't have a clear business idea yet, Peter Voogd will help you organize your ideas and execute them like a CEO. Peter is by far one of the best motivational speakers I have ever heard. I will definitely come back to this course to make sure I am applying everything I learned in his videos.
Student Work