Becoming Irreplaceable
Peter Voogd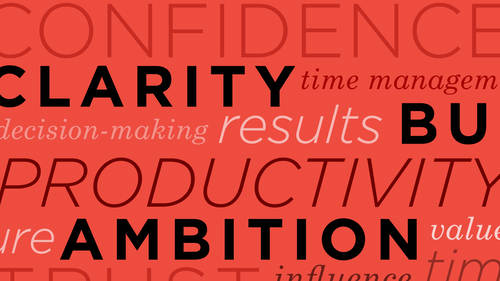 Becoming Irreplaceable
Peter Voogd
Lesson Info
14. Becoming Irreplaceable
Lesson Info
Becoming Irreplaceable
now becoming irreplaceable. So now you obviously have some aspect of planning down. But now it's how to become a replacement with your plan. If you don't know what your time is worth, you can't expect anyone else to know. And the on leeway to respect your time is to understand the value of it. So I'm gonna teach you guys how to figure out the value of your time. You guys into that fired up. All right, So how much is your time worth? My question is how much you'd be willing to buy back an hour of your life. How much would you pay to buy back an hour of your life? You could buy back time. How much would you pay for that? Because if you understand the rial value, you'll never waste time ever again. So here's the questions in your notebook. Okay, So what do you want to earn in a year? We're gonna literally do this activity. And you could do a little bit on break to We're gonna do the 100,000 or mark whatever degree. That's a good starting point. Like that's a good number. $100, right? How ...
much days How many days do you plan on working this year? I used to 20 as an average. Okay, Hours. You plan to work a day, Let's say six. I mean, obviously some people work eight, and if it's eight, you would adjust the other numbers. It's already in there, guys, you know how to write it down. And if they don't have this, they can download it right after they join a reddit, thereby. Yeah, this is a no brainer. By the way, guys, um mean looking like every page is worth more than the price. Thinking about it. Um, so multiple. How many hours? So multiply lines two and three for total hours. That's the total hours. Not sure there's a dollar sign. Divide line one by line four for your hourly rate hours with the days you're working $76 per hour. Now this is the productivity multiple that I explain in here. But here's the multiple. You can't expect to be productive all day. It's impossible. Even the most productive people aren't productive all day, so it's best to assume you're productive 1/3 of the time. That means you could only build clients for approximately 1 30 your time that you're working. So you have to multiply the hourly rate by three. Okay, so the 76 becomes, what, 2 28 Okay, so to 28 per hour you're worth if you want to make six figures. Now, if you know your time is worth $228 an hour, are you going to design a logo? Are you gonna do something that's not relevant to you That you don't think is your strength versus paying someone 30 bucks an hour? No. Now, you're not going to do things that are lower than that. So people that have time on their hands like you asked. They need to figure out ways to become more valuable so they can start charging Mawr and figuring out how to make their time more valuable as well. So my question for you is what's your number? I hear kids all the time with the big vision. I'm gonna make 500 grand this year. What's your number? What do you do? You worth an hour like 50 bucks doesn't match. And they never done this before. But I want to bring them back to reality and say, if literally you want to make that much your time is worth 7 an hour, right? So why are you doing this yourself when that's not your strength? Oh, they say right? So it's all about bringing people to reality. Now. It's definitely possible making half a 1,000,000. It's possible making seven figures. But you got to respect your time so we'll figure out how to help you guys figure out, figure out this number as soon as you can. So the key here is evaluating everything against that number. Now that you know your number, evaluate everything against it. Now you know what your time is worth now you won't give away your time, you know the value of it.
Ratings and Reviews
Amazing amazing amazing! This course is for anyone and everyone who is looking to jump start not only their career, but their life. Extremely actionable steps throughout the entire course that are great for people who are just starting out or already have a successful business that they want to take to the next level. Many of the courses that I have taken over the years, I find myself just trying to quickly get through them to check it off the box. This course on the other hand, I rewound, shared, paused, thought about and then re-watched. I would have paid $1,000+ for this info. Please don't think twice about buying this course. Amazing job Peter! Highly recommended!!
I don't know Peter Voogd. I bought this class anyway because Six Months to Six Figures is a very good eye catching phrase. But when I started to see each module of this class everything Peter taught gave me a new perspective of what an entrepreneur should do in order to be really successful. Peter shared his teachings not only from his own personal experience but most of all from his heart. Peter you turned this dude into one of your disciple. I will highly recommend to every entrepreneur this class. It's only inspiring but practical and honestly true in every aspect of what Peter teaches. I wish I bought this class earlier and had known Peter Voogd when I started my business. But you know what? It is never too late to do things right! Peter stay healthy the world needs a good teacher and coach like you. Thank you and God bless you brother!
This was my first class at CreativeLive, and I loved it! This course doesn't only tell you how to increase your income, but it also elaborates on how to be a first-class person in EVERY area of your life. It helps you identify your strengths and top core values so that you can use them to achieve your goals. If you are an entrepreneur and wish to improve your business, this course is a MUST. Even if you don't have a clear business idea yet, Peter Voogd will help you organize your ideas and execute them like a CEO. Peter is by far one of the best motivational speakers I have ever heard. I will definitely come back to this course to make sure I am applying everything I learned in his videos.
Student Work