Live Shoot: Large Umbrella Light Set Up
Peter Hurley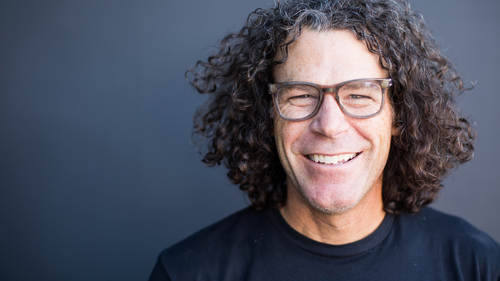 Live Shoot: Large Umbrella Light Set Up
Peter Hurley
Lesson Info
27. Live Shoot: Large Umbrella Light Set Up
Lesson Info
Live Shoot: Large Umbrella Light Set Up
We got options here, I got a killer door. I love the door. I like the floor into the door, I got a good looking guy here with a cool outfit on, I can take a killer shot. But I got so many options, what am I gonna do? I gotta make it look like my work, right? I can't be haphazard, I got my base, right, it's gotta work with what I'm doing, so if I was gonna do something I would probably, I'm concerned about how reflective this door is too. We have to see, so I would probably shoot the door in falloff but I'm gonna give you guys some simple options for you to try to decide what you want to do in this scenario. We're gonna see how this light behaves with different set ups. First thing I'm gonna do is I'm gonna shoot it so that the light is basically without the dome, so hold this dome, because we're gonna put it on in a minute. We're gonna angle this pretty much the way, very simple way, point it at his face stick it up a little bit like this and maybe we'll angle it a little bit just to g...
et some falloff on the feet. That's why I'm doing it. It's still not that high so he shouldn't have much shadowing or anything like that. We're gonna do our guest shot. All right, so what are we doing, help me out. All right we're going middle of the range right so we got something to work with. 6.5. Now I've never shot this like this at 6.5, but I'm gonna go, I'm immediately going, I'm not gonna get any of that ambient light, right? I'm gonna go, I can go ISO100. Let's just, because, in case John gets crazy and starts running around here and starts knocking stuff over I'm putting a pro bag on that I'm gonna go ISO100, I'm gonna actually, I don't need the stand, I'm gonna turn like this so it's out of my shot and I'm gonna put it like this so I can crop it out. Now I sill have it pretty close to him, right? Let's try this, and you're just gonna look straight ahead, straight down the lens of the camera like this. I'm going 24 to 70 and then I'm deciding. Now we gotta wire underneath his feet. Do we care, we don't care for these purposes I gotta guy, don't worry about it. They love it when you do that. All right, let's bring it down let's go ISO 100 we can do it. All right what are we doing, we're at 1 160th of a second You're gonna get, like, think about it, what do we have to do? We have to get it in with the two stops, within two stops. Now there's no sock on it, it's pretty close to him, I want your human light meter working. We don't have to be a 100% right, do we? But let's guess, what are we doing? F eight, you guys are going eight, you think eight, you think 11, you're thinking 11, I brought it down to 100, so I'd go F eight. I'm gonna go F eight, everybody feels good about F eight. Do you feel good about F eight, good. Jam your forehead out, good, that's it, he's squinching his butt off right now, that's great, he learned. Alright, let's see, wow, cool, F eight worked. Okay, I was right about the reflections on the door and look at that silver, you see how it really amped up the contrast, we got a lot of contrast. If I put that sock on, is that nose shadow gonna be, how's the shadow then? Who's in charge of the shadow density? Who caused the shadows on the nose? Who has to rectify them if we don't like them? It's me, no, I gotta do it. It's a deep shadow density, now here's another tid bit of information, you ready? When I'm shadowing guys, I don't like them laughing. Unless, we've been quote, the nose is towards the key light, because look what happened, he laughed, face is all sorts of crunchiness starts happening and it's all black, it's all shadowed, it doesn't look good. I'm gonna do this with one light, but let's try it again, cuz the shadow density is deep, let's zoom in on it, so we can see. That's the great thing about shooting, look at this. I got him cracking up, now don't go into double Chinsville on me, come on. It still looks pretty cool, but did you see the shadow density on the nose, hold on. Man this is so much detail, the five BSR guys rocking it. See how deep this shadow is? It's heavy shadow, little bit much for me, couple of ways to care of it. What do you wanna do? You want the V? I don't know if I wanna light the wall up though, I don't know, I like the density. Maybe a reflector, I don't wanna light the wall. Also, there's a lot, that reflection on just that side of the wall kinda bugs me. Do I need him up against the door that close? Unless he's leaning against it, right? You guys are working with me, cool. Let's try taking a tiny step forward. Keep coming, keep coming, keep coming, there, freeze right there, let's turn it a little bit, so we enter this, come and look, take another tiny step forward, there you go, good, alright I'm still going shadow down, I didn't like how high the shadow was, the angle the was hitting out. The other thing is, let's see, now I can kind of see what I'm doing, right? I couldn't see what I was doing before, now I'm using the modeling just to see what I'm doing. I'm also bringing the pupil down a little bit right? This is bonus territory. I'm watching the shadows on that nose, I can also get the highlight on the door now. Look at that, you see it moving, so let me see. Guys, I think I need the dome, this is crazy, what it does. This is kind of more feathery, if you look at the light on face, can you come over here and shoot straight at him with this modeling light situation? Look at what happens, light's gonna behave the same, modeling light's gonna pretty much behave the same. Look at how much power there is in this silver, when I get it like this. If that was white, it would be so severe, but I wanna shoot one like this. I wanna try one like this and I wanna see what it does. I'm essentially aiming the light this way and I'm kind of working on feathering his face a little bit and now I'm not really hitting him with as much, but the light's a lot closer to him, let's just try it, step that way. I'm gonna put his head in the, let's try that? How was the exposure, it was good? Since I'm not hitting him with as much light, he's a little further away, I'm gonna just, I'm gonna six three on this. I wanna see what's going on, I don't mind the stuff in the frame, there you go. My work's more like that, you get it? Alright, so now I've got and I didn't direct Cameron at all on his expression. Let's try this, Cameron, I just wanna make sure I know what that light's doing, so I get the position I want. So I have to decide if I wanna do anything on the other side. Very straight like this, jam your forehead out and chin down, just like that, stay like that, that's perfect, fantastic, I love it, good. Chin down a little bit, there you go, jam your forehead out, suck in the gut for me. He has no gut, come on, you didn't laugh though, it's alright, look, he's stone serious. Alright, let's look at this, let's see what we're getting here. Now I can go in, look at the door, just the difference on the door, I love it. This is the thing. That nose shadow, in don't mind anything, that's going on here, but I don't love the little shadow on the nose. What I'm gonna start to do, because I know myself is I'm gonna start to bring this around like this a little bit and it's a little but too focused for me, so I'm gonna turn the modeling light off. Actually you know what, we better turn off the modeling light off, cuz now I have to touch the plate to get the dome in there. Should we just do the dome on this one? I don't wanna touch that one. Yeah, get the dome in on that one. Actually, you get the dome in on that one, while I'm doing this, but let's try and get this light, where we want it, I was trying to minimize the way that shadow around the nose looked. We're gonna use the other D two for this, so I could turn this modeling light back on and I can watch it. Tilt your head this way, no slightly towards, there, stay right there, don't move. I'll do it, but don't, just settle down, that's it. Cool, now I'm gonna offset him, just so the stand is out of the way. Jam your forehead out a little bit, Cameron. Yeah, there you go, just narrow the distance between your pupils slightly. Guys, look at the difference, what is it? What is the rule, what's the wall quote, we're going back to it. Nose to light shadows behind you, look at the difference with the shadow on the nose. Now is it a little bit over exposed compared to our other one, because I didn't feather the light as much? Let's try bringing it down and I think we're where we need to be and I like his face on that angle, let's go back up to F eight, I want you to squinch and I want you to look right over here, follow my finger. Tilt your head this way a little bit, nose a little bit that way, hold that. Jam your forehead out. Chin up a little bit, don't look at me, don't look at the camera, look at me. Do that, just like that, just like that, hold that, that's pretty cool, there we go. Alright, let's see, I darkened it, it's a cooler shot, the nose shadow's better, because I positioned it there. I'm in charge of that nose shadow. That was what was bugging me. I loved the amount of reflection on the door, it's perfect for me, this is more my style, I didn't like, when it was going all crazy back there. And we got really punchy light still, we're getting our deep shadows, we're getting our blacks. Cameron, you're rocking it with the look, I like it a lot. I just wanna see what happens, what do you think will happen if I throw a sock on that? John, give me the sock, what do you think will happen guys? You got any ideas? Who's got an idea, what? Softer, isn't that why and it's gonna spread it a little bit more, right? But actually, hold on, let's do the dome, before we do the sock. I got a silver, I got a white. Same story, right? We got the diffusion on it, we're gonna try it, we just did silver bare, we're doing silver white. Now for those of you, that know me, which one am I gonna like better? How do you know? You, guys, there's learning. You guys know I'm gonna like this one better. Okay, so I know I'm gonna like this one better. I'm gonna like this one better, now what did we just do? Silver is punchier, right, I had no sock, that means the light is gonna be what? Brighter, half stop at least, it's gotta be a half stop at least. Cameron's been very patient, I'm gonna go, let's go six, three, we go F eight six three, fix six. Let's just do six three, I like six three. Six three used to be my favorite aperture, is shot it all the time. I'm gonna go six three, I'm going back to my roots, hold on. Guys, I don't know, that's it Cameron, jam the forehead out, do the same thing, nose a little bit that way, eyes here, we're gonna go for the same shot, eyes at my finger, that's fantastic. This time don't look so miserable, perfect, you got it. That's it, that I like, good, let's see, how did we do. Six three wasn't enough, it really took it down and it really softened it up, you see the difference? Now, I know you're wondering, why am I buying this and why am I buying that? You just saw it, you know the silver's gonna give you a lot more punch. However, I like the shadows on the white, I know what I'm working with here, right? Look at the difference, Look at the difference, you see how it's a softer transition? Look at it, it's punchier, even though it's brighter, that's more my move, that's my mojo, that's more. Now I'll fine tune this, did you get it? Oh my gosh, we're in business. Guys, I don't even know if I wanna go to the dome after this operation. Alright, should I go to the dome? Should I go to the dome silver? Let's just get the dome on there, let's go dome silver, we know we like that, let's go dome silver. Guys, I put the umbrella through, I'm eyeballing the umbrella, so I'm looking at the edge and I'm seeing, that this is absolutely lined up on the edge, because I want this dome now to kick light out over here and bring it around all the way. Now we know we just did the sock, now we took the sock off and it was white, so now this is gonna be brighter, right? We're gonna go back to F eight. And we're gonna take a shot and we're gonna compare that to this one. Cuz it's really that, that we're doing. We're opening it up, we're also gonna throw more light on the background I believe, let's try it. Let's give it a shot, let's go, make moves, jam that forehead out, nose this way, I want your face angled toward the light slightly. What, oh we were at 6.5, I'm sorry, 6.5. I think this was out here a little bit more too, 6.5? Okay, right there. That's it, right there, hold that, hold that, let's see how this does, that's it. Let me just move this out a touch, okay. Really nice, Cameron, jam your forehead out a little further look at me, yeah, like that, like a chicken. A hint of a smile, good. Wow, guys, very similar to the, let's compare these two. This is both silver, right, that's silver without the dome, you see how the dome opened up stuff? It did open up some stuff, didn't it? You could see this is a little bit harsher on the face, you see it there, even if I don't zoom into it. Let's zoom into it a little bit and see. Okay, there's your dome, this ones a little bit brighter. Because it's focusing the light a little bit more. I like the dome, alright, now the difference between the silver umbrella with the sock and the dome and the white umbrella, and the sock probably isn't gonna be a huge difference, cuz you're already blasting, it's gonna have more contrast coming out of this, so just put the sock over it and check it out, why not? We got nothing to lose, everything to gain. Give me this, I'll show you, just give me this for a second. Ready? Once you get it hooked up on, what do you got, you got it hooked up? Get it like that and then, guys, once it's holding in place, just let go of it for a second, I got it. You can spin it like this, if you're doing this yourself. Do that, ask me. I know Peter specializes in head shots, I wonder how he would light a man and a woman together, what would your got to lighting setup be for a man and a woman? For something like this, I would front light it a little bit more, so you're not side lighting it as much. And I'd always have my buddy Phil with me and I'd do that and we can do that, cuz we have a situation. We have a male and a female situation here, so that we can use them both, okay, let's go, let's do that, as a matter of fact, we will do that. Okay, cool, let's check it out, let's try this. Let's try the same thing, but we got the sock on, I'm going six three on it, okay, how's that sound, good? Alright, Cameron, same move, jam your forehead out, stop fooling around, there you go, good, hint of a smile, tilt the top of your head towards the empire state building, that's good, hold that. I had to get some hurleyisms in there, guys. Wow, now I'm happy, now I'm liking it, you see that? I got a dome, I got silver, I got a diffusion and now I like the shot, I really like what's going on here. I'm done, guys, the only thing, that I would do is start to move Cameron, Cameron, throw your hands in your pockets and give me some brow activity, what do you got? Hold that, yeah, there you go, jam that forehead out, don't you dare do that forehead in. That's it, turn towards the light, don't jam you hands, fake them, so they're not jammed that for, go thumbs on me, there you go, jam that forehead out, good. And then there we go, I want that kind of stuff. Do me a favor, now I watch this, since I like that door and I'm back here, I can just start to work with this. Cross your arms, Cameron, there you go. Good, look here, look in the camera for me. Good, that's it, jam your forehead out slightly. Good, work your nostrils towards that light. Now let me help him, let's say, wow, cool. Now what don't I like about it, I love his look, but I shot it too fast and I'm tilted funny. I don't like that, so I gotta get in there. Stay like that, I'll go like this and I gotta watch my lines, guys, I gotta watch my lines. There you go, stay right there, I don't like the lines in the door to look too strange. That's more like it. Good job, man, good job, is he doing it or is he doing it, right? That's a cool shot and you see, I liked how the door gets darker as it goes, so I could just mess around. Once i get the light, where I like it, I love the softness of this detail, the sock did that and the dome helped. The dome broaded it out in there, it made the light broader, coming out of the umbrella as a whole and then the sock just laid it right up, really cool.
Class Materials
7 Peter Hurley Discount Codes
Setting for Peter Hurley Westcott Flex Kit
Ratings and Reviews
I truly enjoyed this amazing lighting class. Peter Hurley shows you how he achieves his signature look using all forms of light shaping tools from natural light, to speelites and high end strobes. Seeing first hand how the placement of the subject to the light source and your lightning set up is so important to avoiding the hazards of flat light and haze. He teaches you his unique methods and secrets on how to make eyes pop and get the best color contrast without harsh shadows. You will leave this class energized to hone your own creative vision with light and shadows using the methods taught by Peter. It was a privilege to learn from a master like Peter Hurley. Thank you Creative Live for another amazing class!
Peter Hurley is the real deal. Not only does he know and share a ton of really practical knowledge of studio lighting for headshots and fashion, but he cuts through the crap and tells it like it is. He is very encouraging and serious at the same time. He had our attention from Day 1. and never lost it. *Bonus Gold - You've got to check out his Hurely-isms. They are priceless! Aside from the new bag of industry tools to work from, Peter gave me a real, sober perspective on what it takes to be PROFESSIONAL fashion photographer! And CreativeLive provided the perfect setting as well. The whole CL staff were warm and inviting and the food was great! I highly recommend CL and P. Hurley to anyone who wants to learn from the best of the best! I can't wait to start shooting with my new skill set. Sign up for CreativeLive! Take advantage of all that they have to offer! Build a foundation, own your light, and Shebang!!! You'll be at the top of your game in no time!
Student Work