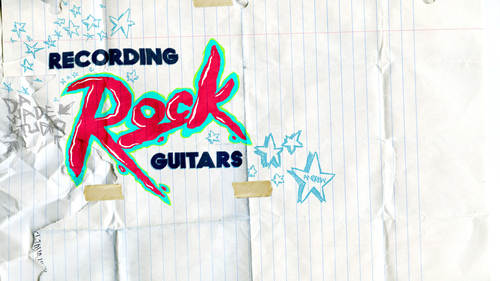 Lesson Info
18. Mixing Demo
Lesson Info
Mixing Demo
And this is very exciting I think a lot of people are going to be surprised at what this sounds like a quick comment lawyer loading that up I don't know who this is. Uh his name is andy with a he says don't you dare walk in andrew's recording studio dead bass strings I've witnessed the consequences uh he which andy is this is he was in a band that I recorded a while ago and his name is also andrew you prefer being called andy uh big boss no um he's uh he's been a friend of mine for a while and he's um he's in the studio that I had in ocala now so um he's like he's been kind of an intern in a you know helped out and stuff so shut up any okay? But is it andy with a or with a y o k a shot you said and you with a oh, I don't know if that was his last name or that's exactly what I thought okay, this is beside the point um great tv off ok, that was me trying on my computer. All right, what do we got here? Okay, so I just wanted you guys to have that sink into your brain okay, so same thing w...
ithout the base so suddenly that low growl like uh, aggressiveness has disappeared with the basic in so they're a lot of that guitar or what you may have thought was the guitar it was it was also based okay were you guys able to hear the difference in here okay here's what it sounds like with bass and guitar just only so you can it's really easy to hear now what exactly is the guitar tone now let's listen to the same thing let's see if I actually stand up to my own challenge which is to make everything still have clarity without the kick drum I usually tests for this we'll see if this will be interesting. Okay, so this is the same thing without the kick drum okay so now no bass no kick from so I should give you a pretty clear demonstration of how much all of those interact to make this one huge sound question question from uh land or gan in the chat room wire your bass track stereo um I just bounced these for for mixing gotcha and uh they're usually mano I I made the session specifically for creative life and I happen to be to bounce these down is stereo but let's listen to the bass tracks by themselves which you guys haven't heard yet. Okay, so in this particular session and I'm actually gonna open another session later today that has three tracks of base this is only two tracks of base their stereo but they're the same I usually never pan any based stuff ever? Uh I don't know if anybody does, but, uh, I never do maybe maybe someone does, but not me. Okay, so this first track I'm going to show you is the sim, which is the base just going through amplitude, it has what I like to call it gator growling sound it's just like, you know, a lot of people. Uh, the thing I've noticed is that what sounds like a pretty clean bass tone in the mix is often a lot grandmere then you think when you solo it, yeah, that really adds that that that distortion on the base really adds a lot, and I feel like people don't maybe necessarily know how distorted thes basis usually are. Yes. And if you actually, if you don't use distortion on the bait, we'll what distortion on the base does and we kind of, uh, touched on this earlier today is when you have it nice and compressed and then you run it through some kind of, um, uh, distortion uh, what's the popular one and everybody uses sam, sam, sam, sam! Sam, if you're going to run it through a sand zampa and use the distortion, I would recommend that you have it compressed before you put it through, otherwise you're on ly going to get distortion on those peaks instead of a constant distortion that's on it the whole time grab. So what? What that distortion does is it really brings out the mids and ah, a little bit of the high. So this is now the I called, you know, the bass bottom, just the low end of it. Yeah. So that's, um, I'm pretty sure that low end might be programmed from trillian, but the actual sound of the base is really the one experience that I've had with few not trillion, but a lot of the other, like software based the virtual instruments like the stock once and stuff which makes oftentimes, like that's. Okay, but the thing that I've notices when you distort them, they don't sit and they don't sit in with the guitars like I want them to yeah, is that yeah, I've when it comes a distortion on base for me, there's a few different ways that I've done it in the past and one of them is to just have a really clean base, and then you can run that to an effects bus and add some kind of distortion onto that, and then you can blend in the amount of distortion you want on top of that that that's one way for you know if you try to add distortion to midi base or anything like that a lot of times you don't get a really good results because I mean I don't know what the physics are but I assume that it's because you know um actually string you know vibrating has very different dynamics than you know like so you hear like the thump or something in the middie base and so that's only one part of the overall bass sound and I assume the distortions doesn't work so low right the low end of program based like trillion is very clean so you can you can get away with just having that be you know, the programmed part of the base but um this distortion on this base actually is the plug in that I use um will blend the distorted with with the actual signal so um this is what is thea what is the processing that you're using on that that basis that distortion is called the damn pig spx uh no well I don't use that I don't use any distortion from that the distortion is the decapitate er have your that sound toys decapitate er yes um that there's like a button call annihilate there's something like corsets metal has something like that some extreme word so and I use that and then I just mix it in but what I'm doing on that particular plug and you khun target just certain frequencies and I'm I'm not distorting the low end I'm only destroying like the mid and upper range of the base if you do distort the base the low end of the base is just going to sound farty and it actually is less basie somehow it sound it adds like high end to it which doesn't make sense but it's a really bad high end that you don't want so here's both of the base things together just the kick drum yeah um this is a custom sample that that we made ourselves for the album has a lot of residents um so as you can hear when I played the bass back you can also hear the beginning of every little phrase of the base has it this attack and that came from putting, uh, compression on there just like the message method I should yesterday I'll show another method today with a different plugin of how to compress guitars because that's really important when you're trying to get that attack especially with aggressive things it's here so there's that question um this someone says hi there first of all it's great that we can be all learning this great amount of knowledge from such a rock sound hero thank you that's you my question is do you side chain compression on guitar's or base uh two difference the kick drum when it hits no I have tried that before, but what actually happens whenever you and I'm sure there are people that have their own methods, but this is just me, um, whenever you're using the kick from, think about it like this, you have your your bass track, and then every once in a while you have a hit of a kick drum. So in a side chain, suddenly, when this kick drum hits it's turning the bass down yeah, so so suddenly what you're doing in your mix is you're whatever tone is on your base is disappearing and coming back, so you're taking away from your mix you're taking away from your base, you're taking away from your tone every time the kick drum hits, so what you're doing is literally taking away instead of leaving those together, which together add up to a bigger sound, so if that may be so, if you're having that problem, maybe you need to maybe it's an e q issue or something on another part of your mixture, you need to make room for everything. Yeah, if maybe maybe your kick is to basie, maybe your basis to basie. I don't know, I don't know if there's a problem mentioned, but I the problem, whenever I use it, is it? I like to have a pretty intense tone on the base, so you hear every time what happened? Yeah, the only time I've ever used aside chain compression like that with kicking basis when it's really fast double bass, you know, that's a yes, you know, you conduct down the base, just a just enough, you know, you don't you don't want to compress until it's gone, you know, you don't want to completely ducked the base, but, you know, bring it down just enough to where it doesn't just turn into a rumbling mess, but for something like this, you know, like the sound example you have, I wouldn't do that because it would actually take away from the intensity of that kick in base, you know, kind of blending together like that? Yeah, if you're doing, if you have superfast, you know, phrases with with double bass in it, and they're long suddenly, you know, if you don't have compression or side chain of any kind on there, suddenly your base is going out of control, so if you if that is what they're talking about, then yes, sometimes you actually would use some of that, but I personally probably wouldn't use side chaining, I would probably actually just have some kind of compression. That kind of controls the low end after it goes over a certain amount, maybe on the master. Or maybe just both of those going together in a in a bus or something like that.
Ratings and Reviews
Berklee College of Music Graduate here '03. I came across a snippet of this course on youtube and the tip about HP the DI to get low end was enough for me to decide to buy the course. One of the things I found so great about this course is how well creativeLive has put this together. From the high def multi-camera shoot, to the screen capture, to the included downloadable slides and Wade's Mesa cabinet IR, the production is very well put together. Kudos to creativeLive, you are doing the right thing. I was very impressed how articulate Andrew Wade was, not to mention that he was willing to share his production techniques. He really thought this through and takes you from very basic steps for preparation prior to tracking, to editing, all the way through to mixing. Additionally, Wade does this all without ego. What a like-able guy! I'd recommend this course to any aspiring engineer/DIY band member, especially if you are going after super tight, highly-polished guitar tracks we see in today's modern productions. The course is a look inside the mind of a talented and caring audio engineer and his philosophy/full-disclosure-techniques for recording guitar. Awesome. Think of it this way...if you have $99 play money and you're thinking of buying a plug-in over this course, please reconsider. The techniques you learn in this course will last you a lifetime and will improve your sound dramatically. Looking forward to more audio production related content in the future!
This class was extremely helpful! I learned soooo much. Andrew is a pro and it is absolutely worth the money. Specifically the tuning section of the class. Did not think to put this much effort into tuning, but it makes perfect sense! You can have the tightest band, with the best musicians, the most expensive gear, with amazing tones, but if they are even slightly out of tune its literally a bottleneck for the whole sound of the song. Thanks Andrew!
Awesome, I am a big fan of A Day to Remember and aways wanted to know how their songs were made. Now I know some nice techniques by their own producer. I thing this workshop is not only for producers but for every person who play on a band. Now CreativeLive should call Rick Rubin to do the same.
Student Work