Photoshop AI: Getting Started with Neural Filters
Ben Willmore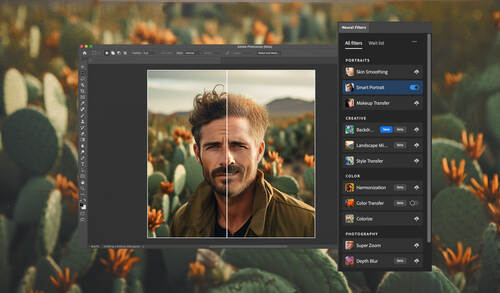 Photoshop AI: Getting Started with Neural Filters
Ben Willmore
Class Description
AFTER THIS CLASS YOU'LL BE ABLE TO:
Restore scratched and faded photos with almost no effort

Colorize B&W photos

Enhance portrait images to change facial expression and lighting

Enlarge images while retaining detail and clarity 

Produce shallow depth of field and add atmospheric depth

Smooth skin and reduce the appearance of blemishes

Simulate the color grading used in major motion pictures
ABOUT BEN'S CLASS:
Photoshop's Neural Filters harness the power of artificial intelligence to achieve professional-level retouching, creative enhancements, and practical edits. One notable capability of Neural Filters is their ability to remove JPEG artifacts and restore the crispness and clarity of your images.
Scaling up an image without sacrificing quality has always been a challenge, but Neural Filters provide a unique solution that allows you to enlarge your images while preserving intricate details and sharpness.
Neural Filters give you the ability to completely transform the mood and ambiance of your images. You can effortlessly change the time of day or season, giving your photographs a fresh and dynamic appearance. Whether you want to turn a sunny summer day into a chilly winter scene or transfer the essence of a vibrant sunset to an image that was shot midday, Neural Filters will allow you to do it all with little effort.
WHO THIS CLASS IS FOR:
Anyone proficient in Photoshop who likes to be efficient and tackle difficult imaging challenges with ease

Someone who likes to explore the creatively possibilities to get the most out of their images

Those who are confused about all the options available in Photoshop's filter menu
SOFTWARE USED:  
Adobe Photoshop (Beta) v25.0.0
ABOUT YOUR INSTRUCTOR:
As a photographer, Ben Willmore has shot in all 50 states and explored over 85 countries. He has been pushing Photoshop and Lightroom Classic to their limits since the beginning. Ben is part of a select group of non-employees that Adobe trusts with pre-release beta versions of their software so he can have a voice in the future direction of their software. Having written over a dozen books on digital imaging which have been translated into 9 languages, Ben's expertise is recognized worldwide. He has contributed over 100 articles to major magazines and was honored with induction into the Photoshop Hall of Fame. As a sought-after speaker, he has taught well over 100,000 individuals at events held on all seven continents. His latest book is titled Crafting the Landscape Photograph with Lightroom Classic and Photoshop.
Class Materials
Photoshop AI Neural Filters Practice Images
Ratings and Reviews
Student Work