Marketing for Crafters: Talk About Your Work
Tara Swiger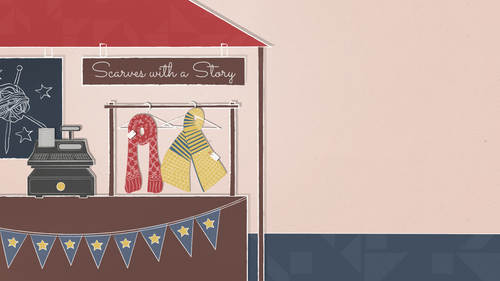 Marketing for Crafters: Talk About Your Work
Tara Swiger
Class Description
You are the expert on your products and your story. Learn how to turn that story into a marketing message that communicates the value of your handcrafted products in a compelling and memorable way.

In Marketing for Crafters: Talk About Your Work, Tara Swiger will guide you through the process of creating a marketing message that feels authentic to you and resonates with buyers. Tara will help you identify the right audience for your brand and coach you on crafting products that meet your customers' needs. You'll also learn about sharing your marketing message in a relatable and trustworthy way.

Buyers of handmade goods love to hear the story behind their purchases; learn how to find them and confidently tell yours.  

Class Materials
Resource Guide for Marketing for Crafters
Marketing for Crafters Bibliography
Marketing for Crafters Workbook
Ratings and Reviews
I enjoyed this course and Tara made it easy to figure out our target market without stressing. For the first time I feel like I got it down. I couldn't quite figure out how to describe my buyers, but Tara helps you narrow it down with her word lists and questions. I also feel good knowing it can change as my business does. There is another similar course by Lisa Jacobs and it was frustrating and I just couldn't get it- she wouldn't even be helpful off line- But Tara sends out loads of inspirational ideas and tips. Plus she tries to help you personally with kindness and patience- unlike Lisa! To some this course may seem slow moving- but if you need step by step confirmation of how to get there- this is your course. I don't get some things easily- and expressing what I make and why was my biggest hurdle so I needed details on how to get there. Tara is easy to listen to, and understand and so is the workbook- you don't need to print a million pages either! She's confident but not cocky. Like I said- this is the first of a dozen courses I have followed trying to pin down my target audience and expressing to others- what is so special about what I make, and she made it effortless to get there. I enjoy Tara's emails, blogs and course- I don't feel like I have more questions to ask when she communicates- for me, she makes things pretty clear.
This course really helped me clarify the thoughts swirling around in my head about what I make, the language I use to describe it, and how different scenarios call for different language. Now that I know about focusing on my Right People, I don't have to worry about trying to make my work or marketing for everyone. Tara did such a great job of creating a workbook that walks through the thought process step by step -- it was enlightening to see that the "spotting my sparkle" words are the same qualities that describe my work! That made me feel like I'm headed in a direction that's a good fit for me and how to stay true to my vision rather than jumping all over the place. Tara is smart, thoughtful, focused, and calming. Learning from her makes the daunting task of marketing a small business doable, and even something to look forward to.
This is hands down the best marketing course aimed at crafters and creatives I have ever taken. Tara is knowledgeable, passionate and gets down into the nitty-gritty details so many other courses gloss over. Seriously: no ridiculous promises and absolutely NO 'one-size-fits-all' teachings. Tara breaks the subject down into SPECIFIC and thought provoking steps/questions that will make you take a good look at what you do, why you do it and who it's for. The workbook and videos are easy to follow and very insightful. Come prepared to dig deep! I'm in the middle of a transition period in my business and before taking this course I felt confused on how exactly to verbalize my new take on my work. I walked away from the course with a clear understanding of my Right People, what I do to fulfill their needs and what language I should be using to speak to them. I highly recommend this course.
Student Work