Lightroom for Scrapbookers
Jared Platt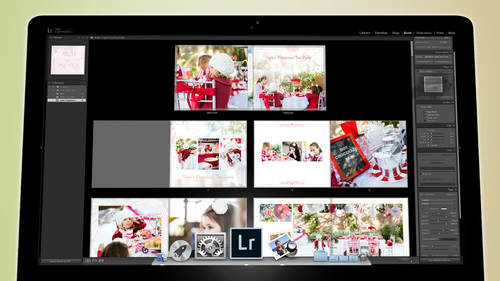 Lightroom for Scrapbookers
Jared Platt
Class Description
Adobe Lightroom is the industry standard for professional photographers -- but it's simple enough to use that novices can take advantage of its powerful image optimizing, editing, and sharing tools. Join Jared Platt for a three-day introduction to using Lightroom to organize photos, create digital scrapbooks, and share and preserve memories.
Jared will cover everything you need to know to use Lightroom like a pro. You'll learn how to import and organize photos, edit images, create simple movies, and back up your work. You'll master basic tools for self-critiques of your images that will help you reach new creative heights. Jared will also cover the Lightroom Develop module, a powerful tool for adjusting the quality of images and movies. You'll learn about the basic principles of composition and how to use them to take create more compelling, high-quality images and scrapbook pages.
By the end of this course you'll be able to create and share photo books, slideshows, and movies with your friends and family, preserving your memories and moments with professional and stylish layouts.
Class Materials
Jared Platt - Everyday Favorite Presets
Jared Platt - Workflow Setups
Jared Platt - Lightroom For Scrapbookers Course Schedule.pdf
Ratings and Reviews
I have spent a small fortune buying classes from Creative Live, and I have learned a great deal from many terrific instructors. This class ranks as the #1 best class I have purchased from Creative Live. It was done in 2014, and the changes and improvements in Lightroom since then are far too numerous to count. However, I just watched the entire class again (August, 2018) and I realized that the class is as valuable today as it was when I originally purchased it. The title says it is for Scrapbookers, but it could have been Lightroom for Everyone. Jared covers every part of Lightroom as it existed in 2014, not just Library and Develop! He has a marvelous teaching style that motivates and inspires one to grab a camera and go take great images. Yes, it is dated. Yes, it is a long course - but only because it thoroughly covers a vast amount of information about Lightroom. And, yes, it still has real value in 2018, and I plan to rewatch it once a year now for the motivation it provides and the incentive to bring myself up-to-date on ALL of Lightroom's latest and most valuable features in all modules. Thanks CL for bringing Jared Platt to us, and please bring more of his great classes soon.
Good class. Jared is an excellent instructor and provided good information. I was more interested in Lightroom than scrapbooking and I think the mix was about right for me. While I found the focus on Trajen interesting and heartwarming ... I found that too much information was shared and too much time was spent on his story. It was distracting for me and I think would be hard to listen to over and over again if I were to buy this course. I think that some of the material was rushed because of the time spent covering this and other unrelated topics. I prefer a more focused approach. I was more comfortable when he was showing photos of his kids as examples the first day. However, I enjoyed the class and learned a lot. Thanks!!
Thank you soooo much Jared. I am an avid scrapbooker and still an amateur photographer, but you have given me so much helpful information that my pictures are looking really amazing now. I often share on Facebook and the compliments I have been getting since I started applying what I learned from you are astounding. I have never received so many compliments on my photos. Prayers and positive vibes for Trajan and his family and friends!!!
Student Work