Kinds of Conversations
Jason W Womack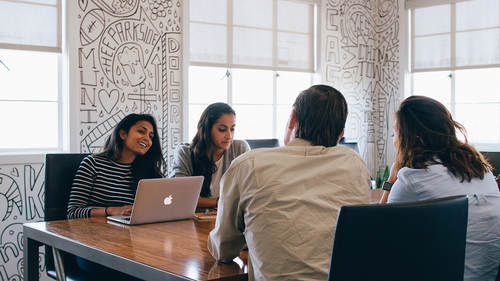 Kinds of Conversations
Jason W Womack
Lesson Info
5. Kinds of Conversations
Lesson Info
Kinds of Conversations
You can deepen this. What I wanna do now is spend a little bit of time on this concept that we call the kinds of conversation that we can have. And if you wanna take some notes, I'll just draw here on the white sheet. Whenever I think about the kinds of meetings or the kinds of conversations that I'm gonna be a part of, I always wanna break it down into the three. Good news is, there are only three kinds of meetings that you'll ever be a part of, there are only three kinds of conversations that you'll ever engage, only three things that we can talk about. Now before I tell you what each one of those letters stands for from our perspective, I want you to know this: we don't have a set part of a meeting, a day, a job or a career. I can't say 33% of the time I want you to be at the T or the R or the O. What I want you to be is very conscious of which one you're in. So as they say, we'll take it from the top. On the top for the T, we have the kinds of meetings that are task-oriented. Other...
words that people will use are to do, sometimes we'll use the word transaction. These are the meetings that while you're in, someone will say something like, well did you do that thing? Can we do this thing, or have you done that thing yet? By the way, before I got married, I actually did research on marriage, I'm that guy, and one of the things that I realized is that most of marital conversations hovers a lot in the T. And when I started unpacking this, I thought wow, is there anything else that we could be talking about at the end, the beginning or the middle of our day to add to the, I'm gonna go over to the R right now. Any guesses from our live audience on what R might stand for? Relationship. The other word that I'll use here is rapport. Now it's not necessary that these conversations go in this order but I find when I present them in this order, it helps, at least it helps me. So if you were to ask me, "Hey Jason, why do you wanna get "really good, why do you wanna get really good at email? "Why do you wanna get really good at managing "your to-dos or your tasks or the transactions?" I only have one answer, one answer. The only reason why I wanna be really good at the task part of my life is so that we open up and have now space margin for relationship, for rapport. The word that I might use, trust. When I in a meeting say I'm gonna do something for you and then 24, 48, 72 hours later, I do that thing for you, we are building rapport, we're building a relationship. There are other conversations we have at the R level, the relationship level. How are you? What's challenging you these days? That lets someone open as much as they want or don't. What kinds of dreams are you chasing? Relationship, where I get to know a little bit more about you, where I get to understand a little bit about where you're coming from or how you address things. And then that's gonna lead us to the last kind of a conversation, the last kind of a meeting that we'll have. And I'll use a couple of words interchangeably. One word that I'll use is options. The other word I will use is opportunity. And every now and then, this is the word that will show up: opening. So now I'm in a conversation with you and we're talking about options, we're talking about new opportunities, we're opening a door that we didn't know existed. I'll be very transparent with this example, about four months ago my wife Jodi was in a CreativeLive course in studio, and by the way, if you're watching online, get in the studio sometime. It's not bad, right, for those of you in the audience, kinda fun. At any rate, I was here at CreativeLive in San Francisco and one of the directors, the producers here says, "Hey Jason, it's been a long time since you were "in the studio, why don't you come back "and do another class?" An opening, an opportunity, an option. Now if I unpack that and I think if you had the folks come into the room and stand with me side by side, it's because we had a relationship, we had rapport, that over the years we've stayed in touch, we pushed ideas back and forth, and I'll bring it all the way back to the foundation because several years ago, when I was invited to CreativeLive the first time, I did okay. They could trust that I would handle the tasks, the to-do, the transaction. Now if I were to draw this again as a triangle, it will always in my mind be a T, an R, an O with arrows. The reason I wanna open transactions, the reason why I wanna make a promise to you, the reason why when you say something and my face will light up, because in my mind, I think, oh my gosh, that's a task I can do for her or him, that is a, write that task down. I'm gonna handle it because that lets us move toward a relationship. It's not a guarantee. But here's what I do know, if we're in a conversation, we're sitting next to each other on an airplane, if we're talking and I say, "Oh, I'll get you that thing." If I don't get you that thing, well you might not unfriend me from some social media site, but the next time I promise to do something for you, what might be the thought inside your mind? He said he was gonna do something the last time, he didn't do it, what makes me think he's, so, manage the task. It leads us toward the opportunity to build that rapport. A relationship, now the R obviously the arrow is gonna move to the O. There's that saying in business, I think it's also in life, that people do business with people they trust, people do business with people they like, the other one I've heard is people do business with people they are like. It's amazing, if anyone is in a client service business, every now and then, Jodi and I will sit back and we'll make a list of the clients that we've been serving more over the past six to 12 months, and darnit, they look like me. They're solopreneurs, entrepreneurs, they're authors, they're individual contributors, they wanna volunteer, they're a little bit athletic, they have circles of friends, they travel around the world, they get a new passport stamp at least once a year. Interesting that people work with best the people they have a relationship with, they have rapport with. Now we're missing an arrow, I hope you caught that, because the moment a new opportunity shows up, the moment an opening appears, the moment that there's an option, what are we gonna have right nearby? Another task. So several months ago, I'm here at CreativeLive, they say, "Hey Jason it's been awhile since you've come "to the studio, why don't you come to the studio again?" Boom, I gotta write a curriculum, I gotta keep my word, I gotta get those things handled, I gotta make the air reservations, all of the tasks. So this will probably make a little bit more sense when I say it now, a moment ago I said, it's not a matter of how much time I designate for the T, for the R, for the O, it's much more important that I know where I am in the conversation.
Class Materials
Effective Meetings Worksheet
Adobe Stock Get Started Download
Ratings and Reviews
Fantastic class! Highly recommend- Jason has such positive energy and enthusiasm, all his courses have been fun to watch and very informative.
This was a wonderful class that completely delivered in content coupled with the strategic tools that have helped me to start the process of creating a totally new infrastructure for the meetings I facilitate. All of the steps that Jason focuses on for this class are easy to implement and I know will promote positive results on many levels of my professional business and my personal life. This class is a must take for anyone who wants to me an effective and efficient meeting master!
This class was AMAZING! I went into this class not thinking that it might not get as much out of it because I'm not a part of an organization where meetings are a regular part of my day. But I left realizing that SO MUCH of my day, I'm in meetings: at the gym, coffee shop, co-working space...you name it! Knowing how to direct meetings to expedite getting what I want is going to be a game-changer for my business!
Student Work