Exporting
Cielo de la Paz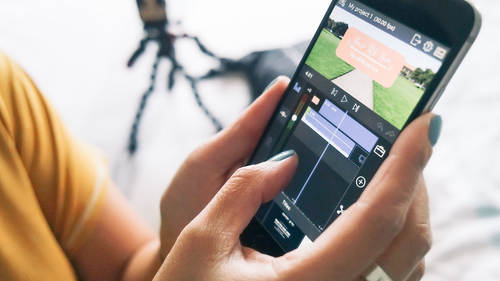 Exporting
Cielo de la Paz
Lesson Info
Exporting
So remember at the beginning when I said sometimes I do effects and then I export, sometimes export in do effects, so what we just talked about right there. Sometimes I do a little bit of effects in LumaFusion, so sometimes I will add that color grading before I export it out. So you can do that in LumaFusion. But first let's talk about how you export. So let's go back to the screen, and, let's see. Let's go back to our project. I believe it was at the beach. So, let's go back in here. So when you're happy with it and you want to save it, tap on this icon here, and you can export the whole movie, audio, project archive, I'll go into that in a second. So let's tap movie, and here you can see you can export it to so many different places. So I typically export to just the photos, because I know I'm going to be uploading it to Instagram or you know, something that's already on my phone. So I typically am exporting just to my photos, but you can also export to Vimeo, YouTube, you know, you...
r iCloud Drive, Dropbox. So I do have a Dropbox. So these all are different ways that you can export. So I'm just gonna tap photos. And so here, so these settings do matter. Typically I'm not changing the frame rate at this time. It's whatever I shot in. So I'm gonna keep it at 30 frames per second. The resolution, you can't go higher than whatever footage resolution your footage is. So if you shot at 1080, you can't export in 4K, but you can always go down. Right, so, 1080, you go down and make it smaller if you want. So there's that and then video quality. So standard, you know, you can increase it to extreme, I often do but just know that when you increase it, it increases the size of your file. So like this is, see the file size, so this is at 108 megs. If I change it to, so it was 108, if I change it to extreme, let's look at how much bigger that is. It becomes to 225. So just know it increases it which is fine. So there's that, and then down here are the other settings that I typically don't touch. You know, now we have the H265 codec. I still like to export so that's a much more efficient way and the files are smaller with H265, but I actually still export in H because more things are still compatible with it. I know that when I save something in the other way then I'll be unable to use it in certain apps. So I'd stick stick with that. Okay, and then you include video and audio, you obviously can just choose video but I don't know why you'd want to do that. Audio quality 48 is your standard, so all these are your standard. And then here you can do MP4 or you can take Quicktime. I just do MP4. And then 360, oh, you can actually, oh, this is really cool. So I just bought a 360 camera, and I actually imported 360 in here. You can actually edit 360 footage and export as 360, and it like sends it directly to YouTube, and watch your 360 video. So that blew my mind. But that's another class, okay. (chuckling) So then we'll say okay we're cool with these settings and let me do exports like that, and so it writes it and exports it. What did I pick? Did I pick photos? I think so. So it'll be in my photos app, hopefully. Somebody cancel that 'cause, okay, we know it that way.
Ratings and Reviews
really liked the instructor; super clear and went at a good pace that meant you could follow instructions but also not get bored! Have been trying to get my head around video editing for ages but its hard to find clear instruction and guidance; the discovery last month of 'Creative Live' and its classes has totally de mystified the whole process! Feeling excited to try this out myself now - when i feel i have it nailed will try to remember to post some work in here to show my efforts!
Excellent class but I wish it was longer. I learned so much! Cielo is a natural when it comes to the great work she creates, as well as teaching others. I couldn't recommend this class more!
Great instructor and great class. She really breaks it down so you can grasp the small steps that lead to the end result.
Student Work