Examples of Advanced Screen Prints
Erin Dollar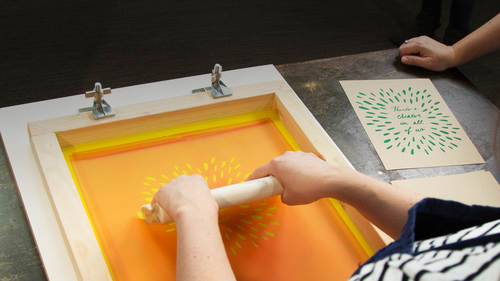 Examples of Advanced Screen Prints
Erin Dollar
Lesson Info
13. Examples of Advanced Screen Prints
Lesson Info
Examples of Advanced Screen Prints
So, I love print-making because there's so many different things that you can do with it. We are gonna talk about next steps, there's definitely some things that you can get into more advanced techniques, printing with multiple colors, printing on fabrics, but it comes with its unique challenges, but it's basically the same as what we've laid out here today. You're gonna get a few more pieces of specialized equipment, if you're planning to print on T-shirts or fabric. But it's all pretty much the same process. You're gonna be burning the screen in the same way, you're gonna be going through that whole range of motions, especially the printing, it's gonna look almost identical. And you can kind of go forth and try out a whole giant range of projects. So this is what's so great about filtering printing, is it can be applied to so many different types of services, and so many different scales of projects. You can go big, you can go really small. There's folks who are doing stationary this...
way. There's folks who are selling fine art prints. There is folks who are doing apparel or things that are more and are used in the home. There's so many different ways that you can take this method and apply it to your business or create a product that you can sell for your business. And so I want to show some examples of some multi-color prints that might be a good way to kind of branch out and try some more challenging concepts. So we've got a couple of prints here from Walker Cahall. He's a print maker up in Portland, Oregon who gave us a nice one-color print before as well. And he did a really great job here of sharing a multi-color example and a black and white example of the same types of imagery here. And these aren't created with exactly the same screens, but you can see that you can create a really awesome graphic bold image with just one color. But wow. Adding that second color really makes this so vibrant and it just pops in a totally different way. I am so jazzed about this print. And so we've got another print here from little friends of print making as well. They've got this adorable cosmic cat, which is printed in lots of different colors here. And it's nice to see how when the colors overlap, you're getting even additional sort of tone and variation. They do a really great job with multi-color prints. And you can see the difference between their single-color print and their multi-color print here. And I think that this really illustrates how much more you can achieve, how much more interest in variation and tone you can achieve with just maybe one additional or two additional colors. And we can also see some examples here of some stationary that has been printed in the same way. They are in plastic, so hopefully you can see this is a two color print. And it's really great to see the range of different things besides just fine art prints that you can produce. Like I said before, I'm using the same process to print on fabric for my collection for cotton and flacks. And everything that I do is printed one color, but I'm able to change a lot of how this is looking through the color of the fabric that I'm selecting, and the color of ink. It's really, you just kind of have to think about what you're trying to achieve, and choose the materials and the colors based on that. And so you can see the two prints that we created today, which I think are really fun and impactful, even with just one color, even with just pretty simple, simple line drawings that we've done here, and you can really do a lot with just these basic tools that I have outlined here. So I'm excited to see what you guys do with this process. It's a super-fun, a fun thing to try out and make your own, and I'm excited to see how you adapt your imagery for this process.
Class Materials
Screen Printing Design Template
Ratings and Reviews
Wow, that was a great course. Erin is clear, engaging and encouraging. I would loooove to see a follow up course with her that explores some of the more advanced silk screen printing techniques that she mentions in the last segment. Great job!
Erin is such an outstanding instructor. She's just so confident with her topic and with her ability to communicate. This class helped me realize that I'm not ready yet to start screen printing, which in my opinion is just as important as recognizing when you are ready to try something.
Recently got my Creative Pass and I decided to explore the Creativelive library out of my usual fields of interest. Saw the title of the course and I said to myself - what is this? I literally had no idea about Screen Printing and that was actually the main reason I took the class. In just two hours I went from not having a clue to understanding the process and imagining me doing it :)) I'm not sure it will ever happen but I really enjoyed the class. Loved the style of teaching, very calm and confident, as well as the moderator's and students' questions which were filling up the gaps.
Student Work