What is VR? What is 360?
Barry Pousman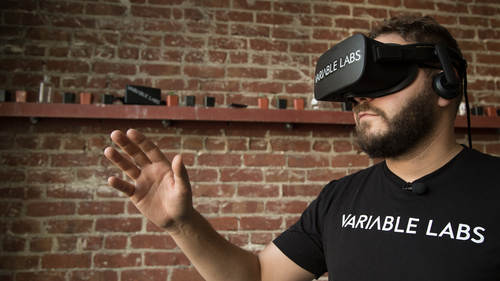 What is VR? What is 360?
Barry Pousman
Lesson Info
2. What is VR? What is 360?
Lesson Info
What is VR? What is 360?
what is VR and what is 3 60? Here's a little picture of me in a VR headset. V R stands for virtual reality, and virtual reality is an opportunity for people to step inside a new world. Step inside a virtual world. Now there's a few sort of differing opinions, whether 3 60 is VR or whether it's not. Um, in this picture, you can see I have a tether from the headset. There's a cord that goes all the way to the computer. Now this is the HTC vibe, and this device allows you to walk around that room Volumetric Aly. Right? So it's a room scale experience, and you can literally interact with that virtual world. The room scale action. You can hold your hand out. It can see where your hands are. You can turn your head behind yourself, and it knows where you're looking. And you can actually walk in any direction in the room and it allow you to move. Have agency inside that experience. Um, now, VR is sort of an umbrella term. I would argue that 3 60 which is in this photo here, um, is a slice of t...
hat umbrella. So part of the VR spectrum is Ah, Is this thing called 3 60 video 3 60 photos. Um, and what that means is you don't have that same amount of agency. You don't have a way to interact with the content in the same way. But what you do have is a way to look all around. So you get a headset like this Inside the headset is a phone. So you have your Samsung phone and your Samsung Gear VR headset. And sometimes these headsets even come for free with the phones. Um, if not there $90 a best buy, um, side your Samsung phone into your headset and, well, uh, you step inside a 3 60 experience, you don't have any agency, it can't see where your hands are. You can't move forward and backwards, but you have this much access to look around, right? So 3 60 video is a slice of the greater VR spectrum. Now, when we make 3 60 video, and that's what this class is gonna be about today, um, typically, we make it with Riggs that include a lot of cameras inside of themselves. So it's a little housing that holds a bunch of cameras you can see below. There's a microphone that's actually an MBA Sonic microphone ical recording, um, in every direction. And, um and so this is what the camera sees. And, Ah, and I think you know, it is hard to kind of understand what this image is. But on the far left of the frame, um, and the far right of the frame those actually talk to each other, those air seems, and you can imagine the globe that the world does a globe and you cut a seam down one side from the top to the bottom, and then you unroll it and that becomes a map. Well, that's what we're looking at. That's what this image is. This is a map of a 3 60 shot. Eso the top is little distorted. The bottom is a little distorted
Class Materials
Fabien Soudiere Making 360
Ratings and Reviews
Great content! Great overview on storytelling and an intro to 360.
Student Work