Illustrating Characters and the Stories They Tell
Mary Jane Begin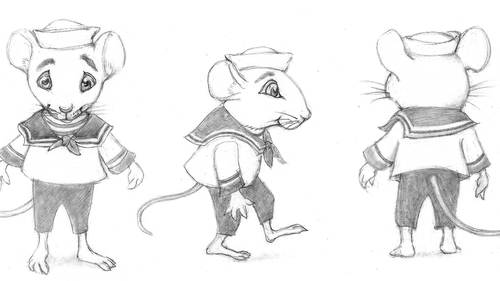 Illustrating Characters and the Stories They Tell
Mary Jane Begin
Class Description
This class will teach you how to draw characters as a way to develop stories. Instructor Mary Jane Begin is an award-winning illustrator and author of children's picture books, a Rhode Island School of Design graduate and professor in the Illustration Department. Mary Jane explains the importance of narrative in all creative fields, and how to develop them.
In this class she covers: 
The key elements of story creation: working from the inside out, letting intuition flow, working with limitations

Seeking out prompts to springboard story

The elements of Character development
Mary Jane will give you a prompt to jump start story and demonstrate how to develop it. You'll learn about the fundamental human response to a particular character style, and how to make decisions that elicit story.
Class Materials
Exploring Character Development Workbook
Illustrating Characters Keynote
Ratings and Reviews
I loved this class. The exercises are fun and inspiring. I was actually doing research to help me develop my own class when I bought this course and I'm thrilled I did. Bonus for me: I am going to work on developing a character and story I've left on the shelf for about four years thanks to this experience. I highly recommend to anyone of all skill levels.
I didn't pay enough attention to the description so was surprised by the focus of the class — but in a definitely good way. As a member of SCBWI, I've learned a lot about illustrating characters by going to conferences and participating in our active local group. Most of the instruction I've received, as I suspect is also the case with most formal instruction, has been from the point of view of being given a character from a story to illustrate. This class covers creating a story based on the characters you draw, placing the drawing first and finding the story as you work. Of course there is overlap in the two approaches — overlap that emphasizes important steps. The creativity process is demonstrated clearly and in depth here in a gently encouraging way. However, while I, like the instructor, believe that everyone can be creative, I also question whether this approach would work for all illustrators: not all have time to write the stories that go with the characters they create, as ours is usually a business driven by clients who already have a story and characters. I'm not saying that this would not be a valuable class for them, just mentioning the different take on the subject. I had expected more of the usual angle of how to create a page of character sketches for your portfolio or how to develop the illustration of a character from a manuscript. Though help with these topics is partially covered in the progress of the class, they are not the main focus. All-in-all, the different approach is to the credit of the class — encouraging and expanding a student's horizons. Also, plenty of little gems are thrown in during the lecture and demos, from techniques to the psychology of creativity. The instructor is competent, clear, and pleasant. She conveyed a lot of information that I didn't realize until I was thinking about it later. One note: the titles for the breakdown of the demo are not exactly accurate, The demo is of the instructor creating one character as she draws. I understand that the producers wanted to segment it, but really it's one continuous process, and some of the titles for those lessons are misleading.
Wow... Thank you so much, MJ! What an absolute superstar! I really appreciate your artistic transparency in all of your examples of work + your thought process. It has made a HUGE difference to my creative mindset. And for that, I am very grateful. I can't wait to see what I can now create with all of these new skills that you given me. Good things! Michelle -x-
Student Work