Action - List Product On Jumpsend
Erik Rogne & Eric Campbell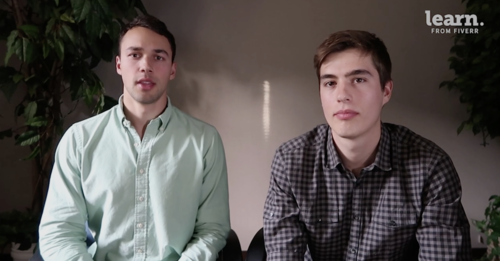 Action - List Product On Jumpsend
Erik Rogne & Eric Campbell
Lesson Info
94. Action - List Product On Jumpsend
Lesson Info
Action - List Product On Jumpsend
Hey guys, this is jumps and so jumps in is super awesome because it lets you put your products on their site that you can advertise for a discounted price. So jumps in is my preference for going to email sites for email campaigns and promotions. They have the promotions built in. So as people come to the site they'll get a daily newsletter saying, here are all of the promotions, here are the products you can buy for a discount and then once you get them you should leave a review after that. They have these email campaigns which they signed up to the buyer saying, hey, I'm so glad you purchased this since you purchased it. Can you please leave an email review next? So jumps and bundles is all in and the reason I like it so much is that everything is on here in a gooey interface, a graphical user interface where you can just plug it in and let it run. There's also a lot of people on this site that look for deals and they want to give reviews. So it's a perfect place to go whenever we tea...
ch new people how to list products for discounts. We say go here because it's one of the best. There are other options out there such as viral launch, post them on facebook and trying to get reviews that way. But I say always for beginners, if you want volume, even though it will cost a little bit more here and there. Jump since the way to start out and list your product on here so you can get a little boost and reviews. I do urge you and recommend you to try other different sites as well. But just start with jumps in, just try out. It doesn't work for you, go somewhere else. But I like to have jumps in and a couple others in parallels such as viral launch. Um I list on facebook I have an automatic email responder for all my other things using um the seller like feedback five. Amazing. So I would say start with jump sent and then try everything else. So first thing is go to jumpstart dot com, sign up for an account. Once you're in you can log in with all your details in here. But once you're in there and you select a subscription plan, scroll down and go to your profile, scroll down and go api key. This is where you'll add that account and on this account you can sign into seller central, it will sign you in that way you're going to say yes. I want to go to amazon M. WS or marketplace web service. It's going to show you this application name which is jumps in the developer account you're gonna say I agree to the terms and conditions perfect continue. Then we're gonna take is you're gonna take your seller id your seller email address and your M WS authentication token throw in, jumps and you can get that on this site once you log in and go to amazon M WS once you got that, create your first campaign since I've already done this, I'm just gonna skip it, skip right there. Once you're done, you go to campaigns or you can go to products, your products will take a little while to sink right here, you'll see you go there, you'll see some products once you have those products up and loaded, you can turn them on And then with those products, even though they will take probably like about 5-12 hours to sink and then from there turn them on, go the promotion side. This is where you where you will put on a promotion. So you can create a new one, I'll just create a new one with that, it's gonna load. I'm gonna click next once it loads up. Once you get here you can edit your listing, you can add your product title, your product description. It all populates directly from amazon. Change the product category. It's not always accurate in this case, it's not accurate for me. So I picked the right product category. The product prices pulled from amazon. Current shipping method is popular from amazon. No, these are are always not correct. So you might have to populate them yourself after that. Put your support email in there in this case it's your jump, send account email once you do that, you'll get him. Next step here is where it's about about protecting an inventory. You always want inventory protection on to turn that on during the promotion limit order, quantity. Did one. That just means that anybody else can't purchase more than one item after the promotions, I'll just set one as well. You can set select start and end dates, pick out whatever dates you want for this. I'll just pick a month in this case. Once you pick your production inventory hit the next step from here, you'll have to create coupon code. I know you've created coupon code before but you can just create here. You can also watch the video they have built in to create coupon code specifically for jumps in, which really helps. So I recommend you watch this once you do that, you're gonna say uses uses in seller central. Those are starting to date you want to put in there because that's actually from jumps in. You put the discount as this whatever you want, you can put 75 whatever 100% discount. Um Let's say I want to put 75%,, Some people put 25%. I recommend you started about 50-75% discount. That's probably a good set to use after you create the coupon code. You'll put all your single use codes codes here, you'll just control v paste all in or right click and say paste those coupon, kids will paste all in there and they'll be used in jumps in so jumps in can take those and put them over back into the person and they can use those Cuban codes to buy your product on amazon, I'm just gonna put something in there right now, just just for this purpose is we'll have the next next step. So here you can either manually approve shoppers or not. So if you want to manually proof shoppers, if you want to look at them to see if they're actually gonna leave your review, they have ratings on jumps and so you can see that if you want to manually approve shoppers, see if they bought something before because some people do on jumps and just buy products and don't leave any reviews. You can either manually approve shoppers or automatically. It depends how much work you want to put in here. Typically I want to do less work so I automatically approve shoppers. Um you can see how many approvals you want per day. Some people want to limit. It's actually a really good thing if you want to just have a set amount and keep your basically be S are and how your products selling a certain amount. I usually just put this around 5 to 10, sometimes even more depends how much you're products selling already. I would just say uh you can just add it as high as you want if you just want a limited amount of shoppers per day, 5-10 is pretty good. So I'm just gonna say 10. Um Also once you run out of coupon codes, we will stop approving shoppers automatically. That's from creating the coupon codes. That's once you put those coupon codes in there, once they're out completely done, next step, it's final review. You get to see your listing, you get to see what you've done published and you're ready to go it published and your product will be up during the approved time. Awesome. You now have an improved campaign and promotion running and jumps in so people will be getting emails about this and people can start buying it and leaving your more reviews. This will increase your all you're selling things. So you're gonna get bestseller rank go down, you're gonna increase your sales velocity. So that just means more and more coming income coming in for you and also reviews coming in so it gets higher up in the rankings. So I definitely recommend starting with jumps in and publishing a promotion
Class Materials
AFBA 2.4 - Basic Product Criteria.pdf
AFBA 1.1 - All Course Resources.zip
AFBA 2.2 - Product Categories.pdf
AFBA 2.3 - Product Categories.pdf
AFBA 2.5 - Advanced_Product_Criteria.pdf
AFBA 3.1 - Product Categories.pdf
AFBA 3.3 - Choosing_Product_Cheatsheet.pdf
AFBA 3.4 - Choosing_Product_Cheatsheet.pdf
AFBA 3.6 - Basic_Product_Criteria.pdf
AFBA 4.1 - Advanced_Product_Criteria.pdf
AFBA 4.2 - Advanced_Product_Criteria.pdf
AFBA 4.3 - Advanced_Product_Criteria.pdf
AFBA 4.4 - Advanced_Product_Criteria.pdf
AFBA 4.5 - Advanced_Product_Criteria.pdf
AFBA 4.6 - Advanced_Product_Criteria.pdf
AFBA 4.7 - Advanced_Product_Criteria.pdf
AFBA 4.8 - Advanced_Product_Criteria.pdf
AFBA 4.9 - Advanced_Product_Criteria.pdf
AFBA 4.10 - Product_Comparison_Sheet.pdf
AFBA 8.2 - All Course Resources.zip
AFBA 10.2 - General Sample Questions.pdf
AFBA 10.3 - Create Your Own Sample Criteria.pdf
AFBA 10.4 - Taking Product Pictures.pdf
AFBA 10.5 - Communication Cheat Sheet.pdf
AFBA 11.4 - Buying a UPC Code.pdf
AFBA 11.5 - Creating Your Barebones Listing.pdf
AFBA 12.3 - Supplier Order Checklist.pdf
AFBA 12.5 - Selecting a Single FBA Warehouse.pdf
AFBA 12.6 - Send _ Replenish Inventory Guide.pdf
AFBA 13.2 - Listing Your Product.pdf
AFBA 13.3 - Listing Your Product.pdf
AFBA 13.4 - Listing Your Product.pdf
AFBA 13.5 - Listing Your Product.pdf
AFBA 13.6 - Listing Your Product.pdf
AFBA 13.7 - Listing Your Product.pdf
AFBA 13.8 - Listing Your Product.pdf
AFBA 13.9 - Listing Your Product.pdf
AFBA 15.2 - Why You Need a Viral Launch.pdf
AFBA 16.1 - Create a Coupon.pdf
AFBA 16.2 - Facebook Product Promotion Spreadsheet.xlsx
AFBA 16.2 - Facebook Review Group Templates.pdf
AFBA 16.2 - List of Facebook Review Groups.xlsx
AFBA 17.1 - Introduction to Amazon PPC.pdf
AFBA 17.2 - Campaigns, Adgroups, Keywords.pdf
AFBA 17.3 - Amazon PPC Key Metrics _ Terminology.pdf
AFBA 17.4 - What the Bid Price Does.pdf
AFBA 17.5 - Ideal ACoS Calculator.xlsx
Ratings and Reviews
Excellent Intructors. I learnt from them a lot of productive and valuable skills regarding Amazon FBA.
A Complete and essential guide for every fba seller or service provider.
Student Work