Student Examples: Handling Evolution
Megan Auman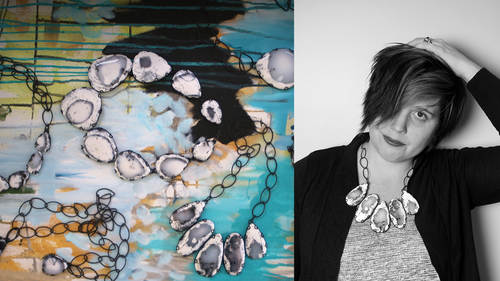 Student Examples: Handling Evolution
Megan Auman
Lesson Info
25. Student Examples: Handling Evolution
Lesson Info
Student Examples: Handling Evolution
- [Richelle] I'm Richelle, and I'm at redscorpiomade.com. And I started with the photo jewelry. - [Megan] Right, the photo tiles. Hold...yeah. There we go. This is your QVC moment. - I know. - Embrace it. - And now I've evolved into doing beadwork and actually Megan, I have to say that it was at mouseswim [SP] when we were talking about my stuff and it was just like a total throwaway comment by you, "Maybe you should use something other than seed beads." And I was like, "Oh, no. Seed beads is the thing that I wanted to do, not this." - Interesting. - Yeah. - So you ended up going to this because you were like literally my one off comment made you realize that this is actually the thing that you wanted to be working on? - I already knew that I did, but when you said that, I was like, "Oh, people aren't getting it." - Gotcha. Okay. So let's talk about then your heading from this to this. Let's talk about what challenges you have. - The challenge is that I'm relatively new at this, and I'...
ve been doing this for a really long time. So just getting good at it and also like, finding my people. I mean, that's always the problem. - Okay. And so you also mentioned that you have a supply but no demand problem as well that we have to address? - I have a small supply of not photo bracelets, but bracelets of this style with like I have an awesome one in my collection and [inaudible] in that collection. So I do have a few pieces and I haven't given up on this completely, I'm going to not really focus any marketing on it but if somebody did, I mean I'm in a lot of CreativeLife classes so it's very likely that someone might reach out to me someday. So I just made a decision that I'll still make it, but for a lot more money. - Okay. Good. That's a good first step, for sure. And then how are you been handling that on your website? [crosstalk] - I haven't done anything. So 2016 was horrible, and I just was trying to be really patient and not push myself into anything that I wasn't ready for and kind of like feeling it out. And then so I was going to start in 2017 and when I saw this class I'm like, "Oh, perfect. This is going to work out for me so great." - Okay. So then… - I haven't done anything, other than making jewelry. - Okay. So you've been making these products, and remind me again, so part of this conversation about kind of handling the evolution also goes back to this idea of like what your financial need is. So remind me where you're at with the financial demands on your craft. - There's not like a pressing financial need so I do have a little bit of wiggle room, but I don't want to drag it out to long. - Okay. All right. So if your biggest problem…so you're still working on making, right? You're kind of exploring. But at least even though you're exploring like you do have a focus because you have the sea beads and you clearly have sort of a method of constructing them, like I'm seeing a connection, it's not like I'm looking at that, looking at that and thinking it's not working. - Yeah, it's the same stitch, yeah. - Right. So you're getting that. So at least even if you're evolving you can kind of start to share that a little bit more. Who do you think the audience is for this work? - It's someone who likes color and I mean, right now I'm just wearing mine and I did have a really beautiful blue ring that I wanted to show, but I like…so my brand colors are very red and black. But my art is very colorful, and I love putting color together. So it's someone who enjoys putting color together, maybe the juxtaposition of colors. - Okay. Give me a few more concrete demographics. Like an ideal person. - Oh my gosh. - Yeah, we haven't really done ideal customer exercise in this class, but I know Richelle's done it before. - But I haven't done it for this person. - I know, which is why we're going to talk about that right now. So one of the things is even though your ideal customer, so for those of you who've never done an ideal customer exercise, even though it's a little bit of a hypothetical it's helpful if you can say something concrete. So I know that one of my ideal customers is Susan, who is an interior designer, in her forties, who lives in the Boston suburbs. She's someone I made up but she's based on a real customer. Another one is Bernice. You guys have probably heard me talk about Bernice before, right? Bernice is my hip grandma with the cute gray hair, and the red glasses, and she lives here in the Bay Area. And the first time I taught a class on CreativeLive and I talked about Bernice, someone came back the next day and she was like, "I was in a restaurant last night and I saw Bernice. She's out there, she exists." I was like, "I know." And that's a sign of a good customer profile is they exist. It's not this imaginary unicorn, it's not like I'm going to pick a new person out, it's not an imaginary unicorn it's like, "I want someone who loves color and has all the money." Right? Which I think is where you're kind of at right now. - It is. - So have you sold any, or you've gotten responses from people on them? - I've gotten responses, people like it. - Okay. So tell me about some people who like it. - I haven't sold any. - Who compliments you on it. - My friends. - Well, tell me about that. - They're creative people, artists, photographers, my circle. But I don't, I mean I think they would say it anyway. You know what I mean? It's not a good focus group. - Right. So I do think that…I think there might be a few things though. I do think that it is going to be someone who is more creative. So either they're in a creative field, or they a more of that creative aspect. So I'm thinking of the people who read and are obsessed with AdvancedStyle. Right, are you familiar with that? Okay. So this is going to be your new path of focus, I think? - Okay. - So there is a blogger and he has an Instagram feed and now he has two books called AdvancedStyle. So basically, he's a street-style photographer but he focuses on like Iris Apfel women and men. So older people who have this really creative style of dress and who are going to wear a lot of things. I think that's probably more so the direction you're headed in right now. You want someone who's not afraid to be a little funkier they're probably going to be a little older, it's not a piece that feels younger to me. And they want to just have fun with their style, right? Their kind of hip like irreverent like I don't care anymore like I just want to wear the things that make me happy. I think that's probably at least one of your customer profiles. Right? Would you say that's a pretty… - I would say so, yeah. - …safe bet. Which is actually a really helpful thing to know because now you can go on Instagram and just start stalking the AdvancedStyle feed. - I definitely will. - Commenting on those people, interacting with them. What other challenges are you seeing with this transition? - Just a perfectionist paralysis on my part where I want it to be perfect and I mean I just did it. There's no such thing. - Right. There is no such thing. So right, so I think in your case now really the most important thing is to start getting this in the market so you can start seeing if people will buy. And I do think in your case there needs to some website overhaul. - Oh yeah. - Before you can really start selling. That said, I think you can at least start to focus it more on your Instagram so that people start to know you for this. The thing I think if you're thinking about that AdvancedStyle as an audience is that means that those people are going to want to see things on people. So that's something to keep in mind because I think that audience, for them it's like, they're not buying a thing to sit, they're buying a thing to look at. And if you look at those kinds of feeds…So when you start to know your audience you know where you want to go and you know what they want, it can help you make some of those decisions about your feed. You probably are not going to want to flat lays of your product on a white surface because that audience is not going to respond to that. To them that might respond to other people making beaded stuff, but it's not going to appeal to the people who are going to buy it. Like they want to see it being worn in the world. And so if I were you, I would gather every creative friend you have and as you're making things, photography it on them and start putting it out on your Instagram. And then in your case…the other thing I think with your website is what's the fastest way then to get a clean slate? Instead of being I have to make an evolution because for me, this to this that's a pretty big jump, right? - Right, yeah. - It's very different. - Definitely. - I think it's a totally different customer. - Oh, definitely, yeah, yeah. - It's definitely a different aesthetic. And so I think instead of…what's your website and your store built on? How are you handling that now? - I have an Etsy shop and then I just have a Shopify buy button. - Okay. And that's on… - My website. - Your website is on what? - WordPress. - WordPress. Okay. So what I would recommend in your case is literally go home and buy a brand new WordPress theme. Start yourself…and you don't have to delete your content but start fresh. Give yourself a clean break. Before you do that, maybe spend a little time hanging out in that space. Go to AdvancedStyle's blog. He might still be on Blogspot so it might not be a great one. But there's some other style bloggers that are kind of in that space. Look, just do a little digging around and then pick a new theme, move on and just make the break. And then somewhere on the site you can put a secret page that people can search if they're still looking for that kind of product. Sound like a good plan going forward but really you just got to start putting stuff out there. - Okay, yeah that's a chronic problem with me is I am an undersharer for sure. - Yes. Which is so...I feel like I like your personality. - I know. - So we have to get you to do more of that oversharing. Here's the thing I think too, if you start to fall in that kind of like AdvancedStyle world, that is a world of oversharers who are then all super enthusiastic. So it's like you share, and then all those people get excited, so if you can fall into that world, there is some validation to your sharing, and it makes it easier to share. But yeah, you definitely…because I actually had no idea that this is what you were working on. I was expecting you to talk about this more when you got here, and I was like, "Why is she coming here for this? She knows what she's doing." So yeah… - Well, not so much. - So you have to start teasing people along. All right? - Yes. Thank you. - One of the best things you can do is to set deadlines. Give yourself deadlines. Whether that's deadlines for getting rid of old work, or deadlines for getting new work out there. Okay. I mean, start sharing, you know, I'm going to have five pieces done to share on Instagram in like the next week. That might not be feasible, you figure out your own timeframe. But start to set those deadlines because otherwise you sort of end up in limbo, right? I haven't really gotten rid of the old stuff, and I'm sort of launching the new stuff. Give yourself some concrete deadlines. The other thing is that you want to give honing your craft the attention it deserves. So you're going to have to spend a lot of time especially if you have the financial pressures. You're going to have to spend a lot of time in growing your audience. But it is important to carve out some time to hone your craft. It's important to give yourself some space. If you know that you need a little bit of experimentation time, it's important to carve that out. Right? Give yourself permission to spend time here because what happens is, if you don't spend enough time here, it's just as bad as not spending enough time here, right? You're business grinds to a halt and that's a problem too. So one more thing that we want to consider when it comes to evolution…and I just looked at Jordan as soon as this slide came up, right? Is are your prices causing problems for your craft? Because that is the one other challenge that often happens in an evolution, and it's having to think about making changes in your prices. That might be adding something new, that is it a new price point? Or…Kayla's looking a little nervous too because we tweaked her prices the other day, right. Or it's what happens when you take your existing things you realize your price is too low and you have to move them up.
Class Materials
Grow Your Audience Quick Start Guide
Build a Business Class Workbook
Ratings and Reviews
I truly enjoyed this class, as it is very detailed, but straight to the point. 30 modules, more than 10 hours, it is so worth it! I also loved the interactive part of it. Building your business from scratch is not easy, there is so much to do. This class gave me some important pointers and valuable guidance, thank you Megan! I strongly recommend this class to anyone who wants to work smarter, not harder and be successful.
Fantastic class! If you have never taken a Megan Auman class, this is the perfect one to start with. It filled in some knowledge gaps that I didn't know I had. Lots of great basic knowledge that I haven't been able to find elsewhere. Super helpful!
First of all, it's so fun to learn from Megan! She is so motivating and enthusiastic – making you feel great about your business even when you are just starting out. The class is well put together, easy to follow and has simple, actionable steps to follow in order to actually move forward. I definitely recommend you check it out for yourself!
Student Work