Student Example: Visual Content Creation
Megan Auman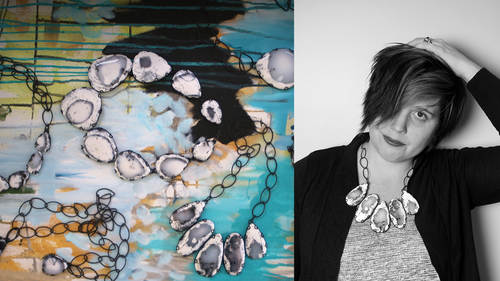 Student Example: Visual Content Creation
Megan Auman
Lesson Info
17. Student Example: Visual Content Creation
Lesson Info
Student Example: Visual Content Creation
- [Megan] What we want to do in this Hot Seat is identify if your visual vibe needs a little bit of tweaking, and then help you figure out who to look at and what hashtags you might be able to use to find your ideal audience. - [Yolanda] Hi, my name is Yolanda Figueroa, I actually operate under Lilith Black, it's my pen name. And I have a Punerific shop, it's also on Etsy, and I offer leather planner covers. They are refillable, they also call them Midori-style planners. Planner accessories like bookmarks, and also the stickers that go into planners, specifically the affirmation ones and the self-care ones, things like that. - Awesome. So tell us, do you feel like you have a good visual vibe? Is there anything that you think now kind of thinking about this that you need to tweak? - So the vibe that I'm going for I'm really liking black and white, clean lines, kind of modern but a little bit of whimsy. So like my bookmarks offer beads that are Chinese-inspired and have a Zen feel, so ki...
nd of a little bit of that, just a little bit of color pop but not too quirky. - Okay. So the one thing that I noticed is like occasionally it's like you use this desk image and that just feels, you guys know what I'm talking about. This image here. Right? It feels out of place as soon as I look at your feed. So I see the black and white thing happening but then that one, I'm like, "Ooh, what is that like weird, ugly, brown, boring desk?" Right? So in that case, that's an image that I would actually just delete because it really feels like it doesn't support your vibe. Otherwise, I do think you're getting pretty close to that. There's some where I feel these feel really when we look at just the sort of little bookmark thing, it feels a little bit almost too minimal compared to what's happening in your feed. Like it seems like... - So put a little bit something else in there? Maybe a page? - Yeah, so when you're going to show those, show something else, show a little page even here where you've got a little bit more going on. I think that fits…or even here right where you've got a pen you've got a few more things. I think that fits better with the vibe and I also think it's sort of a nod to your customer. They want things to be simple, but at the same time they've got a lot going on. So I think having that balance of simple plus a lot going on that could really help. So is there any other subject matter that you think you could add in because it is a smidge redundant as I'm looking at it. I do feel like it's kind of this and this and this are very similar, happening all at the same time. So is there any other either ways you could show this, or types of images that you think your customer might relate to? - Yeah, so I guess that doubles my problem, right? That I was afraid to put things that are too off the beaten path. But I was thinking to show a little bit more of planners in use, maybe with a person in them. Not showing them but maybe hands, or something like that? - Yeah, I think something that gives you a little bit more of a human element, could be really good. The other thing, we did not talk about Instagram video at all, but I actually want to refer you, let's hold this up. What could be interesting is video because look what happens, right? Something is happening here. - I'm like filling it out and applying the stickers. - Right. So this or writing or things like that. So you might be a really good case, I know we talked about this with Denise, to actually video demonstrating things. I think that could be another way just to add a little bit of excitement. And then I think you could still if you're thinking like a little bit of whimsy, you could get funnier with your props. Right? So it's like, okay, here's a pen, here's a pen, here's a pen, and the pens are colored, but what other weird quirky things do people have on their desk, or what other weird quirky things people have in their purse that you could throw in there that actually would be so unexpected. I think people like the unexpected. That's why I do my hand holding things because it's like, you see the same things over and over, oh, she keeps a rubber duckie in her purse? Like that's, okay. - Okay, got it. - So you don't have to go that crazy, but thinking about things like that like what are, you know, or like if there's a mop your customers are moms… - I was about to say that, yeah. - Right, a busy mom might have a rubber duckie in her purse, or like a little Tonka truck or something. - Yes. Okay, got it. - Right. I think we have those things. Richelle do you have a suggestion there? - [Rochelle] A coffee cup. - [together] Yeah. - I know, I was just thinking like, oh, coffee cup from the top. - The coffee cup thing works for like everybody, I swear. - Definitely your plan b. - Go with the coffee cup. - Jordan. - [Jordan] I think too, if you go to thrift stores and stuff collect weird coffee cups that look like a pig and like put those on the desk. But also a flat lay of what's in my purse? And like your lipstick and you could do it on a white bedspread whatever background so it would work. - Or even if you use a white foamcore, bed spreads get wrinkly. Right? You have a foamcore in your background. - Those are… - Yeah, and that's how I could see you shooting a lot of that. - Yeah because one of the things that I want to point out that it would fit in a purse where I could take it and then go so that's, a lot of that that's a nice one. Okay, all right. - Or like with a passport or something like with a few different, yeah. - Yeah. Or even other books that people read, right? So like you've got your planner, you've got your notebook your reading books. Right. So showing books. I think that can also work as well. - Okay, wonderful. Thank you, I really appreciate it. - You're not done yet. So now I just want to also talk for you, about finding people that are going to be your ideal audience. So tell me really quickly just a couple of words, who you think the ideal customer is for this. - So my ideal customer is a busy mom, she's a professional, so she is working your regular nine to five in the office, her life is kind of crazy, busy. She wants to have a planner to keep all her tasks with her on the go and not miss anything. Not to let anything fall through the cracks. - Okay. And who else do you think she follows on Instagram? - I didn't think about that. - Denise says The Container Store. - I love that, I follow one myself. - Right. - Actually, there are several ones that I love. And also the ones that arrange really pretty rooms, like interior designers, very clean because she wants that. - Like you. - Very clean. uncluttered feel in her life, to make it easier. - And so that makes me think if we're then looking at not just people like Container Store and Ikea but hashtags to follow. I bet your customer is using all of those hashtags around the life-changing magic of tidying up. - I have that book. - Right. So they're using the hashtag, they're using what you call condoing. I am not a minimalist, so I never even looked at those hashtags, but they're using all of the hashtags that are in that book. Yeah. So you're looking at all of those things, so looking at those hashtags because those are people who are going to want a simple beautiful planner that's going to make their life easier. So those are the places to start and between looking at The Container Store, looking at those hashtags, you're going to be able to do it all on a pretty easy list there I think. - Okay. So thank you. I've got so many ideas. - Yeah. So now you have so much work you could do. Perfect. Go ahead and sit down. - Thank you so much. - All right. Yeah, thank you. Perfect. Now you can see this doesn't have to be complicated, it just takes some work.
Class Materials
Grow Your Audience Quick Start Guide
Build a Business Class Workbook
Ratings and Reviews
I truly enjoyed this class, as it is very detailed, but straight to the point. 30 modules, more than 10 hours, it is so worth it! I also loved the interactive part of it. Building your business from scratch is not easy, there is so much to do. This class gave me some important pointers and valuable guidance, thank you Megan! I strongly recommend this class to anyone who wants to work smarter, not harder and be successful.
Fantastic class! If you have never taken a Megan Auman class, this is the perfect one to start with. It filled in some knowledge gaps that I didn't know I had. Lots of great basic knowledge that I haven't been able to find elsewhere. Super helpful!
First of all, it's so fun to learn from Megan! She is so motivating and enthusiastic – making you feel great about your business even when you are just starting out. The class is well put together, easy to follow and has simple, actionable steps to follow in order to actually move forward. I definitely recommend you check it out for yourself!
Student Work