Become a Better and Funnier Speaker
David Nihill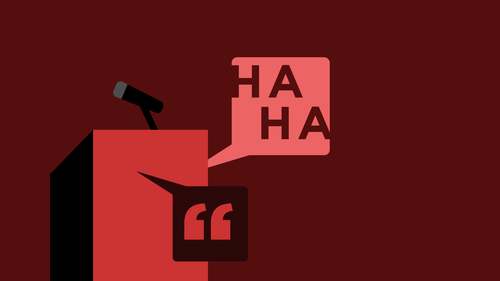 Become a Better and Funnier Speaker
David Nihill
Class Description
Let's just be real for a minute: most public speakers are boring. And aside from making your day a little less fun, dull presentations are bad for business.


Audiences have become conditioned to receiving information with a dose of entertainment, and that makes humor a critical tool for any professional communicator. We want our data with a punchline these days-- witness the success of The Daily Show or the stickiness of many of President Obama's speeches for example.
Speaking of excellent punchlines ... here are the accompanying links to the videos mentioned in the class
It's not just about getting some laughs to make yourself feel good; it's about using humor to grab and hold your audience's interest, making your message stickier and ultimately more persuasive. In a world full of bland, dull speakers, if you stand out, you win!

The good news is that humor is a skill, which means that it can be learned by anyone. The notion that we're "born funny" couldn't be more false: "being funny" is just a set of easily-replicated techniques (for example, the setup followed by the punchline) that anyone can pick up with a little practice.

Whether you are preparing for a business presentation, giving a wedding toast, defending your thesis, raising money from investors, this class will take you from nervous and sweaty to stage-ready.

Bestselling author, storyteller, occasional comedian, and Irishman, David Nihill will teach you:  

How top business speakers are using humor

One Sure Fire Way to Add Funny to any content

How To Replicate Top TED Talks

Basic Comedy Writing Techniques

Quick ways to get funny fast

How To Make Boring Things Funny (with guest Sarah Cooper)

Storytelling Tips that everyone can use

Advanced Comedy Writing Techniques

How to critique your own stories

Never go blank on stage with the memory palace technique

Content delivery tips for all levels

Manage stage fright

  

As an added bonus, Sarah Cooper, a writer, comedian, and creator of the satirical blog TheCooperReview.com, will be joining David to teach you how to make boring subjects more entertaining.
Learn more about David Nihill from his appearance on the "Profit, Power, Pursuit Podcast"!  

Ratings and Reviews
I always wondered why my favorite TED talks look so effortlessly off-the-cuff while commanding my undivided attention: Laughter. David's class taught me how "The end of laughter is followed by the height of listening." Applying stand-up comedy techniques to the art of storytelling makes information much easier to retain, and hence, easier to share with others. David handily makes the case for why the comedic structure is necessary and applicable in a variety of cases, ranging from business presentations to blog posts. After learning about the joke structure and funnel, I now hear/see them in action throughout my day. He also shares specific tips on how to "memorize" talking points while remaining totally flexible to last-minute time changes (e.g. "Your 20-minute talk just got chopped to 5 minutes. Go!") David covers specifically how to start your talk, end your talk, and where precisely to position your Q&A sessions to maximize audience reaction to the speaker. He supercharges this talk with so many actionable tricks and tips. Sarah Cooper makes a guest appearance sharing 4 tips that I found especially helpful for creating funny visuals. David's heartfelt honesty about the guts it takes to "get up on stage" - the vulnerability of it - really shines through. And now, I carry my "Funny File" with me at all times. This is a truly phenomenal class, both in content and delivery. Thank you for making me laugh, David and Sarah!
Pretty brilliant. David is hilarious so he is definitely using his techniques. Its also easier to follow the class and want more when they are funny. I think most of the presenters on Creative live should be taking this class too . Make it funny so that learning becomes "fun"-ner
Philipp @PhotoAmmon Ammon
Brilliant lecture. David managed to keep me hooked, and I am pretty sure I will do so much better on whatever public speaking I have to do next As a photographer, I know this will help improve the way I look at talking about my work, and I think these kind of skills are vital to any artist. One little thing I didn't like about this was more of a technical issue. He uses videos as examples to the content he is teaching, but none of the CL links to the videos worked. I know its probably a copyright issue, but I would rather watch bad footage of the TV in the studio than nothing at all. Especially since I can't pause the talk and find the videos. Regardless, brilliant talk. Definitely watch it!
Student Work