Problems Becoming A Fulltime Freelancer
Isaac Johnston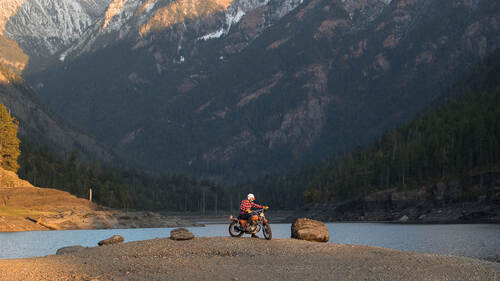 Problems Becoming A Fulltime Freelancer
Isaac Johnston
Lesson Info
2. Problems Becoming A Fulltime Freelancer
It's important to know some of the problems you'll face as a full time freelancer: income, scheduling, self-doubt. Isaac covers some of the problems he faced to give you a realistic expectation of what you can expect.
Lesson Info
Problems Becoming A Fulltime Freelancer
If you've ever stared over the edge of a big cliff into some deep water where you're thinking about jumping, then you know the feeling that freelancers feel after they've considered going from a full time job with a paycheck every two weeks to a freelance career full time where if they don't get work, they don't have food, maybe don't eat. It's really intimidating. Before we jump into the meat of this workshop, I want to name some of the problems that we're going to encounter because without naming the problems, we can't learn what they are and then learn techniques to overcome them. The human mind has a tendency to make monsters out of shadows. And it's only by shining the light or in this case talking about the techniques, that we learn it's just a trick. So problem number one, money. This is the biggest hurdle in a freelancer's mind when they think about going full time. Is there enough money to do this and will the jobs that I have now keep coming in? We need a way to ensure that w...
ork keeps coming in, and a plan to know when to change our course of action if we're not making enough cash. Problem number two, how do I know if my work is good enough? If money keeps you from doing this full time, then doubt about your talent and skill will keep you from doing it at all. What we need is a defense against this doubt and a support system that keeps us believing that we're good enough even when we're having a rough time. Problem number three, I don't know enough about business, marketing, website design, accounting, taxes, if you read a business book, you're gonna find out all of the things that you need to know now, and it seems like the list is endless. What we need is a way to distinguish what we need to learn now and what we can get by with as we continue to learn. Problem number four, I can work all day for a boss, but when I'm at home working for myself, I have no motivation to do anything. External motivation is hard to come by when we're working from home and nobody is checking in to see how much we're actually working. What we need is a stronger motivation than getting fired. We need momentum. Problem number five, what if I fail? Will my friends and family say, "I told you so?" Will people look at me and think I'm a loser because I have to go get a regular job again. Fear of failure and not wanting to feel shame is normal. And we need a way to have your friends and family invested in you and your journey so that if you do fail, they're congratulating you for trying. In the rest of this course, we'll talk about the problems you're scared of and how I dealt with these and how I even deal with them today. There's no drag and drop solutions, but there's strategies that I use to ensure that I can keep creating and that I can keep paying my bills. I'd like you to take a moment to write these problems down. It'll kinda solidify them in your mind. And as we go through the course, you could write some of the solutions that you felt were really impactful underneath where you wrote the problems. Yeah, take a moment to write those down. And after you've done that, let's jump right into the fun stuff.
Class Materials
How To Build A Proposal - Pitch Deck Example
Story Creation Sheet Template
Ratings and Reviews
A great course/workshop, one of the best I've seen with CreativeLive. While at 71 I'm not looking at starting a full new carrier in freelance photography or video work, doing the work helps keep me off the street. It has given me inspiration to do a stoty about what I am going through now as a full time caretaker for my wife, who has been suffering the declining pains of Alzheimer's for a few years now. No one with Alzheimer's travels that final journey alone. In a sence it is an adventure, mostly for those close to the one with the disease. While it's not like the travels I did 50 years ago when what today is called "adventure" (canyoneering, something we used to simply call a hike in the desert...). I spent a lot of my life running rivers and working as a wilderness wanderer and guide/instructor. Now my travels are pretty well limited to long walk with the dog and occasional fishing outings with my wife who used to be a guide herself. Maybe thats not all that interesting or exciting as say going over a cliff with a bike and a parachute, but for many older folks it is the new story, the new adventure as their later years unfold. This in itself will be an adventure, at least for me.
Practical yet fun Great workshop and worth the time/money. Isaac is an easy to watch presenter and the various modules were each concise and practical. Time well spent!
honest advice from an adventure photographer who went through career transition I think a lot of us are mulling over the idea of transitioning to become a photographer. It's not easy. There are lots of fears and hesitations. It's a change that could affect our life. I'm at this decision branch for the second time in my life, and I still fear. Isaac shares with us how he overcame those very same hurdles and fears. He is genuine, practical and proves that you don't need expensive gear to start or even continue to become good enough. The pitch deck example, the starting up a conversation with a prospective client, the way to deal with blockers, all are real. I cannot wait to put them in place and start my first pitch. Thanks Isaac for sharing your journey!
Student Work