How To Know If Your Hobby Should Be Your Profession
Isaac Johnston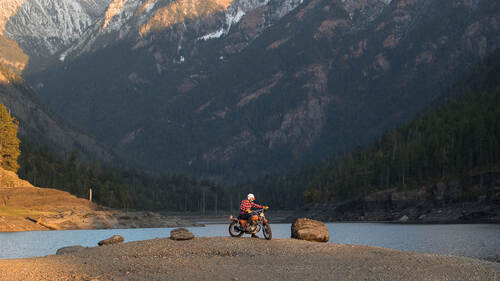 How To Know If Your Hobby Should Be Your Profession
Isaac Johnston
Lesson Info
4. How To Know If Your Hobby Should Be Your Profession
It's important to think about whether or not your hobby should become your profession, and if you have reached that point. Isaac lays out a couple steps to help you decide if you are ready to become a full-time freelanc
Lesson Info
How To Know If Your Hobby Should Be Your Profession
So you've become really good at taking photos or writing or maybe making videos, whatever your talent is. And it's fun, and you've learned a lot. Your friends have started to notice and maybe your friends of friends have started to notice, and you might have even got a small paid job. And you're starting to think maybe you could do this full time, and you're dreaming about what it'd be like to travel and make cool stories with your skills. But you're not sure how to know if it's a good time to do it. So, here are a few things to try before you decide. Number one, get a paid job. Ask anyone who will listen if they need any video or photo work or writing, whatever your creative skillset is. Get a paid job, even if you have no idea what to charge, get a job where you need to deliver a product, a photo set or a video, and try before you buy. You can't make the decision if you don't even know what the paid work feels like. So, that's the first step. Go out and get a paid job. Number two, di...
d you get a paid job yet? You need to get a paid job and then reflect on how the process went. Did you enjoy the creative process of building a concept, shooting it, editing it, and delivering it to a client, or was the joy of the whole process just ruined because the job created so much stress? Sometimes hobbies are meant to be escapes from normal life and not stressful like normal life. So if you enjoyed the process and it wasn't stressful for you, let's dip our toe a little bit deeper into the water. Number three, save up enough money to cover three months minimum of expenses and bills. If you have that runway, then you can try this as an experiment for three months without worrying that you're gonna run out of money to pay the rent. I sold most of my non-necessary possessions before I started my freelance career. I actually even sold my motorcycle, and I know, me without a motorcycle? I was definitely (laughing) willing to sacrifice. Number four, speaking of rent, you need to find as cheap a rent as possible. You need to lower your lowest expectations of what you can live on. If you're single, this is super easy. You can just ramen it, get a roommate, do all those things. If you're married, this is a little more difficult. For me, it was more difficult, but we definitely lived at a lower level than we had before. That really helped extend the runway even further than just our three months of savings. So number five, I want you to go get jobs while you still have a job. So, finding work when you still have a job is going to create a sales channel that will tell you how hard it's gonna be to get more work. It'll also relieve the pressure of finding your first job while you need it to eat, basically. Go ahead and make a well-worn sales path here and it's gonna make your life so much easier. Number six, and this one doesn't work for everybody, but you need to try it anyway. Plan a big trip for your first three months of your career as a freelancer. What you wanna do is stack up a bunch of concepts and hopefully a bunch of sponsors to commit to those concepts so that you can just go out and shoot a bunch of work that later you can use to find more work. Companies take a while to commit to things, so you wanna start this early while you still have a job and plan for that three months, right after you start, so you just go out the gate and you're doing a really fun creative concept. You're creating every day and companies know like, oh, he's going to the Arizona desert for three months, or he's doing a trip across the USA. It's more likely that they're gonna jump on that creative concept rather than just like, hey, I'm a new freelancer, let's work together. So number seven, it's time to start your business. Really doesn't matter what it's named, actually. But, the goal here is to go ahead and do the paperwork in your state. Get somebody to help you. An accountant is the best, but you can also do this with a bookkeeper or somebody, business mentor. Doesn't matter. If your accountant tells you that it's gonna cost you thousands of dollars to set up a business, get a new accountant. Mine costs me less than 150 bucks. It's a simple business structure, but you can change it later. If your accountant says, oh, you need to upgrade because you're making more money. That's a good thing, it's easier to do later, but just don't let this get in the way. Just get it outta the way, get it done, but make sure you do have your own business set up. You're gonna want to get a business bank account. You don't want to, what they call, commingle your funds. That's gonna make it a pain in the butt to do taxes later. And I'm not an expert by any means in this area, I've just set up a couple of different businesses and I've done it wrong a few times. So, your own business account and just set up a business that's basic, you can change it later. All right, number eight is test it out, okay? If you do this for three months, I want you to view it as a sabbatical or a mini retirement. You don't have to always do this. You can probably get your old job again. Especially if you preface it like, "Hey guys, I'm gonna pursue my dreams. I don't wanna be, you know, a lawyer right now, but I maybe might wanna come back." You might be able to get your old job back and, look, if your job was so bad that you wanted to leave it in the first place, you probably don't want that job anyway. So you might have to find a different job that's not freelancing, but this is just a test. You don't have to commit right now. It's not as big of a leap as you think it is. So going back to your beginning question of when is it time to take your hobby into a full-time profession, the real answer is that you won't know unless you try. There's no shame in doing an experiment. So call it an experiment and go ahead and think of this as just three months of your life where you're gonna try something that if you didn't try, you might regret forever. So jump into it, knowing that this is reversible, and that no matter what anybody says, you're not screwing up. Use the list and the items that I've just said to ensure the downsides, so that this is a reversible experiment. And yeah, get after it, go try this.
Class Materials
How To Build A Proposal - Pitch Deck Example
Story Creation Sheet Template
Ratings and Reviews
A great course/workshop, one of the best I've seen with CreativeLive. While at 71 I'm not looking at starting a full new carrier in freelance photography or video work, doing the work helps keep me off the street. It has given me inspiration to do a stoty about what I am going through now as a full time caretaker for my wife, who has been suffering the declining pains of Alzheimer's for a few years now. No one with Alzheimer's travels that final journey alone. In a sence it is an adventure, mostly for those close to the one with the disease. While it's not like the travels I did 50 years ago when what today is called "adventure" (canyoneering, something we used to simply call a hike in the desert...). I spent a lot of my life running rivers and working as a wilderness wanderer and guide/instructor. Now my travels are pretty well limited to long walk with the dog and occasional fishing outings with my wife who used to be a guide herself. Maybe thats not all that interesting or exciting as say going over a cliff with a bike and a parachute, but for many older folks it is the new story, the new adventure as their later years unfold. This in itself will be an adventure, at least for me.
Practical yet fun Great workshop and worth the time/money. Isaac is an easy to watch presenter and the various modules were each concise and practical. Time well spent!
honest advice from an adventure photographer who went through career transition I think a lot of us are mulling over the idea of transitioning to become a photographer. It's not easy. There are lots of fears and hesitations. It's a change that could affect our life. I'm at this decision branch for the second time in my life, and I still fear. Isaac shares with us how he overcame those very same hurdles and fears. He is genuine, practical and proves that you don't need expensive gear to start or even continue to become good enough. The pitch deck example, the starting up a conversation with a prospective client, the way to deal with blockers, all are real. I cannot wait to put them in place and start my first pitch. Thanks Isaac for sharing your journey!
Student Work