How To Be Comfortable In Front Of The Camera
Isaac Johnston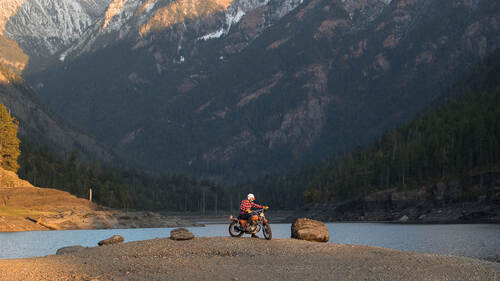 How To Be Comfortable In Front Of The Camera
Isaac Johnston
Lesson Info
18. How To Be Comfortable In Front Of The Camera
Being comfortable on-camera is an invaluable skill in todays culture. Isaac shows you some of his tips to acting comfortable and natural on camera, and how he makes his Instagram stories look so professional.
Lesson Info
How To Be Comfortable In Front Of The Camera
In this episode, I wanna talk about how to be comfortable in front of the camera when you're shooting yourself on video. And I wanna talk about Instagram stories, how I make them, and why you should, too. If you've ever tried to film yourself and looked at the video that came out, you probably were not happy with it. You probably looked at it and were like, "Holy cow, I don't like the way that I look.", or "Where am I looking?" And it just turned out awful. That's not uncommon. That happened to me. And after doing a ton of video work, like looking in the lens like I am now, but also filming myself for what seems like hundreds of hours. There's a couple of tips that I've learned that'll make it easier on you and make your performance better when you're looking into the camera. The first tip is, on my USR, I have this flippy outty screen that I've talked about, or even on a phone camera. The tendency is to, when you hold it up, and I'm just gonna record this so you can see what I'm sayin...
g, the tendency is for me to look at my screen. But you'll notice that when I'm not looking at the lens, I'm looking at the screen. I look a little bit weird. Maybe sorta cross-eyed or at least like not making eye connection with you, the viewer. So you're going to want to look right in the lens there. And on an iPhone, you're gonna look in the lens on your phone, which is just above your screen. So this is what it looks like when you look in the lens. This is what it looks like when you look in the monitor. It's not great. So that's the first tip. That's gonna help people engage with what you're saying. The next one is to think about and practice, if you need to, what you're going to say before you say it. I just did that right before I said this line. I wrote it down, I thought about it, and then I've actually practiced it, and now I'm saying it to the camera. It'll help your brain engage with the camera or the viewer without thinking so much about what you're trying to say, without trying to catch up. It feels like you're trying to catch up when you're trying to say it while you're looking at camera without practicing it. It's also better to stumble a little bit on your first and second time, rather than say it to the camera 10 times over, 'cause it'll come off more natural the first and second time rather than 10 or 20 times in. If what you are saying is positive, then smile before you start saying it. You don't have to continue to smile if it's awkward to smile while you're saying whatever you're saying, but a positive emotion will happen, and it will help connect with the viewer. And if what you're saying is supposed to have a smile behind it, then smile. Smiling is magnetic. And that's what we want. We want connection with the viewer. We want magnetic connection with the viewer. Okay, so this one is not so much, it's more of my opinion than it is like, the practice, but I like to, if what I'm saying is casual, shoot it in a bunch of different locations. So, like, I'd shoot a little bit here, and then maybe as I was doing something else, like walking into my garage, I'd shoot a little bit there. I feel like it creates more interest for your journey or what you're doing if you just get a couple of different shots here and there. it's not gonna make you more comfortable necessarily, but it will make the viewer more engaged with what you're saying. If what you're saying is important, make sure that your camera is held steady. A bumpy, handheld shot, or maybe like a weird angle is gonna be distracting. If you're trying to emphasize the importance of a shot just set it down, you know, just set it down on anything, a table or if you have a tripod set it down. Another thing I like to do is to frame in close just on my face when I'm saying something important. But just like the beat drop in a song, if you overuse this nobody's actually gonna believe that it's important. It's just gonna be awkward closeup of your face all the time. So only use that sparingly. Talking to camera is really hard. If you do it a lot, then you'll realize why actors make millions. It's tempting to put on a persona that you think sounds professional or is easier to talk about on camera, or to talk to camera with. But really, it's not super endearing and being yourself, even flubbing your lines but being yourself, that's endearing to the audience. They really wanna see real realness especially on YouTube and Instagram stories. So don't worry about trying to sound professional, just be yourself. So that brings me to how I shoot my Instagram stories, and why you should shoot them that way, too. I actually shoot them on my big camera, and I shoot them vertically. So then I take that footage, and I upload it to my computer. I edit it with music, and then I export it, and then I re-upload it onto Instagram stories. It's a real pain in the butt. So why do it then? The first reason is it's great practice. If you want to do video, then this is practice for talking to camera, editing videos, and basically the whole craft of making videos. This is really, really easy to get into because what I found is when I went to make my first YouTube video, I had no idea how to fill 10 minutes. That's what they say you should make a YouTube video long. I didn't even have any idea how to fill four minutes, but with an IG story, it's only 15 seconds that you have to fill. And it's really easy to fill 15 seconds, so generally I make my stories one minute to two minutes long. But, as with most things that I'm trying to teach you here, repetition will help you develop your own style, help you get good at the edit, will help you be comfortable in front of the camera. So I want you to start doing Instagram stories this way, and you'll find that it is the best way to practice. If what I've said so far hasn't convinced you to do Instagram stories the way that I do them, another reason is that there's no pressure. These things disappear after 24 hours, there's no pressure to do more than 15 seconds, and it's just a really low bar to get in on video creating. And another reason is that it's really fun. It's really addictive to create video, and to share your perspective, and to maybe have like a, you know, a big like, oh moment, a twist, and I didn't realize that was coming. You can do all of these creative things in just 15 seconds to two minutes with video, and they disappear or you can save 'em to your highlights if you wanna keep saving them. But I hope that you will start creating your stories this way. If you want to get into video, this is the very best way. And even if you are doing video, I have friends that have gone back to creating Instagram stories because it just keeps them fresh and excited, and it's easy enough to do that they'll do it on a daily basis.
Class Materials
How To Build A Proposal - Pitch Deck Example
Story Creation Sheet Template
Ratings and Reviews
A great course/workshop, one of the best I've seen with CreativeLive. While at 71 I'm not looking at starting a full new carrier in freelance photography or video work, doing the work helps keep me off the street. It has given me inspiration to do a stoty about what I am going through now as a full time caretaker for my wife, who has been suffering the declining pains of Alzheimer's for a few years now. No one with Alzheimer's travels that final journey alone. In a sence it is an adventure, mostly for those close to the one with the disease. While it's not like the travels I did 50 years ago when what today is called "adventure" (canyoneering, something we used to simply call a hike in the desert...). I spent a lot of my life running rivers and working as a wilderness wanderer and guide/instructor. Now my travels are pretty well limited to long walk with the dog and occasional fishing outings with my wife who used to be a guide herself. Maybe thats not all that interesting or exciting as say going over a cliff with a bike and a parachute, but for many older folks it is the new story, the new adventure as their later years unfold. This in itself will be an adventure, at least for me.
Practical yet fun Great workshop and worth the time/money. Isaac is an easy to watch presenter and the various modules were each concise and practical. Time well spent!
honest advice from an adventure photographer who went through career transition I think a lot of us are mulling over the idea of transitioning to become a photographer. It's not easy. There are lots of fears and hesitations. It's a change that could affect our life. I'm at this decision branch for the second time in my life, and I still fear. Isaac shares with us how he overcame those very same hurdles and fears. He is genuine, practical and proves that you don't need expensive gear to start or even continue to become good enough. The pitch deck example, the starting up a conversation with a prospective client, the way to deal with blockers, all are real. I cannot wait to put them in place and start my first pitch. Thanks Isaac for sharing your journey!
Student Work