How I Approach A Brand
Isaac Johnston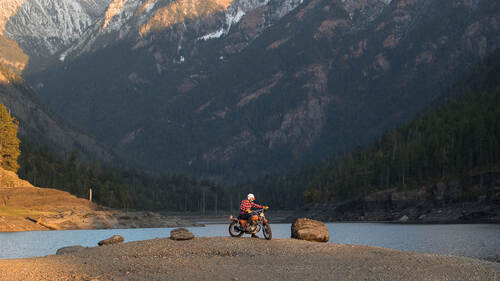 How I Approach A Brand
Isaac Johnston
Lesson Info
10. How I Approach A Brand
To pursue a freelance career you'll need to be able to get work. Isaac shares his approach to finding new clients and getting brands to work with him.
Lesson Info
How I Approach A Brand
Okay, so in this episode, I'm going to teach you how I approach a brand and how I get work. And instead of just talking about the theory and telling you my best practices, I wanna show you a specific example of how I got work and how I worked with a brand. A couple months ago, I, when there was still snow, I broke my splitboard. So I broke one of the skis 'cause I'm a goon and I snapped it in half. So I needed a splitboard and it was very pertinent to me to continue to tell stories about splitboards. So it fit my need, but you know, it's all not all about me. So I wanted to find out, what kind of snowboard company would be a fit for me telling the stories and who would benefit from me telling the stories. So I asked around a couple friends, that were into splitboarding and they said, well, Weston Snowboards is a great brand. They oftentimes work with influencers. So I got a little bit of intel there. So Weston Snowboards, as you can see on my computer, they have several different model...
s of splitboards. They're also very community-minded, which just blends with me. They're not very like, you know, they're not very sleek and they're not all performance-oriented 'cause I'm not gonna be doing double back flips or anything like that. So they fit really well. So the first thing I did before I went and asked them for anything is I kind of did, like a little bit of research on them and it was easy research. I just did it on Instagram and on their website, found out kind of what boards I liked about theirs and then went on their Instagram and just kind of went through and looked at their content. What kind of content do they make? Does it fit what I could make for them? Do I feel like I could improve upon it? And I engaged with their content. So I liked some stuff, left some comments on the newer stuff and actually like put a little value forward. Oftentimes, these are run by agencies, but people do notice and it's giving a little bit before you ask. So that was kind of the first thing that I did there, with Weston. Once I'd engaged with their content, the next step was to send a DM, a real casual, not asking for anything, but just letting them know that a friend of mine who I think they had worked with before had recommended them. That's always the best. If you can get a kind of warm recommendation, give them another touchstone, like, oh this guy's trustworthy. He knows a guy that we know. So I luckily had that a friend of mine Cody blue had done some work with them and recommended them. So I said, you know, Cody, let me know that you guys are awesome. And who do I talk to about doing a project together? I've just broke my splitboard. So I reached out to them with that message first and then they hit me back with like, where you based? I think that's their clarifying question. Like if he's in Iowa, it's probably not for us, 'cause there's not a lot of mountains out there. If he lives in Arizona, it's probably not gonna work either, but I happen to be in Montana. So they hit with a clarifying question and then got back to me with an email. So that's the next step, is an email. I wanna just touch base with an Instagram DM first 'cause they can hit my icon, then go right to my Instagram which is gonna show a lot of my work, a little bit about who I am and also give them a feel of whether I'm a good fit or not, a lot less friction than even following the link on email or me asking to like be able to show them my portfolio. So the DM is very casual, easy to follow through with on their end. Alright, so once I've got their email via DM, then the next step is to send them an email. So what I like to do is just make it again very casual. So I sent an email to Weston, I said, Hey, thanks for getting back to me on Instagram. I'd love to work together. Heard great things about your boards, which is true. They also, in that last screenshot you could see in of my DM mentioned that they love to work with photographers. Which is like, yeah, that's just music to my ears. So then I just ask, what does a typical partnership with you guys look like? I'm not pushing here. I don't say that I have ideas, even though I do. I'm just asking, I'm just trying to, this is the information gathering phase. What I also want to do on my email for sure is include my media kit, my website and any of the other work that I've done that I'm proud of, in my signature. And I call it out like right there. I don't want them to miss that. I just wanna kind of double whammy, tell them and then link to it. So if you don't have a media kit, you can build one. If you don't have any work you've done previously you need to go do some and you know your Instagram and your website should be built as well. So these things are something that you should spend some time making. You don't need them to reach out to a brand, but it's very, very helpful. If a brand can easily look at both those things. Now, if I'm doing regular emails, I don't include my work that I've done in my media kit 'cause I'm not sending that to just my friends or people I've already worked with. They don't need to see it over and over again. But I do always include it on my first reach out email, so that people can easily see who I am. Once I've sent out this email, whatever their response is, my next step is to try and get them on a call. Now I know that Weston was already into working together based on their Instagram DM, but either way, I'm just trying to get people on the phone. I'm trying to get, you know, to the next step of communication. That is a little more intimate, that has a little more nuance in it. Email is not as great. DMS are not great. Phone's a little better, in person's best. So I'm trying to get to that next step. So once I got on a call I then have an idea for some projects. I can't just go like, what do you guys want? 'Cause they might not have any idea, they might be thinking what do I want. So I need to have that in backup. Once I get them on a call, I'll approach this idea that I have, also let them know that I'm super into working with them and that I'm flexible, whatever they want to do. You know, if they want me to come, just join a snowboarding day, first, you know, so they can get to know me. I'm gonna do something like that, but I've already got something in mind. And with these guys, I wanted to make a film for them. So to do that, I'm asking what they normally, like I did in the email, I'm reiterating that in the phone call, what their normal working relationship looks like. 'Cause if they only ever give product to people, it will be dumb of me to waste my breath and ask for a budget. But in this case they did have some budget and I said, Hey, what does that normally look like? What is the budget? And I always ask always, always what is your typical budget? 'Cause I don't want to say a number and badly miss the mark. Now, the reason you do that is 'cause you don't want to do what they call anchoring. You don't wanna say like, oh, do you guys have three grand for a project? Or, oh, do you have 500 for a project? When their typical project number is 10 to $15,000, you don't wanna shoot yourself in the fit. You don't wanna shoot yourself in the foot. (laughs) And the other direction doesn't help either. So if you say I want a $15,000 project and these people are always doing $500 projects, it's just gonna be difficult for them to respond to that. It's just better, if you can just get a little bit of information about their budget ahead of time. So assuming that they want to do a project, they love your idea, they don't have their own idea but they love your idea and they wanna learn more about it. Now it's time to send over a proposal. Okay, to recap this section, what we're gonna do is find a brand that we like and that we wanna do work for. We're gonna engage with their content on Instagram, then we're gonna send a casual DM just asking, who the right person is to talk to about working together. Follow that up, if we get their email with an email that's gonna have a little more information in there. Make sure that we have media kits, websites any sort of information that's gonna tell them a little bit more about who you are and ask them what a typical working relationship looks like. Whatever their response is to that first email, the next email, you're going to ask them if they can get on a quick call and in that call we're asking what they typically do, what their budget looks like, if they have any ideas, we're sharing our ideas. And if they want to hear more about your idea then we're heading to the proposal.
Class Materials
How To Build A Proposal - Pitch Deck Example
Story Creation Sheet Template
Ratings and Reviews
A great course/workshop, one of the best I've seen with CreativeLive. While at 71 I'm not looking at starting a full new carrier in freelance photography or video work, doing the work helps keep me off the street. It has given me inspiration to do a stoty about what I am going through now as a full time caretaker for my wife, who has been suffering the declining pains of Alzheimer's for a few years now. No one with Alzheimer's travels that final journey alone. In a sence it is an adventure, mostly for those close to the one with the disease. While it's not like the travels I did 50 years ago when what today is called "adventure" (canyoneering, something we used to simply call a hike in the desert...). I spent a lot of my life running rivers and working as a wilderness wanderer and guide/instructor. Now my travels are pretty well limited to long walk with the dog and occasional fishing outings with my wife who used to be a guide herself. Maybe thats not all that interesting or exciting as say going over a cliff with a bike and a parachute, but for many older folks it is the new story, the new adventure as their later years unfold. This in itself will be an adventure, at least for me.
Practical yet fun Great workshop and worth the time/money. Isaac is an easy to watch presenter and the various modules were each concise and practical. Time well spent!
honest advice from an adventure photographer who went through career transition I think a lot of us are mulling over the idea of transitioning to become a photographer. It's not easy. There are lots of fears and hesitations. It's a change that could affect our life. I'm at this decision branch for the second time in my life, and I still fear. Isaac shares with us how he overcame those very same hurdles and fears. He is genuine, practical and proves that you don't need expensive gear to start or even continue to become good enough. The pitch deck example, the starting up a conversation with a prospective client, the way to deal with blockers, all are real. I cannot wait to put them in place and start my first pitch. Thanks Isaac for sharing your journey!
Student Work