Creating Your Own Unique Value
Isaac Johnston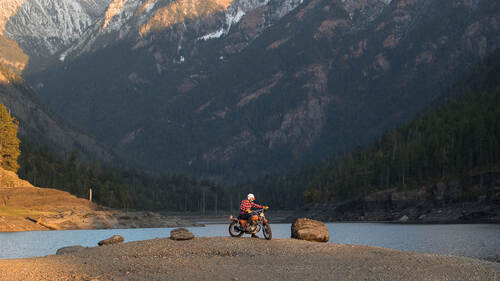 Creating Your Own Unique Value
Isaac Johnston
Lesson Info
8. Creating Your Own Unique Value
Every creator has something unique to bring to the table. When approaching brands or clients, you need to know what your unique value is so you can harness it and win the job.
Lesson Info
Creating Your Own Unique Value
Finding your own unique value and how you can use what you don't have to refine your voice. A lot of people will come up against obstacles with resources or knowledge gaps or things that they don't have. And we all have the things where we go, oh, I don't have that good camera. Or I don't know how to do this with a camera or I just don't know something or I don't feel like I have the resources to do something. There's always an excuse there. So we all have that. And I definitely have that and had that when I started. So I wanna list off a couple of the excuses that were in my brain when I went to start this and then how I used that to shape what stories I could and would tell and kinda leaned into it instead of being like I guess I'm not gonna tell a story. So the first excuse that I thought of that I had when I first started out is that I have a family and I can't risk a career change because I don't have the savings to try a risky direction change. That's true. That was definitely tr...
ue. I didn't, I didn't have a huge savings. I wasn't making millions at my last job but I was comfortable. And then this new thing didn't really have any sort of safety net. The solution to that was, well, I guess I'm going to have to work harder and save up more money and I'm gonna have to be conservative. So that was gonna show through in my stories is that I was always gonna be working hard and I was going to be conservative. You weren't gonna see me driving a brand new Toyota 4Runner even though that would've been easier than driving a clapped out, you know, like cruiser or old Ford truck like I have now. So that was gonna shape my stories, and I was gonna lean into that. Like I was gonna become the guy that could do more with less. I was also had a family, right? So my family was gonna shape that. I was gonna have my family in a lot of what I did. And the trips that I chose to go on were mostly going to include my family. So I leaned into that and that was my limitations but it was also, it was also what made me unique. I became known as a guy who was also like a family man and could do a lot on a little. The second excuse was that I don't know enough about my art and my art isn't good enough. You probably think that if you're watching this. I know I definitely thought it and I think it a little bit less now but at the beginning I literally went from being a businessperson to a photographer, what felt like overnight. So I knew, without a doubt, that my art wasn't good enough and my solution to that was just to lean into it and just be really open about what I was doing and share, instead of being like, this is a wonderful photo, my art is wonderful, I leaned into, okay, well, my enthusiasm for my experience should be the primary driver of my art. My art is there to document that change and this isn't going to be like fine art gallery photography cause I don't know how to do that. This is going to be more of a documentation of my journey from being a full-time, you know, business person to a full-time photographer. And it's gonna be a documentation of my enthusiasm for adventure. It's not going to be like something that a, that a fine art photographer would look at and be like, "That's wonderful and new and fresh." It wasn't gonna be that. So that shaped who, who I was at the time. And now that I've learned more I can be outside of that boundary. But at first I used it to shape who I was. The third thing is that there's too many photographers and I won't stand out. I kind of like knew intrinsically that I was going to stand out just cause that's just something that I've never really struggled with, but I heard that from a lot of people. I remember another business owner who was in the vacation rental industry, him and I knew each other and talked a lot. I remember hearing that he had told one of my employees that I wasn't gonna last six months in this business because there was a lot of photographers. And like, he thought I had a real skill set with doing vacation rentals and he thought I was throwing it away to be one of the masses of Instagram photographers. So that was like an excuse that I didn't really have but that I heard and that I could have kind of latched onto and been like, yeah, you're right. I'm gonna be one of a million or one of a hundred thousand. And I'm not gonna stand out. Having that in my head, I was like, well, that just means that I'm going to have to do things that are within my wheelhouse to stand out. So that means that I'm not gonna go shoot some random girl in a blanket next to a lake. Like that's not my vibe. I know that I could do that but I'm gonna instead shoot stuff that maybe isn't as popular on the social media platforms, but that five years from now I know is like certainly me. I started shooting motorcycles when most of my friends were still shooting, like, hiking and outdoor stuff at the risk of, like, not being able to work with some of the outdoor brands that don't like it. That don't, aren't into motor sports or maybe alienating to people that I know that are more into, you know, back country, hiking, things like that and have never ridden a motorcycle ever. But that's who I was. So I knew that that would set me apart from other photographers while at the same time might limit my audience, would endear me more to the audience that I already had. What I want you to do next is to write down three or even more excuses that are in your head that you kind of come up against or that maybe people have told you you shouldn't do your freelance career because of this excuse. I want you to write those down and then write up some solutions that are actually just leaning into those. Like, like I said, like you have a family. Well I guess all my, you know, content is gonna have to be family based. I want you to lean into those excuses and basically make what you don't have your own unique voice. I think that you'll find that having these limitations rather than being a creative block by having no resources or what you think are limitations on your resources, this'll instead be a guidepost and it'll show you like, oh, I'm not gonna go over there and do this wonderful trip to Bali because I don't have the resources. So that's not my voice. Maybe someday I'll go there and I'll change my voice. But for now I'm not doing that. So you don't have to be distracted and wonder what you're gonna do next, cause you don't have the options. Lean into it. This is gonna work for you. Finding your unique voice is a process. It's one that you shouldn't rush and that, for me, took years, but there are a couple things that really helped me get a huge jump forward in finding my direction and my unique voice. One of those was this book by Dan Miller it's called "48 Days To the Work You Love." And it is a workbook. It takes 48 days. But basically you write a little bit every day. And what it does is it helps you find the intersection of your passion, your skillset, and what the market needs. And for me, that helped build what I call a colander. So every direction change or opportunity that I get, I hold up this colander and I put the opportunity in there, so to speak, theoretically, and whatever falls out isn't supposed to be what I'm going to do. But whatever stays in there is what I'm supposed to do. And by that, what I mean is I came up with kind of the mantra, using this book, that the thing that I do best is help people have an adventure. Had to do with that I'd been doing it since I was young, that I found a lot of joy and passion in it, and that when I did that thing, the market seemed to respond really well. So my unique voice is that I help people have an adventure. Now that can mean a lot of things. When I was in the vacation rental industry, it meant that I helped people find an adventurous place to travel and gave them a place to stay. It was a stretch but what I do now is a little bit closer to that. I help people have an adventure by showing them what's possible with less. I love that. So I wouldn't have been able to find kind of the the path forward there without this book. So I'd really recommend that you grab this book and kind of work through it. If you're having trouble finding out, you know, what is exactly your voice and where you should go next. Another book that I really enjoy and that I've read a couple times already is "The War of Art." And this is by Steven Pressfield. He did a couple of other books, "The Legend of Bagger Vance," which actually turned into a movie but this is kind of his play by play on how to deal with like mental blocks when you're creating art and how to recognize when you're procrastination is actually like your fear. So for instance, when you find yourself looking at your phone a lot, this kind of explains why and how to kind of overcome that and get rid of those excuses and to just get the work done. So if you're having trouble finding your own unique voice or you're kind of blocked by the creative and resource limitations that you have, you might find that a lot of times it's just that you're scared or that you haven't leaned into the thing that you need to lean into or that you haven't really refined who you are and how that pertains to your passion and the market. So read these books, I'd recommend that you go through these and I hope that it helps you realize that you're not the only one having these feelings. I had these feelings. And after you read these books it'll give you kind of a language to talk not just in your own head, but to other creators so that you're not alone and that you can kind of get past these obstacles and go make the art that you really want to.
Class Materials
How To Build A Proposal - Pitch Deck Example
Story Creation Sheet Template
Ratings and Reviews
A great course/workshop, one of the best I've seen with CreativeLive. While at 71 I'm not looking at starting a full new carrier in freelance photography or video work, doing the work helps keep me off the street. It has given me inspiration to do a stoty about what I am going through now as a full time caretaker for my wife, who has been suffering the declining pains of Alzheimer's for a few years now. No one with Alzheimer's travels that final journey alone. In a sence it is an adventure, mostly for those close to the one with the disease. While it's not like the travels I did 50 years ago when what today is called "adventure" (canyoneering, something we used to simply call a hike in the desert...). I spent a lot of my life running rivers and working as a wilderness wanderer and guide/instructor. Now my travels are pretty well limited to long walk with the dog and occasional fishing outings with my wife who used to be a guide herself. Maybe thats not all that interesting or exciting as say going over a cliff with a bike and a parachute, but for many older folks it is the new story, the new adventure as their later years unfold. This in itself will be an adventure, at least for me.
Practical yet fun Great workshop and worth the time/money. Isaac is an easy to watch presenter and the various modules were each concise and practical. Time well spent!
honest advice from an adventure photographer who went through career transition I think a lot of us are mulling over the idea of transitioning to become a photographer. It's not easy. There are lots of fears and hesitations. It's a change that could affect our life. I'm at this decision branch for the second time in my life, and I still fear. Isaac shares with us how he overcame those very same hurdles and fears. He is genuine, practical and proves that you don't need expensive gear to start or even continue to become good enough. The pitch deck example, the starting up a conversation with a prospective client, the way to deal with blockers, all are real. I cannot wait to put them in place and start my first pitch. Thanks Isaac for sharing your journey!
Student Work