3 Strategies on Increasing Exposure
Isaac Johnston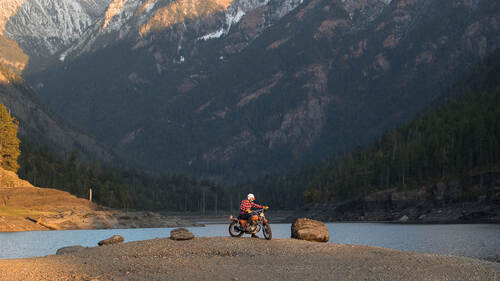 3 Strategies on Increasing Exposure
Isaac Johnston
Lesson Info
12. 3 Strategies on Increasing Exposure
You don't need to have a huge social following to increase your exposure. Treat social media like its social. This is where a friendly approach meets strategic planning. Isaac shares his tips on giving your work more exposure in ways outside of follower counts.
Lesson Info
3 Strategies on Increasing Exposure
These are my three strategies that you probably want to know on how to increase your presence without increasing your social media numbers. The first one is to use social, like it's social Get to know people, and then you can expand your presence. And I'm not talking about your numbers cause this is not about followers. The gold rush for Instagram followers from zero to 500K, not gonna happen. We all know that. It's not 2015 anymore. So this is more about getting people that you appreciate and that you like, and that you love their art to see your art. And maybe they'll like it too and creating connections. So I'm gonna use an example. My friend, Tom He has a YouTube channel called Aspect Science and I didn't know anything about Tom, didn't know Tom. He lives in London. I've never met Tom but what he did was he liked my stuff genuinely. He liked my photos and my videos and he would comment about those whenever he saw something that he liked. And he'd ask me questions about it comment o...
n my photos, you know just be fully engaged and naturally outta curiosity I would look at Tom's profile because I'm like who's this guy he's so nice. And then I saw like, wow, he's got great work. And I started looking at his YouTube videos and now I follow him both on YouTube and Instagram and we talk often. And when I think of creators that I know in London. So for instance, if I ever went to London and wanted to do a project there Tom would be a guy that I would want to collaborate with with video or just for connections over there. So that's one way that he's expanded his presence not his social media following, but by using social he's expanded people who know him and know what he is doing just by being engaged with other people's profiles. That's number one. All right, so the second one is you want to do more interesting work because when you can show more interesting work and more diverse work from shooting, maybe real estate all the way to, you know, doing video work for advertisements and everything in between maybe that's something you wanna do, but for your audience and the people that are in your audience that could pay for your work you want to show them what your capabilities are. So the way that you get to do more interesting work without having the resources to pay for it yourself is you get companies to pay for it. And the only way you can do that is just by asking and showing people what you're capable of. So I consistently reach out to agencies and brands and just say, Hey, love what you guys are doing. I like your product. Would you ever want to work together? And here's what I can do. So I link to my website and I link to my Instagram and kind of show them what's up. And nine times out of ten, they don't have anything right then, but now they know who I am and maybe I'm in their brain. And now we've kind of built a relationship. I love to get their names. So rather than just reach out to an agency and forget that I talked to Kimberly, who's the creative marketing director at an agency. I actually wanna like, know who Kimberly is and kind of have a conversation so that I can follow up and be like you know, how are the kids, how's work? I heard you guys were working on that Pepsi commercial how'd that go and build a real relationship there. So you're gonna want to reach out to people who can be creative decision makers, ask them for work and you know what you can do and then show them your capabilities. You'll stick in their brain that way. So you're increasing your presence again with no more social media followers. I wanna point out here that I know probably just right off the top of my head, to 20 different photographers and and filmmakers that have no more than 3000 social media followers yet they do full-time creative work. So this is ways that they are using, and that I've used myself to increase what you're known for and increase your awareness or people's awareness of you in the creative community without social media. And the third one is pretty self-explanatory and it is something that you already know but do more work you're proud of. So stop chasing after followers and doing like, you know your quote unquote banger shots and do stuff that when you look back a year from now, or even six months from now that you're like, gosh, that was good. That really stretched me. I wasn't sure if it was good at the time, but it was new. And I wanted to go out on a limb and I'm glad I tried it. That's the type of work that is gonna get you noticed from people who can actually pay for your creative services rather than just going out and hitting, you know, Multnomah Falls or some other Instagram banger location traveling to Bali and taking a picture of a bikini glad woman next to a pool is probably not gonna get you as much work as doing something that you're really intrigued about but may not get as many social media likes. So do work you're proud of. And then the, you know, the old recipe, just share it and go back to expanding your social media presence with number one and reaching out to brands who can pay for that work and showing them what you've done. All three of those are gonna make sure that you are expanding yourself much larger than even if you just had 500,000 Instagram subscribers and you were going shooting, quote, unquote bangers. Yeah. Get after it.
Class Materials
How To Build A Proposal - Pitch Deck Example
Story Creation Sheet Template
Ratings and Reviews
A great course/workshop, one of the best I've seen with CreativeLive. While at 71 I'm not looking at starting a full new carrier in freelance photography or video work, doing the work helps keep me off the street. It has given me inspiration to do a stoty about what I am going through now as a full time caretaker for my wife, who has been suffering the declining pains of Alzheimer's for a few years now. No one with Alzheimer's travels that final journey alone. In a sence it is an adventure, mostly for those close to the one with the disease. While it's not like the travels I did 50 years ago when what today is called "adventure" (canyoneering, something we used to simply call a hike in the desert...). I spent a lot of my life running rivers and working as a wilderness wanderer and guide/instructor. Now my travels are pretty well limited to long walk with the dog and occasional fishing outings with my wife who used to be a guide herself. Maybe thats not all that interesting or exciting as say going over a cliff with a bike and a parachute, but for many older folks it is the new story, the new adventure as their later years unfold. This in itself will be an adventure, at least for me.
Practical yet fun Great workshop and worth the time/money. Isaac is an easy to watch presenter and the various modules were each concise and practical. Time well spent!
honest advice from an adventure photographer who went through career transition I think a lot of us are mulling over the idea of transitioning to become a photographer. It's not easy. There are lots of fears and hesitations. It's a change that could affect our life. I'm at this decision branch for the second time in my life, and I still fear. Isaac shares with us how he overcame those very same hurdles and fears. He is genuine, practical and proves that you don't need expensive gear to start or even continue to become good enough. The pitch deck example, the starting up a conversation with a prospective client, the way to deal with blockers, all are real. I cannot wait to put them in place and start my first pitch. Thanks Isaac for sharing your journey!
Student Work