Guerrilla Recording
Beau Burchell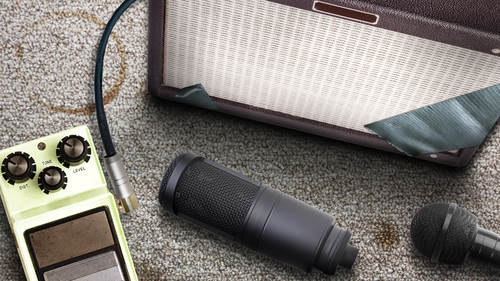 Guerrilla Recording
Beau Burchell
Class Description
Find out exactly what you need to get a great recording on a super tight budget in Guerrilla Recording with Beau Burchell.
Beau is a vocalist, guitarist, producer, and founding member of Saosin – his discography includes credits on songs from The Bronx, From First to Last, and The Bled. In Guerrilla Recording, Beau will show you how to walk into any recording situation and make the most of it.
Whether you are making do with with 1 mic, 3 mics, or a fully staffed studio – Beau will help you focus in on the details that will really make a difference on your track. You'll learn best practices for recording vocals, guitars, drums, and bass on the cheap. Beau will also talk about workflow and how to listen to your track to make sure you captured the best sound.
You don't need a big budget and high dollar equipment to get a quality recording. Learn the gear and techniques you need to get the sound you want.
Featuring a live studio tracking session with Beau and Seattle band Lo, There Do I See My Brother
Class Materials
Beau Burchell - Dos and Donts.pdf
Beau Burchell - Gear List.pdf
Beau Burchell - Guitar Reamping.pdf
Beau Burchell - Room Prep and Prepro.pdf
Beau Burchell - Song Structure LTDISMB.pdf
Beau Burchell - Syllabus.pdf
Beau Burchell - Pro Tools Video Drum - LARGE DOWNLOAD 2GB.zip
Ratings and Reviews
A lot of great info here! Awesome getting to see Beau's workflow and hear his thoughts on the methods he uses. Would love to see him do a class on micing guitars, bass and show his methods in more detail/time. He gets some of the best raw tones in the game. Feel like this was more of a great overview and would like more time for details seeing as he is a very knowledgeable dude. Thanks Beau for the great class and for sharing this info with us.
Student Work