Final Cut Pro X Bootcamp
Abba Shapiro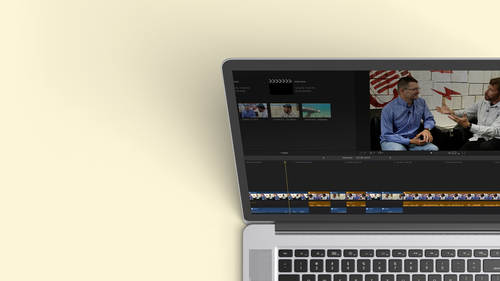 Final Cut Pro X Bootcamp
Abba Shapiro
Class Description
Don't get confused or overwhelmed by the world of video - start piecing together your story with ease. Join Abba Shapiro as he walks through how to work effectively in Final Cut Pro X. In this series, you'll walk through the interface of this easy to navigate the program and quickly learn the ins and outs of this software. 
Abba will cover essential topics such as building a rough cut, working with audio and incorporating motion and titles in your videos. He will show basic color correction techniques as well as how to incorporate filters and transitions to enhance the look of your final video. 
Lesson Plan: 
Exploring the Interface 
Editing Techniques 
Setting up a Project from Scratch 
Working with Audio 
Incorporating Photos and Graphics 
Applying Filters and Transitions 
Creating Titles 
Color Correction and Speed Changes 
Multi-Camera Editing 
Exporting and Sharing Your Project 
By the end of this class, you will feel proficient in creating video with this program and be excited to continue to expand your skills. You'll be able to bring your images to life by creating stories to share with your family, friends, and clients. If you've been thinking about expanding your business to include video, this class will help you get the technical confusion out of the way so you can focus on being creative.
SOFTWARE USED:
Final Cut Pro X (10.3)
Class Materials
Project Files - Dancer Media - Part 1 of 2 (Large Download 2.13 GB)
Project Files - Dancer Media - Part 2 of 2 (Large Download 1.88 GB)
Project Files - Green Screen
Ratings and Reviews
Wonderful. This is the first time I've seen any of Abba's classes, and he's a great teacher. I've been watching the live sessions for the past few days and have picked up a ton of great tips that will indeed speed up my workflow in FCPX. He's a great teacher, and does a wonderful job of setting people at ease, ie. where he says things like, 'there's no trick questions', and times where he will click on something wrong, then he'll go back and show his mistake (pointing out his minor mistakes are actually a beneficial lesson). In all, wonderful wonderful wonderful. Thank you!
Fantastic teacher. I enjoyed every video, super worth it. I've been reluctant to jump into FCP X since it got upgraded from FCP. Now I feel confident to work with it again. Seems pretty self explanatory, but I am glad I watched the course. Abba covers pretty much everything you need to know. I also loved his personality, made me want to learn more each day.
Absolutely brilliant. Abba gets to the point, is clear, organized and articulate, and lays it all out in a manner that quickly brings your confidence level from zero to hero. Highly recommend this to any photographer who wants to blog, build ads, or include video in their offering. I feel like an amazing new world has been provided to me. Thank you!
Student Work