Canon 7D Mark II Fast Start
John Greengo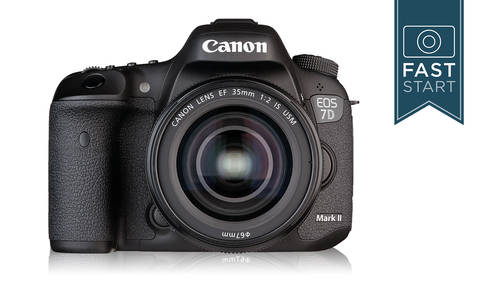 Canon 7D Mark II Fast Start
John Greengo
Class Description
The Canon® 7D Mark II is a complex and powerful camera – learn everything you need to know to get the most out it in this Fast Start with John Greengo.
Through engaging visuals and easy-to-understand lessons, John will provide you with a complete introduction to your camera's features and functions. 
You'll learn how to:
Navigate and customize the menus
Use the 65-point autofocus system
Take advantage of the video capabilities
Make use of your customization options.
If you are considering investing in the Canon 7D Mark II or want to get the most out of the one you already own, The Fast Start Canon 7D Mark II tutorial will empower you with all the information you need.
Ratings and Reviews
I am a pro photographer in my dreams, where I know the in's and out's of my camera; however, reality proved differently, as real life would tell you, I was a deer caught in headlights just looking at my new 7D Mark II. I am a photographer enthusiast without the skills, but a lot of love for the moments one, or the profession/hobby of it can capture. I mostly shoot my husband, friends, and community surfers in the lineup, and of course, my children, who rarely sit still. Thus, I switched from Nikon to Canon, venturing on the 7D Mark II for the grand reviews of how stellar of camera it is for action shots (surfing, and kids, this was a no brainer). That said, and overwhelmed with the way beyond my skill set, but noted desire and aspiration to grow, I made the purchase, and sought help rather quickly as I wanted to feel confident with what I was utilizing to capture the best memories possible. I came into this CL course knowing the "on/off" button, and "auto" shoot mode. I came out of the course feeling like the pro in my dreams, and ready to shoot manual. John's teaching style is on point, and his detailed visuals are a huge plus. So impressed, I purchased, John's photography starter kit, and was even more blown away. My first shots post that course, I thought were great for my first educated shoot, and shockingly, I even received and email from one of the sponsors of the surfers I captured, asking if they could use my image for their sites and publications. Not bad for a newbie. Though, my intent was never a business purpose, I did not know if I should charge a small fee, or give it for free. I don't mind free as it's not my business, yet I don't want to ruin it for any photographers in town doing the same thing that are charging. Perhaps another course to help me with that. I highly recommend courses by John Greengo! Thank you so much, John!
I bought my 7D Mkii the week it was introduced as an upgrade to my old 20D. I immediately noticed what a huge step up it was and to be honest was a little overwhelmed by all of the options and customisations available. In the year I've owned it I've managed to pick up a lot but I still felt there was a lot in there that I wasn't making the best use of. John's course has filled in the missing pieces and I now feel a lot more confident that I will be able to get the best out of this amazing camera.
John's coverage of the Canon 7D Mod II was excellent. It helped immensely in understanding the myriad of choices available in this camera. I would recommend this course to any user of the 7D Mod II. camera. The only comment I would make is that it might be helpful if John didn't assume that we all are sports photographers. Some hints for other types of photographers would be a great addition to an already excellent course.
Student Work