Create an Action Plan for an Unforgettable Life
Vanessa Van Edwards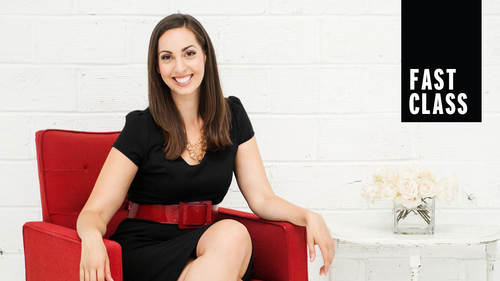 Create an Action Plan for an Unforgettable Life
Vanessa Van Edwards
Lesson Info
16. Create an Action Plan for an Unforgettable Life
Lesson Info
Create an Action Plan for an Unforgettable Life
wait it today. 30. And I'm really excited about this date because it's wrapping everything that we've done up. This is a 30 your people plan. I have three goals today. I want to put all your skills together. Everything we've done over the last 30 days, I want to give you an action plan that you can do after this course over. And I want to show you how to live an unforgettable life because having fulfilling and deep relationships looking forward to your interactions, that's what being unforgettable is all about. But of course I have a warm up to get our juices flowing. And this time I want to ask you the question. What is the one thing you could start doing right now that would make the biggest impact in your life? This is how we live an unforgettable life. You are the program director of your life. When you know your goals, when you put your skills into action, when you live purposefully, you can decide how you want to live. I think this is about living Regret. Free regret is a big one...
. I think a lot about regret. I think a lot about Well, I miss out if I make a certain decision. Well, I miss out if I don't make a certain decision. And so I went looking in the research for regret. And Thomas Gilovich also has spent a lot of time thinking and researching about regret at Cornell University. And he asks people, What is your biggest to regret? No, I was gonna ask you this question before this slide, but I thought that was a really hard question. And so I pose it to use. You can think about what your biggest regret is. I wanted to share some science. It might motivate your thoughts and your actions around regret. Thomas Gilovich studied the answers of what is your biggest regret. He found patterns. He found that 75% of people regret not doing something Onley. 25% of people regret doing something they did, which means that most of the time we should just try it. We should do it because we often regret if we didn't just try it once and that most of those regrets were about not taking action with people and relationships. Every month I want you to do the three by three by three, which is what are my three main goals this month? What are the three skills that will help you achieve them? And if you want, you can use your skills, worksheets where I broke down every day and all the skills that you learn from that day. And what are the three action steps I need to do to hit them? Here's an example. So this was mine for a few months ago. I saved them, by the way, and at the end of the year, I look at all of my goals sheets and I see what I did that year. Really cool. Check in, actually, on the first of the year to Dio. So here was one of mine. One of my goals was to get at least 10 leads from a conference I had coming up. I knew that I wanted to really hone number 11 surprise people. I wanted to bring a cool new business card. I wanted to be a highlight. I wanted to go into the conference with the offer mentality, and I wanted to number 30 used digital people skills. I want to follow up on social media. I wanted a cold contact on LinkedIn. Before I got to the conference, I wanted to make sure that my e mails were really, really strong with good prime ing. My action steps were to order new business cards, practice low pressure with friends on being a highlight, and rewrite my online profiles with confidence. So I used the actions, the skills that we learned and put it into action steps. This gives you accountability, motivation, applique ability and any time in here, you can re watch your hope. Bring out this skill sheet. You're like, Wow. This month I have the first negotiation I've ever had. What do I need to rewatch? Ah, I should probably re watch my persuasion section on this one before I do this negotiation. I have the negotiation before, so that's where you can schedule in your re watches. One of your action steps could be to re watch. One of the segments just is a refresher. We still have two more skills to do So. Number is finding compassion, compassion To be our best self, we must harness our empathy, our integrity, our hope and our inner growth. And there's a couple aspects to compassion. First, is empathy the ability to understand and share the feelings of another. So the third aspect of compassion is sharing. I also like to call this teaching. What I mean by that is spreading knowledge, love and wealth to your fellow humans. Makes both you and them better off. And I love this quote by Seneca Roman for who was I mean his Senate cause writings are fantastic Roman philosopher and he said, While we teach, we learn. So even while I teach this course I have been learning from you. I go home every night and I write down all of your answers. There's been a couple times where your answers have surprised me. I'm like, I need to change this lesson. I need change. I need to add to you guys Make me level up. You make me step up in a major way. So here is my challenge for you. I want you to share the knowledge in this course. Share your favorite people fact that there was a study that, like, astounded you go tell people share it, turn our stories, turn my stories into your stories, make them your own and go share them and tell them and harvest open me with them, and I want you to become an influencer. This course, I hope, empowered you to get out there and make an impact. And that is the best way that you can share. The 5th 1 is hope. So this is my people. Skill number 33 growth and hope. As we grow our skills, talents and relationships get better and better. So the science of hope and growth if you'll forgive me a few more scientific studies for you. Neural pathways as we know they increase with each use. So every time we try something, it's going to get easier and easier that the growth mentality, knowing that we can change the talents we've been given makes us happier and more satisfied. And we never stop growing ever. Doesn't matter how old you are, does matter how smart you are. You can always keep improving that they studied leaders across all fields Warren Bennis and Burton anise, and they found that there was only one common trait of leaders across all fields. And is it? It was that all of them were learners. Leaders have the growth mentality. They know that they can get better and better. Remember, it doesn't end here. I am happy to keep supporting you on my website. I will keep posting innovative science tips and advice. I'll keep adding skills. The support does not end with this course.
Ratings and Reviews
I enjoyed this Fast Class version and am interested in taking the longer course. Vanessa provided a lot of handouts, which I greatly appreciate and found helpful. I feel more informed and empowered as I make a career change.
Student Work