Digital Sports Photography
Dustin Snipes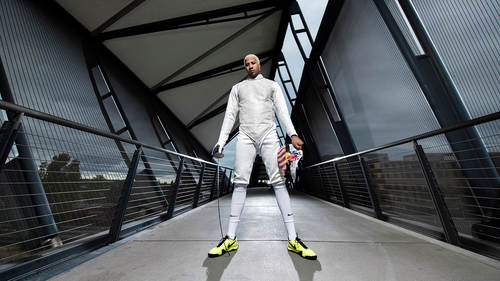 Digital Sports Photography
Dustin Snipes
Class Description
When starting out in Sports Photography it's difficult to begin finding your creative style. Going out and practicing with friends or local athletes is the best way to start building your portfolio. But what happens when you want to take your images to the next level?
Join Red Bull Photographer Dustin Snipes, as he takes you on a journey through the creative process behind photographing 3 sports at 5 locations with 5 athletes. He'll be working with students to show the best ways to communicate and inspire the athletes he's photographing, as well as how to maximize time spent with them. Dustin takes students through the challenges of photographing in direct sunlight, at public locations, in parks with mixed light, and in water.
Dustin teaches:
How to photograph basketball athletes, triathletes, and a fencer
The pros and cons to working outside in direct sunlight
How to communicate with and work with professional athletes and non-pros
Working through unique challenges of on-location shoots
Lighting techniques to capture the athlete
On-location portraits
Freeze motion and capture water to get that hero shot
How to use motion blur to capture a moving bicycle
The importance of being flexible on location to maximize your surroundings
Do you dream of taking professional athlete's portraits? Do you want to have your images on the covers of magazines? Then join Dustin Snipes as he teaches you his secrets to maximizing locations in short periods of time, communicating with athletes to get the most out of their movements, and lighting a scene to capture the frame you want. 
Ratings and Reviews
Loved all the ideas and why he's positioned his athletes the way he did, and positioned the lighting. I met Dustin a few years ago at and NPAC conference. It's nice to see him doing these teaching videos. His work is very inspiring to me.
Less talk and all action.. This is the best no mumbo jumbo talks and straight to practical work..
I really enjoyed the multiple exposure video, the pity is that they are no videos to talk about the post processing of this image.
Student Work