Digital Scrapbooking with Photoshop Elements
Michelle Stelling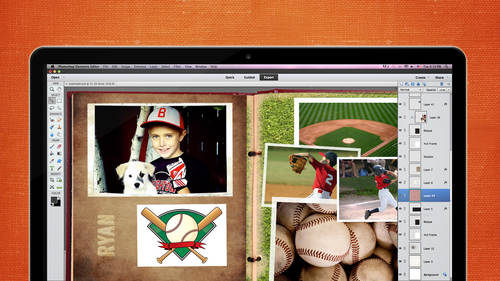 Digital Scrapbooking with Photoshop Elements
Michelle Stelling
Class Description
This course is part of the Digital Scrapbooking Essentials Bundle.
Preserving and organizing your digital photos can be a powerfully creative endeavor — if you know the right tips and tricks. Join digital scrapbooking expert Michelle Stelling for an in-depth exploration of how to use Adobe Photoshop Elements 12 as a dynamic scrapbooking tool.
Michelle will guide you through everything you need to know about working with type and typography, including mixing fonts and colors, nesting text, and integrating graphics into titles. You'll also learn about creating digi-kits, using patterns, brushes, paper textures, blending modes, and other embellishments. Michelle will also share the hacks, short cuts, and troubleshooting skills that will help you use Photoshop Elements to its fullest potential.
Whether you're an at-home crafter or professional photographer, this course will give you a whole new toolkit for editing, enhancing, and sharing your digital images.
Class Materials
30 Day Free Membership - 10 Dollar Coupon.pdf
Element and Paper Bundle.zip
Textured Paper Bundle.zip
10 Day Free Membership - 10 Percent Discount.pdf
Ratings and Reviews
I found this an excellent course on the use of PSE--not just for scrape booking but for any use. And of course the scrape booking ideas and methodology was great. I enjoyed Michelle's approach very much, and also liked Karens.
Student Work