Creativity, Spirituality, & Making a Buck
David Nichtern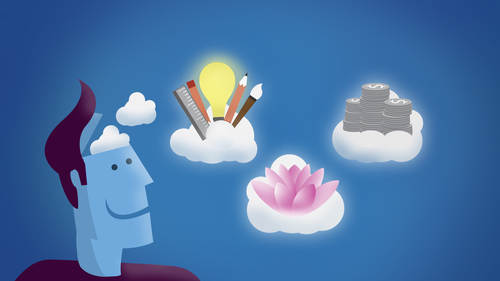 Creativity, Spirituality, & Making a Buck
David Nichtern
Class Description
The success of every small business owner, creative professional, manager, and employee hinges upon creativity — and the focus and clarity needed to unlock our full potential. In this course, renowned Buddhist teacher David Nichtern teaches how to sharpen your creative and professional skills and integrate them with mindfulness meditation to transform your relationship to both work and life.
David has spent 40 years integrating his Buddhist practice with a successful, acclaimed career in the creative and business sides of the music, film, and television industries. David shares the tools and strategies that have helped him succeed in business, thrive creatively, and live a rich and balanced life.
With David, learn how to cultivate stability and clarity from meditation practices, unleash your creativity, and form a grown-up relationship to money and your career. By the end of this course, you will understand how to support your professional and creative endeavors, define clear goals, and create a solid foundation for a balanced and thriving existence.
David Nichtern's book Creativity, Spirituality & Making a Buck makes for a great reading companion for this course. In it, David offers his lived, learned experience as an entrepreneur, musician, and Buddhist teacher to first help you figure out what "success" means to you and then show you how to get there. If you're trying to align your spiritual, creative, and financial pursuits and discover what it means to truly live well, this book is for you.
Class Materials
Creativity Spirituality and Making a Buck ebook.pdf
Simple Meditation Instruction for Ordinary People.pdf
Creativity Spirituality and Making a Buck Homework.pdf
Ratings and Reviews
All I can say is WOW! This class is just what I needed to help my new business concept come to life. David Nichtern breaks the creative process, the business process, and personal discovery insight down into understandable and actionable ideas with valuable ways to move a concept forward. The meditation practices meld perfectly into learning how to get some forward momentum going. I'm so glad I carved out the time to watch/listen to all of the sessions over a two day period. Thank you, CreativeLive and David – this was an extremely insightful workshop!
What an incredible class. I love how relevant this information is to the modern world. It's a wonderful combination of peacefulness, space, and drive. Huge Thanks for offering such an innovative and inspirational class.
Well well well, so I was first introduced to David Nichtern when he appeared on the Duncan Trussel Family Hour podcast. Immediately I was a fan, I listened to both of his podcasts appearances multiple times before I found this course and enrolled. David can laugh with himself in a quiet room and I think that is great. Mindfulness is a powerful tool in life and David makes it accessible to everyone through a engaging style that blends humour and common sense.
Student Work