Create Digital Products That Sell While You Sleep
April Bowles-Olin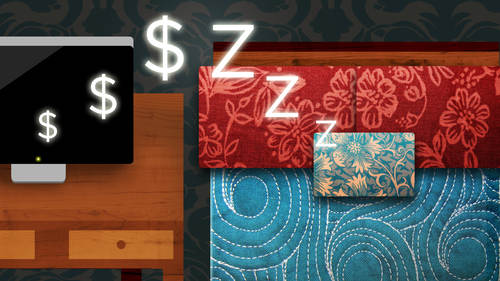 Create Digital Products That Sell While You Sleep
April Bowles-Olin
Class Description
Are you ready to make your creative work more lucrative, stable, and sustainable in the long-term? Join April Bowles-Olin for an introduction to digital products and how they can enhance your creative business.
This course will show you how to produce and position viable products for generating multiple revenue streams and passive income. You'll pick a product that complements the creative work you do – from ebooks to patterns to digital downloads – outline a sales page for it, and develop a plan to market it to potential customers. You'll design systems for managing the day-to-day process of running your business, while planning a response to both failure and success. You'll also learn essential techniques for continually marketing your online products and launching new offerings successfully.
You'll leave this course with the ability to – literally! – sell your digital products in your sleep.
Class Materials
CreativeLive Case Studies Bonus
Join the Private Facebook Community
Your Dream Business Blueprint
Create Digital Products that Sell While You Sleep Workbook
Ratings and Reviews
OUTSTANDING COURSE! Yes, I yelled that! :) If you are just starting out or you are a seasoned entrepreneur or anywhere in between . . . this course offers tons of good, immediate, put to use RIGHT NOW stuff that will move your biz forward on a firm and well thought out foundation! I bought this course before I saw it, because I am a big fan of April's already and I knew how much work, thought and love that she was putting into this course and she NAILED IT! The price is ridiculously low, she is just "covering her postage" on this one,if that. You would be doing yourself a huge disservice if you did not GRAB THIS COURSE UP at this price . . . it is worth so, so, so much more! I'm feeling kind of guilty already, like I should give her a cut of my profits now! I do know I will send her handcrafted gifts from time to time and tell everyone I know about her and her awesome biz brain. Thank you April, you WAY OVER-DELIVERED, again, and I will make you proud! :) xoxoxo Nancy www.domesticraft.blogspot.com P.S. Thank you too, Creative Live for bringing April back! I know she's got more, so . . . again please! Also, Mayi Carles and a creative cooking course with her about to be launched "Life is Messy Kitchen" cookbook would be HUGE! I would book her now before she turns all Diva after her appearance on Oprah, ya know? Jus' sayin' ;)
I consider myself so lucky to stumble upon your course, April - you rock! Great training skills, high quality content, professional & down to earth attitude, excellent tips, secrets and real life examples and... I love love love the workbook! I cannot tell you how useful it is; I have many other business trainers who I simply adore but no one so far until you gave me a such comprehensive and practical one for all the steps. Indeed, you do what you preach, you over deliver! Also, the Facebook group is so supportive! Signed: A very happy customer of April! :-). P.S. for all the people who watched this course: I know we all have busy lives but if you feel that April helped you in your efforts, then I think a way to show her that we are grateful is to leave a review for her here, thanks.
Tasha Miller Photographer
This course has given me so many great ideas of how to turn my abundance of digital ideas into one solid and firm idea. The information, examples & case studies given were priceless. As a stay-at-home mom of 5, homeschooler, wife & photographer; this was perfect for me. I have been trying to think of ways to turn my ideas into an online reality! Now I feel like I am able to move forward with my new business, so that I can gain time freedom to focus on the things that are truly important for me. Thank you April & thank you Creative Live for bringing her in! :)
Student Work