Being Creative with Brushes
Jason Hoppe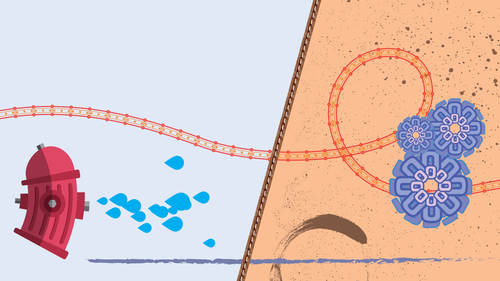 Being Creative with Brushes
Jason Hoppe
Lesson Info
9. Being Creative with Brushes
Make your own set of brushes with your illustrator creations, create a childrens book idea and make it happen with brushes.
Lesson Info
Being Creative with Brushes
Story time with brushes? Yes. And here's what I want to show you in this particular section of the practical application of brushes, and how much fun they can actually be. So, I've got this fire hydrant, and I've decided I'd like to create this wonderful little children's book about this brave little fire hydrant. So I'm gonna turn this into a brush and show you the fun that we can have and the creativity with brushes. I'm gonna select a fire hydrant. I'm gonna turn this into a brush. And this brush that I'm going to use is going to be an art brush. And the reason why it's gonna be an art brush is because I want to be able to use this in a singular form. I don't want it to scatter all over the place. So an art brush, it's gonna make a lot of sense. So I'm gonna choose the hydrant or name it the hydrant and I'm gonna click Okay. Now what I'd like to do is just see how this works as a brush. So I'm gonna select my brush tool, gonna select my hydrant and I'm gonna paint. Okay? So I can ge...
t this kind of like curve little hydrant. If I really curve this then I get this very expressively, curved hydrant. Okay. That could be interesting. Little bit of fun. You know, this hydrant's walking along or jumping or putting out a fire, and I can curve this entire shape because it's a brush. And I could probably do this slightly better than using the brush tool, probably just by going in and drawing a line and applying the brush to the line and then using my, there we go, using my curvature tool. I can then click on the spine of that line and kind of push that and kind of curve this a little bit right there, just so this little fire hydrants got a little bit of expression to it. Now, just imagine this, okay? This little fire hydrants just walking along, sees a little fire and wants to go ahead and put it out. So let's add some water to this so that we can turn this into a brush and make this fun. So I'm going to create a water droplet by using my ellipse tool. And I'm gonna draw a circle. This is gonna be filled with some blue water and no stroke around. Now with this shape, gonna use my direct selection tool, directly select the top. And I'm going to move that up, create a water droplet and I'm going to pull those handles in so I get a corner point. There's my water droplet. And I'm going to kind of position this. So a little hydrants kind of shooting the water out of it's plug. Let's turn this into a brush. This, I would do a scatter brush. Why? Because it's going to be shooting the water out here and in different sizes and different spacing. So scatter brush is probably gonna work really well for this. So there's my water droplet. And I'm going to click Okay. Now I'm gonna draw a line and I'm gonna apply the water droplet scatter brush to it and have the water droplets come out. Now I wanna modify this so I get different sizes and different spacing. So I've applied that brush. I'm gonna double click on the brushes panel. And with the preview checked, I'm going to set the size to random, and I'm gonna reduce this down so I get more random sizes. I'm also going to set a scatter as well and begin to scatter these off the line a little bit more. And the spacing I think is fine but I could do a little bit of random spacing if I chose. And kind of increase the amount of spacing right there. Okay. Click Okay. Apply that to my strokes. So here's the brave little hydrant, comes along and sees a fire. And so it wants to put out this fire. So I take my brush and I don't have to draw a line again. I can simply click and I can get all these little water droplets, different sizes, and click on those. And the little hydrant is shooting water droplets. Now I can always move any of these water droplets around because they're just brushes. Select them, move them around, delete them if I don't like them, or I can change the size by selecting anyone and changing the stroke right here if I wanna reduce them down or make them larger very quickly without affecting any of my other art brushes. So this could be just absolutely wonderful depiction of this great little fire hydrant doing its job and saving everybody from these little fires that start. Now what happens if this little hydrant needs a whole bunch of friends to help? Well, what we're gonna do is we're going to go back into our hydrant brush and double click on this. What I wanna do is I want to change the method in which we are going to change the colors of this hydrant because this brave little hydrant is gonna have friends of all different colors. So I change the hue shift as the method of colorization and I click Okay. I'm apply that to the strokes. Nothing's gonna happen cause we haven't changed the color yet. But I'm going to take this and I can see that it's shifted this color based on what I had chosen, the hue shift. And the reason why is because I have a white stroke. That was the default when I chose that. So I'm gonna turn off the white stroke here and apply the red stroke. And that red stroke is gonna bring me back to the primary set of colors. So, I put it on white and this is what it gave me with a tints and shades. There's the red stroke. Now, if I duplicate this by holding down my option or Alt click and drag and create another brave little hydrant, I can change the color of my stroke. And it's going to shift everything based on the tints and shades. So this could be a lot of fun. If we need a little fire brigade of brave little hydrants, I can duplicate them holding down the option or Alt, select those, and change the color to any color that I choose. That's awesome. And then you've got this little brigade of all these happy little hydrants saving everybody from these little fires. So, little bit of fun that you can have. And of course you can create very expressive looks from these brushes. Cause keep in mind, all of these can be changed. This is just a line, I can shorten that line or that stroke and the fire hydrants can look like they're kind of spring into action. I can also make them taller so that they look a whole lot more brave. And you can change the curvature of these as well. So say they're getting loaded up with water. Okay. And they're ready to charging toward the scene. You can change that curve as well. I mean, who wouldn't have fun making brushes like this? I certainly do. So just, these are just some creative ideas that I'd like to share with you so that you can enjoy creating with brushes.
Ratings and Reviews
Illustrator is my favorite Adobe product, and I have been using it for a while, but I still learned so much watching this webinar. And Jason's teaching style is pleasant to listen to, and his enthusiasm is infectious.
Student Work