Canon EOS 5D Mark IV Fast Start
John Greengo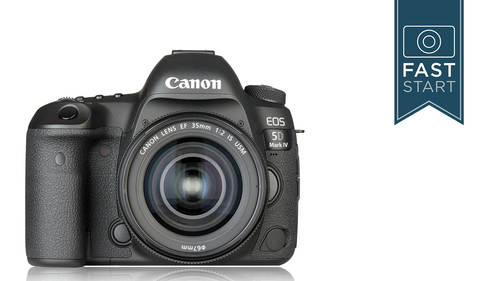 Canon EOS 5D Mark IV Fast Start
John Greengo
Class Description
AFTER THIS CLASS YOU'LL BE ABLE TO:
Leverage the new customized viewfinder and quick menu options for superior customization
Use and understand the new 4K video recording with frame grab and Dual Pixel CMOS AF
Use Wi-Fi with NFC and GPS for remote operation and location tagging
Understand Canon camera features that cross over to several Canon EOS models
Control the camera from the biggest tools to the smallest details
ABOUT JOHN'S CLASS:
The Canon® EOS 5D Mark IV is a workhorse Canon camera, hauling features from the 30-megapixel full-frame sensor to the 4K video and 7 fps burst speed. But the 5D Mark IV's long list of features is just money wasted if you don't actually know how to find them and put them to use. Skip the floundering through menus and join photographer John Greengo exploring the camera's many features, from customizing the camera to understanding dual-pixel autofocus.
This class is designed for the photographers using the Canon EOS 5D Mark IV, from those just pulling it out of the box to photographers that just haven't found all the camera's features yet. The class can also serve as an in-depth look if you're not yet sure if the EOS 5D Mark IV is the best Canon camera for you.
The Canon EOS 5D Mark IV is considered one of the best Canon cameras on the market -- but it's no Canon Powershot, which means a big learning curve. The latest updates bring tools that may be unfamiliar even for photographers that previously used an older Canon camera, with several firsts across the entire 5D series. The dual-pixel autofocus allows for small focus adjustments after the fact -- but only if you shoot with the right image format and work with the right software. The 5D Mark IV is the first Canon digital camera to incorporate FlexiZone Multi autofocus, a new setting inside the powerful updated dual pixel CMOS AF system. The updated viewfinder has new warning signals and custom controls. And of course, there's that new 4K shooting.
This Canon camera class covers the camera from understanding the controls to customizing the menu.
What's packed in this Canon camera Fast Start? Learn the vital information in less time than it takes to analyze the menu -- and have more fun doing it too.
WHO THIS CLASS IS FOR:
Individuals who own or are considering purchasing the Canon EOS 5D Mark IV
ABOUT YOUR INSTRUCTOR:
John Greengo has led more than 50 classes covering the in-depth features of several different DSLR camera models and mirrorless options, including Fast Starts for Canon, Nikon, Sony, Fujifilm, and Panasonic. The award-winning photographer is one of the most celebrated CreativeLive instructors, leading classes covering a myriad of topics, including the previous Mark II and Mark III 5D cameras. Greengo has used the 5D series since the first 5D. He's led photographers through the ins and outs of advanced options like the EOS 80D and EOS 7D Mark II to entry-level Canon Rebel cameras like the Rebel T6i and T6.
EQUIPMENT USED:
Canon EOS 5D Mark IV
Class Materials
Canon 5D Mark IV Recommended Settings
Ratings and Reviews
John is such a fabulous educator. Well spoken, knowledgeable and he presents with such clarity and easy, it makes listening that much more enjoyable. I would highly recommend taking this class and any of his classes dealing with photography. HE simplifies the menu system and buttons on the camera in this course that would be painstakingly long if you tried it on your own. I have watched this video 2-3 times know and each time I go back, I learn a little more. Being able to drop into any of the main topics with easy, not having to watch and search for your desired info is so convenient. I will never buy another camera without checking to see if John has completed a review on it........I trust his opinion. Thanks John......I am a fan.
I was reluctant to purchase this course because I already have the Instruction Manual that came with the 5D Mark IV and am committed to reading it in it's entirely. Nevertheless, after watching a preview of the course, I decide to buy it so I could view it at my leisure, pause and rewind it as needed. I am so glad I did. John Greengo's teaching method is clear and concise. He presents the material in a way that makes it interesting and enjoyable to learn. His effective use of visuals and demonstrations makes understanding every important function of the 5D Mark IV a breeze. I look forward to implementing what I've learned, his recommendations and tweaking the camera's settings to suit my own needs and preferences. Now as I trudge through all 600+ pages of the manual, I'm confident I will more easily grasp the camera's 100+ settings and can always refer back to the course if necessary.
First I have to say that I wanted this camera before it was even released. I had taken some of John's fast start courses and I had some questions regarding this camera vs. the 5D mark III and 7D mark II that I was using at that time. I emailed John and got an "out of office/out on location response". I put it out of my mind assuming that when John Greengo was back in the office, he'd have hundreds of emails waiting and my little question would get lost in the shuffle. I was delighted to receive a response a few weeks later. I was even more delighted when he released this fast start course. I did end up buying the 5D mark IV (love it) and had a pretty good handle on using it. This class opened up some new doors in how to use all of the features and customize things to suit my needs. I can never recommend John's classes enough. He explains things in an easy yet technical way that is useful to both beginners and seasoned photographers!
Student Work