Building Your Online Marketing Machine for Photographers
Lindsay Adler, Robert Gordon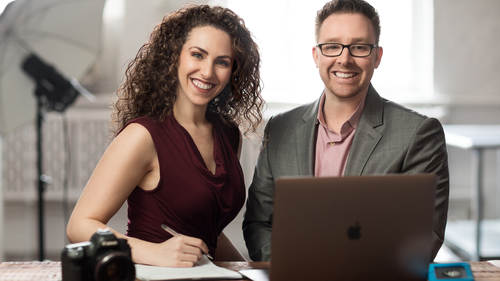 Building Your Online Marketing Machine for Photographers
Lindsay Adler, Robert Gordon
Class Description
Marketing is important in every successful business. It's important to set goals for what you want to get out of your marketing, but it's even more important to find successful ways of implementing your strategy to reach those goals. Lindsay Adler along with her brand manager Robert Gordon join CreativeLive in helping you create your digital marketing machine. They'll discuss the same actionable steps Lindsay has taken to grow her brand as a photographer, entrepreneur and author. You'll learn: 
Techniques for determining and converting your target audience 
Strategies for building your community 
Tips for building your following around your brand 
Techniques for paid marketing strategies using online social 
Social Media Marketing best practices that work today 
This class is a must have for anyone who is eager to grow their audience, take the next steps in creating an online presence, and increase their profit.  
Class Materials
Building Your Online Marketing Machine Keynote
Ratings and Reviews
This is a very good class indeed. Everyone needs a Robert, and Lindsay is definitely smart to have Robert with her. The combination, where she paints the big picture, and he gets into some of the nitty-gritty, is brilliant. They have two different styles, and they play off each other very well There is a wealth of information here, and enough tips for someone to explore further For me this is a very useful 'class'. I have built brands for companies, and other people, but never did focus on myself! So, this fits perfectly in what I was looking for. So, kudos to Lindsay and Robert. Or, should I say, 'Bravo'?!
Wow! Being in the audience you could feel Lindsay's passion for her art. She is a fabulous speaker captivating the attention of her audience. She and Robert a wealth of information that they are sharing so others can succeed too. My mind was blown. I'm so glad I will have access to this class on my computer so I can digest the information in smaller chunks as I move my online business forward.
She is an amazing teacher. Gordon is brilliant. would love to see more of him. Just wish Lindsay would stop posing the whole time. she'd be just as beautiful without so much makeup, the heels, the hand on hip and angling herself the whole time. Another great class.
Student Work