Become a Working Artist
Lisa Congdon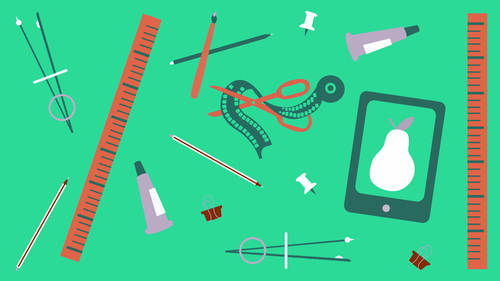 Become a Working Artist
Lisa Congdon
Class Description
Short on time? This class is available HERE as a Fast Class, exclusively for CreativeLive subscribers. 
"This is an incredibly helpful class for anyone who feels intimidated by all the "giants" in the land of art, and wonders if it's really worth keeping trying to make money from their talent. Lisa breaks everything down into manageable steps, while not dumbing things down. Her manner is very approachable, so that you can imagine yourself doing what she does. Her generous spirit means too that she is sharing really useful stuff - not just some fluff, and keeping all the good ideas for herself!"
 - Janet and Craig Mathewson (CreativeLive Students)

An enthusiastic audience that appreciates your art is waiting for you. Join Lisa Congdon, illustrator, artist, and author of Art, Inc. for Become a Working Artist and learn everything you need to know to make a living as a fine or commercial artist.

In this class, you will find out exactly what it takes to break into the art world and reach new, diverse audiences. Lisa will show you how to:


Identify the characteristics that make your style unique

Map out the vision and goals that will drive your artistic career 

Navigate the fine art market and break in to it

Land and negotiate art licensing deals

Develop effective techniques for promoting your work
Every artist faces rejection and setbacks on the road to finding an appreciative and paying audience. Become a Working Artist will teach you how to navigate the inevitable disappointments and push through to build a vibrant, rewarding career in art.
Making money as an artist doesn't have to be far-fetched dream, Lisa Congdon will show you how to make it a reality.
Ratings and Reviews
I was very happy and inspired to be able to attend to this class! It helped me so much to understand which are my goals as an artist and what I need to make to make them happen. Lisa is amazing and I cannot be happier to have been part of this, thank you so much!! I am now more than inspired to create beautiful things and make the tasks I need to make to become the professional artist I aim to be. Thank you Lisa for your wonderful generosity and Creative Live for hosting and creating such a wonderful event!
This course was fantastic! The format was great and Lisa was extremely helpful, knowledgable, and engaging. I was so inspired and loved that she gave very real information and great advice. I came away with a great new plan for my business and a renewed excitement for growth. I would highly recommend this class!
Simply Stated Architecture, PC
Professionally, I am an architect, but I also dabble in some watercolors as well as wood and metal work. When I started my own architectural office, I found good resources for business information were scarce. Most of what I found applied to retail or service businesses that really did not apply to a creative professional. One of the best resources I have found has been my local art guild - The Yellow Breeches Chapter of the Pennsylvania Guild of Craftsmen. I found that the painters, jewelers, potters, fiber artists, and other artists faced much more similar issues to what I was dealing with than the contractors, store owners, financial planners, insurance salesmen, and other business people that I was finding in business groups and classes. Lisa Congdon's class is the first CreativeLive course that I've taken. I had signed up for the CL email recently and Lisa's class just caught my eye. I'm glad that I took the time to sit through the sessions. A few of the segments - such as that on illustration and licensing or fine art - really did not have any practical application to my own situation. But there were items of value in pretty much all of the segments that I could take away to adapt in my own business. For someone just starting off in a creative profession, I'd highly recommend Lisa's course as a roadmap of items to keep in mind and plan for in their business. But by no means should you consider this to be a "beginner only" course. I started my business four years ago and I really wish that I had found something like this course in those first months or first year. But even after four years, I found great value in this course. The information on setting goals, actionable tasks, and the final segment on managing your success were extremely valuable and gave me many items to work into my own business in the coming weeks and months.
Student Work