Charisma Cues in Your Personal and Professional Brand
Vanessa Van Edwards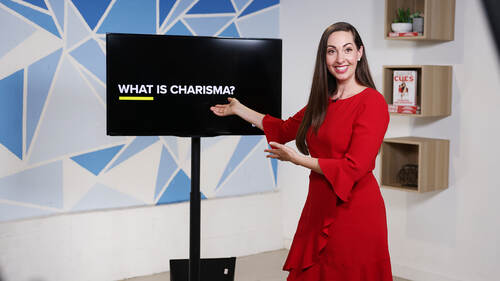 Charisma Cues in Your Personal and Professional Brand
Vanessa Van Edwards
Lesson Info
5. Charisma Cues in Your Personal and Professional Brand
As professionals living in a digital world, we send subtle cues through marketing materials like resumes, social profiles, and websites. Learn how to curate verbal and visual cues in these materials so you can increase trust and generate excitement about interacting with you.
Lesson Info
Charisma Cues in Your Personal and Professional Brand
(upbeat music) We've talked about verbal cues, we've talked about vocal cues, we've talked about non-verbal cues. The last section is your imagery cues. Before I tell you what those are, let's play a little game. Okay, close your eyes, and I want you to imagine the moon over the ocean. So go ahead, close your eyes, picture in your mind a big bright moon hanging in the sky over the ocean. Now think of a laundry detergent. What laundry detergent name pops into your head? Was it Tide? Now this is not a promotional announcement for Tide. We are not sponsored by Tide. This was an exact experiment that done in the lab where they had participants imagine a moon hanging over the ocean and then list a laundry detergent. And most participants listed Tide. The reason for this is because they were using imagery cues. They were having you imagine, or having participants imagine a moon and an ocean which made you think of tides or gravity. This is a way that we use imagery cues to create neural ma...
ps. So I promise we won't get too sciencey on this, but this is a critical aspect that you need to know about what your cues are doing in other people's brains. So a neural map is how visual cues, powerful visual cues, can trigger similar and related words, images and thoughts. In other words, moon and ocean triggered thoughts of gravity or tide, which made you associate to laundry detergent. What research found is that we are doing this all the time. We are constantly looking at visual or imagery cues and thinking about what they awaken in our own brain. So for example, you might tell someone fire engine, and their neural map for fire and then red and then orange and then yellow and then blue and then violets and then flowers. This neural map can actually blossom out to lots of similar ideas, related thoughts and related actions. What I want you to ask yourself is, what neural maps do you want to trigger? When people think of you or think of working with you, when they see your website or your social profile or your marketing materials, what ideas, what feelings, what thoughts do you want to trigger for them? I'll give you a really silly example. Let's say that you're on a dating profile and you see someone take a picture of themself. One of their dating file pictures is them on the ski slopes. This might trigger your neural maps around skiing. So maybe fun, maybe adventure, maybe it immediately makes you think of your family. That would immediately make you feel closer to that person because they're creating a similar neural map to you of fun and adventure and travel and family. Let's say on the other hand that you see someone's dating profile picture and they're holding a cat, a little tiny kitten. For you, that might trigger neural maps of comfort or love. Or if you're like me, allergies, 'cause I'm allergic to cats. What's key here is we cannot always control the neural maps that are being triggered. So you might have a visual cue that for you, a kitty cat means comfort and love, but for someone else means allergy and itches. This is a way that we can attract the right people. You know that if you put a cat that you love in your profile, that's gonna trigger good neural maps for the right people. It also might trigger bad neural maps for the wrong people. I want you to be purposeful with the neural maps you want to trigger to attract your people. And we can do this based on the charisma scale. So I want you to think about for a second, your profile photos, your website, your marketing materials, even your content, if you have medium or blog or even your email content or any kind of slides in your presentations or in your proposals. And I want you to think about what are the warm neural maps you're triggering and what are the competent neural maps you're triggering? For example, and this is art, not science, there's some gray area here, but some just general ideas. Typically, high in warmth are stories and photos, inspiring quotes, funny gifts. Every time I attempt to share a joke with you, I'm in that warm section. Every time I share a personal story or tell you something about my family or my personal habits, I'm triggering that warm area. The same thing works with the neural maps in your marketing materials, in your branding. I want you to think how many warm cues are you sending in those pictures or in those images? On the other hand, what kind of competent neural maps are you triggering? So competence could be awards or degrees or certifications. It could be science or charts, even glasses we've found adds competence to your profile picture. So we did a little casual study where we took two different versions of the same person. In one photo, we added glasses. When we asked people to rate them on warmth and competence, we found that when someone wore glasses, the exact same person, people rated them as 8% more competent. That's small, but significant. So even as small a cue as glasses can make people change their perceptions of your competence. I also do this in my presentations. So in this entire presentation, I've counted the number of slides I have, and I have an equal number of warm slides and competent slides. And I try really hard to hit a balance of both. And I do that for you. I know that all my warm folks, my warm learners, you love my jokes and my stories and my examples. For all my competent folks, you love my graphs and my charts and my data and my science. And I wanna honor both types of learners. So if you're a speaker or a presenter, or you're pitching your ideas, or you're going on "Shark Tank," it is critical for you to balance out your warmth and competence. We also saw that the best pitchers on "Shark Tank" typically matched a warm thought with a competent thought. So they would share a personal story about their childhood or their kids, and they would share a really great market share number, or they would tell a funny joke or give a funny demo or show an example. And they would immediately hit you with a competitive advantage. That is the sweet spot. They know instinctively to balance out all those warm ideas with those competent ideas. And I want you to do the same. So think about even in your slides. So here's an example, right? Two of my warmer slides, every time I say let's play a game, that's a warm slide. My thumbnail example was kind of fun and personal. I said, this is a fun anecdotal case study versus any of my charts. When I talk about the research in the book or I deep dive into a study or a case study. Here's my last cue. Use imagery cues to trigger purposeful neural maps. Here's my challenge for this section. I want you to open up your digital first impression. How do most people see you for the first time? Is it a social profile? Is it a LinkedIn profile? Is it your website? And I want you to count the number of warm imagery cues and the number of competent imagery cues. Remember again, one of two things will happen. Either you'll be off the charts with warmth and examples and stories, or off the charts in competence with data and awards and prestige, or you'll have none at all. I want you to make sure that you're hitting that sweet spot of warmth and competence, or, and this is for my master level class, hit the neural maps that you want to attract. Who is your perfect client? Who is your ideal customer? Who's your ideal partner or mate? Can you show with props, your video background, the pictures you use, can you trigger neural maps that will attract the right people and turn off the wrong people? (upbeat music)
Ratings and Reviews
Great class! Vanessa is always engaging and fun with clear guidance and excellent stories. Everyone will gain something from this quick course on how to better present themselves in social and professional situations.
This class was great! Really applicable tips for how to balance out your own charisma scale. I learned that I naturally lean more towards competence (I can be cold, stoic, emotionless) and to come across as more charismatic, I can practice more warm body language, expressions, etc. Jam packed full of practical tips!
I've watched Vanessa Van Edwards' videos in the past and they've been so life-changing that I didn't hesitate to pay for a year's subscription just so I could watch this one. She did not disappoint - the content is engaging, easy to understand, and easy to implement!
Student Work