Using Animoto Slideshow Videos to Grow Your Business
Vanessa Joy, Roy Ashen, Kelly Brown, Jared Platt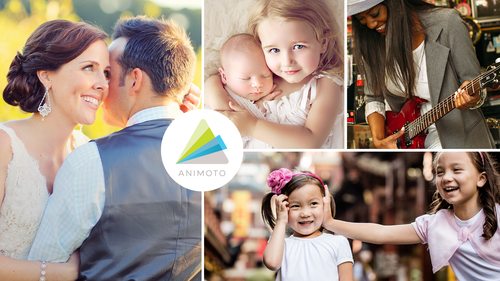 Using Animoto Slideshow Videos to Grow Your Business
Vanessa Joy, Roy Ashen, Kelly Brown, Jared Platt
Class Description

For anyone scrolling through Facebook or Twitter, it's hard to ignore that video is everywhere. Photographers trying to market their photos are taking advantage of this trend by making slideshow videos of their work - with no prior editing experience. Animoto Professional makes it easy to combine photos with video clips, text, and licensed music to create seamless HD slideshow videos.

Animoto brings together the talent and knowledge of Vanessa Joy, Roy Ashen, Jared Platt and Kelly Brown. They'll share their methods for making an emotional impact on their clients, standing out on social media and increasing their sales using Animoto. In this class:


Photographers today are looking for effective marketing and sales solutions, with minimal input of time and money. Video is one of the most powerful ways to get yourself noticed and Animoto slideshows are increasingly becoming the way to reach people. With Animoto, you can upload your slideshow videos to social media platforms like Facebook, Youtube and Instagram. You can use it in the sales room to evoke an emotional connection with your customers. You can also download the HD-quality MP4 file, and deliver this to your client as an upsell incentive or a thank you gift.
Ratings and Reviews
Wow! Only 25 minutes into this program and I'm getting soooo many great ideas from Vanessa Joy about using Animoto to better build my business, as well getting inspiration from seeing Vanessa's incredibly beautiful work. Time well spent for me today, for sure!!
I became passionate about photography in the 1970s. I can still feel myself gently pulling the film leader over the sprockets in the camera back. I went kicking and screaming into the digital age. Didn't want to learn new tricks. But if you don't stop and listen; grow and change, you may as well dig a hole and jump in. Changes happen and customers move quickly so we all have to keep up. Animoto will keep customers calling, not running. For as much as I have learned and do, there is still much I still need to know. Yes, I need to know Animoto and I am grateful to this class for opening my eyes. Bravo! Great job! Great inspiration! I'm psyched!
Excellent class. So excited to get it. I will use it to expand my business. A great introduction to Animoto and ideas with practical uses. So glad I have it so I can go over it again and again to practice and review their ideas and tips.
Student Work