Ableton Live 9 Fast Start
Isaac Cotec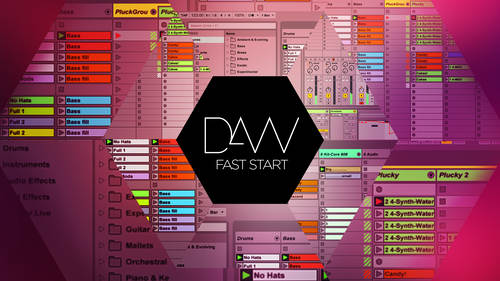 Ableton Live 9 Fast Start
Isaac Cotec
Class Description
Ableton® Live is a powerful tool for producing music and taking your music from the studio to the stage. Learn the best way to work with it in Ableton Live 9 Fast Start with Isaac Cotec.

Isaac will teach basics of mixing audio and using Live for live performance. In this class, up-and-coming producers with develop a solid foundation for working with Live. 
You'll learn about:
Recording/editing original or arranged music

Sequencing techniques with MIDI

On-board effects within Live as well as working with virtual instruments

Creating beats with Live

Using Ableton Live for live performance

Time stretching

Importing audio and adjusting time and tempo
Ableton Live 9 Fast Start with Isaac Cotec
 is perfect for established musicians wanting to expand their digital possibilities, or for the beginner who wants to start creating music with Live.
Class Materials
Opening and Using Live Packs
Ableton Fast Start Live Pack
Ratings and Reviews
Hello, Firstly gotta thank you for your great tutorials, and sharing the knowledge of making music; then I wanna say, I bought the Ableton Live 9 tutorial package, but I didn't heard or better say understand some of Mr. Cotec's words; that's why I wonder would you please send me an English subtitle of his excellent teaching? I will be much grateful for this. Best Regards, Malc
Isaac is the man! He is such a great teacher and you can tell has full control over the information. I already feel like I am many steps above friends who have used ableton for years because of this course setting a foundation for me to learn and experiment. Thank you Isaac and crew!
Great start course! And Isaac is a super-teacher. Many lessons and great tips. This the first time Im really learned how to handle Ableton!
Student Work
Related Classes
Electronic Music Production