The Importance of Being Trustworthy
Debbie Millman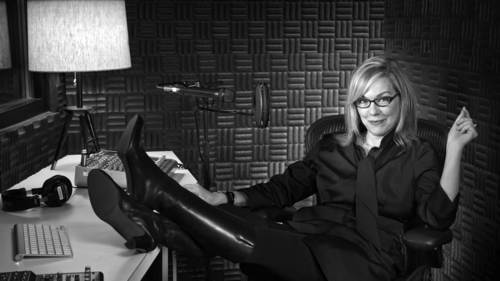 The Importance of Being Trustworthy
Debbie Millman
Lesson Info
13. The Importance of Being Trustworthy
Lesson Info
The Importance of Being Trustworthy
What do you think the primary reason is somebody won't hire you? This answer is, I think, going to surprise you. The primary reason that somebody will not hire you. They don't believe you? They don't believe you. And so, what does that mean ultimately? That you didn't sell yourself? Yes, so they didn't believe you is absolutely, 100% right, but there's another underlying... I didn't believe myself. Well, that's, yeah. They don't like you. They don't like you. They don't believe you. Trust. Yes! Who said it? Oh, the man that moved to the front. (laughter) Okay, get the microphone. Say it again. (laughs) They don't trust that you'll perform. Absolutely. Primary reason somebody will not hire you is that they don't trust you. They will sooner hire you because they don't like the work then if they don't like you. Often, people do not even hire for skill. They hire for personality. Sometimes you wonder, how the hell did that person get hired? Right? (audience chuckles...
) But they're awfully nice. (laughs) But getting back to the real nuts and bolts of this. The primary reason that somebody will not hire you is because there's something about your work or what you're saying that doesn't resonate with them. And it might not be something that they can identify as trust. I don't know that they would think about it that deeply. They just have a vibe that this is not the right fit. And we've heard that, just not the right fit. What that means is something that you said or something that you showed didn't necessarily resonate with them. And so when you're in an interview environment it's absolutely imperative, it's critical that you establish trust. That you establish that what you're saying is what you mean. That what you mean is what you deliver. And you make it very clear that you have very specific attributes and benefits that you, and only you, will be able to deliver for the employer to get a return on their investment of paying you to do this work. We think a lot and talk a lot and complain a lot about job satisfaction as if it is something that the employer is supposed to bequeath upon you. A hundred years ago people didn't think about whether they were happy and fulfilled at work. They were just happy to have jobs that paid them to go home and take care of their families. But jobs now are much more about self-actualization and about finding purpose and meaning in what we do. But the requirement that the employer provide that for us is the same fallacy that we often have about this other person in my life is going to love me and therefore I am lovable and will feel good and happy about who I am. We all know it doesn't work that way. We don't feel that way about ourselves no matter what anybody says or does or showers us with, we're still left with the feelings about who we are and how we perceive ourselves. So, when you're thinking about what is it that I could get from this company, remember that the company that's hiring you is expecting you to be giving in order for them to give you the money... that you're getting. So, establishing trust and credibility in an interview takes a whole series of steps that allow you to be empowered so that you can trust yourself in the interview. And that empowerment will allow you to be able to show up as your best self with the knowledge that you are thoroughly ready for this interview. And you have to think about going into an interview the same way an athlete would think about going into the Olympics. People go into the Olympics and they've trained and they have doctors and all kind of lotions and potions that they use to become better at what they do. And they've been going to the gym and they have people that do all sorts of things to help them be the best possible athlete that they can be. But you don't go to the Olympics and think, I'm really going to run the best possible race I can. Wish me luck. (laughing) No. And that's what people do in an interview. I got an interview with this company. Awesome. Wish me luck. (chuckles) It doesn't work that way. Remember you have to win that job. So what do you need to do in an interview, prior to an interview, in order to be able to win that job?
Ratings and Reviews
B R I LLIANNNNNNT !!!! I love the such solid human being that she is and her grandiosity of holding our shoulder and say : go head! Dare to be your best self, own it. Here are some tips .... !!!! Uhuuuuuuuuu!! So inspiring! Thank you so much, Debbie. For couple of days you were my very BEST FRIEND :) Thanks Creative Live!! This is NOT a live "manual" on technical skills. If that is what you are looking for go some steps down and there are plenty of people teaching that, like traditional schools do. You will only learn what is "there" for you to learn if you are open TO HEAR with sincerity. Debbie tells several things that works and that doesn't in professional field besides showing what successful business look for in the people, or partners. Out standing!! I would love to watch another class with her.
I loved this course. Five Stars. I was initially drawn to this course because of the title. I had read Tom Peter's article (with the same name) in Fast Company magazine many years ago, and found it really inspiring. This was before 'brand' was a household word. Anyway, the course is geared more towards designers looking for their dream job than a typical branding course, but as it happens, I am a designer, so it was quite informative. I can also use much of the advice and lessons and apply them to my own business. From contacting potential employers or clients to creative self promotion, there's valuable lesson to be had. I watched and listened to this course in one day, almost straight through. I highly recommend it. Great insight, great advice - whether you're a design student or not. If you're the creative type, I think you'll find this both enlightening and very enjoyable.
Student Work